Skip to content
For us, Koh Larn is the shortest and easiest escape from Bangkok when looking for beautiful beach. Well, there's another island that closer from Bangkok if you look for beach escape, it's called Koh Si Chang. But if you really look for quite beautiful beach that not asking going to south of Thailand, then Koh Larn is your answer.
The only regular way to go here is from Pattaya. How to go to Pattaya from Bangkok, you can check here. You need to use ferry boat to cross from Pattaya to Koh Larn. Basically if you're backpacking like us, taking bus from Bangkok is the easiest way. Arrive in Pattaya bus station, you need to go to Bali Hai pier to get the ferry boat. Take taxi or song teaw from Pattaya bus station. Song teaw actually will cost you around 20 Baht per person to go to bali Hai pier, but sometimes they're asking 50 Baht per person. That's fine, coz walking will take you like an hour to reach the pier.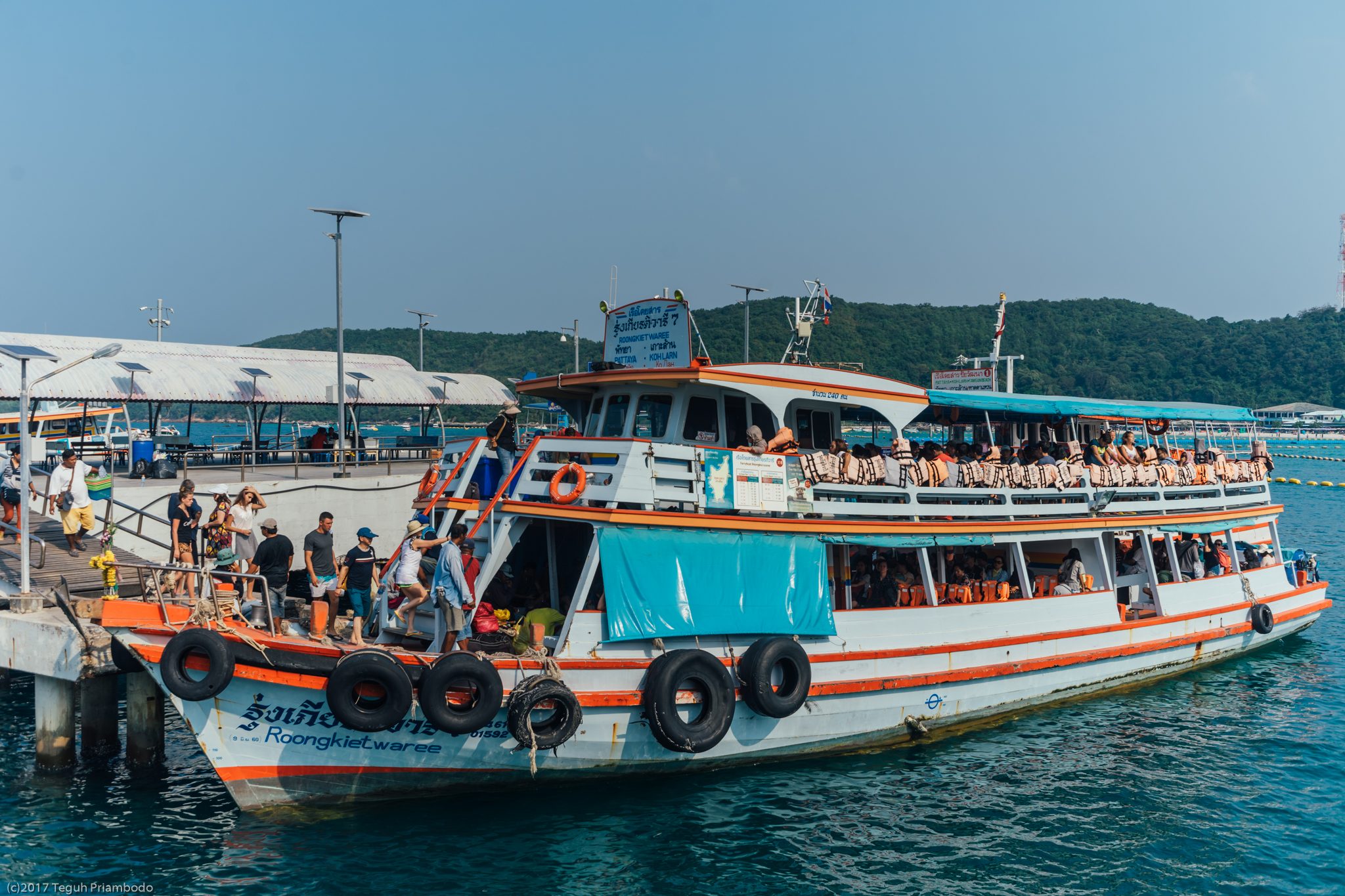 Arrive in the pier, you need to pay 30 Baht per trip to cross to Koh Larn. The trip will take around 30 – 45 minutes. No worries for the ferry boat, as they have boat running every 30 minutes or an hour. Remember, last boat running from Koh Larn is 6PM.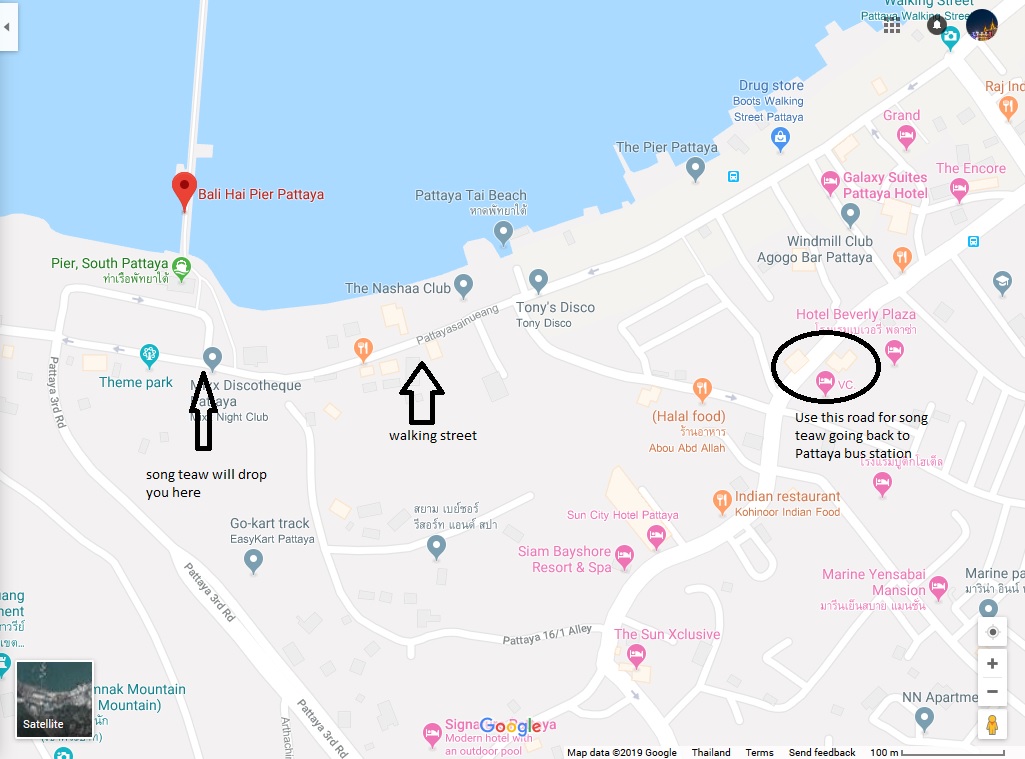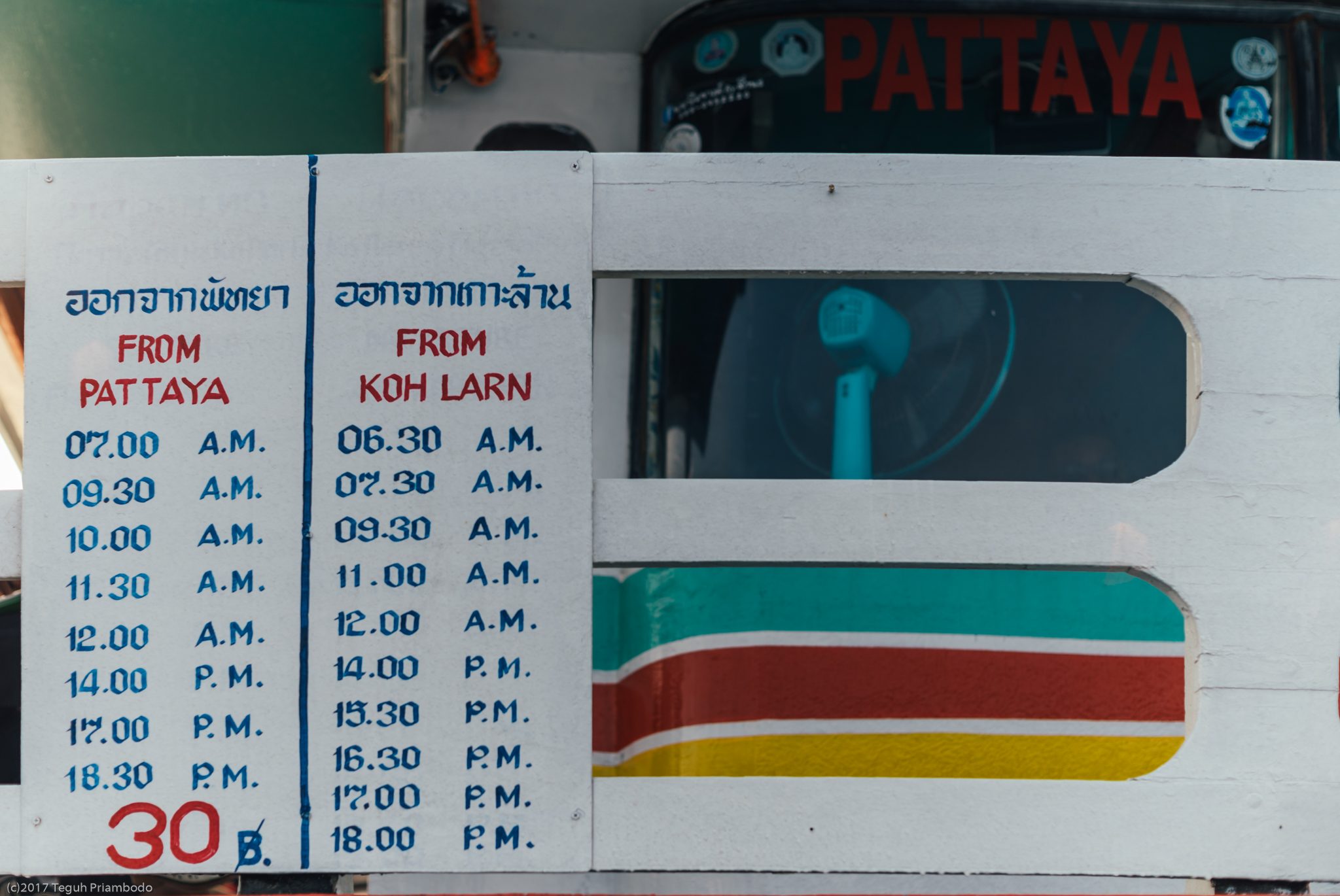 Taking the ferry boat, you'll have 2 pier destinations in Koh Larn. First is Naban port, around the villagers house. Second is Tawaen beach port, where located in Tawaen beach. Both piers are the same.
Arrive in Koh Larn, you can take song teaw to travel around the island or rent motorbike. Song teaw per trip/destination is 40 Baht, while renting motorbike is 300 Baht (returning before 6PM in the same day) or 400 Baht (24 hours). Don't try to walk around the island. It's huge island to walk.
If you're planning to stay a night or two, there's lot of resort or hotel here. Booking in advance or coming directly is the same. Once you arrive in Koh Larn port, people will offer you not only renting motorbike, but also hotel and resort.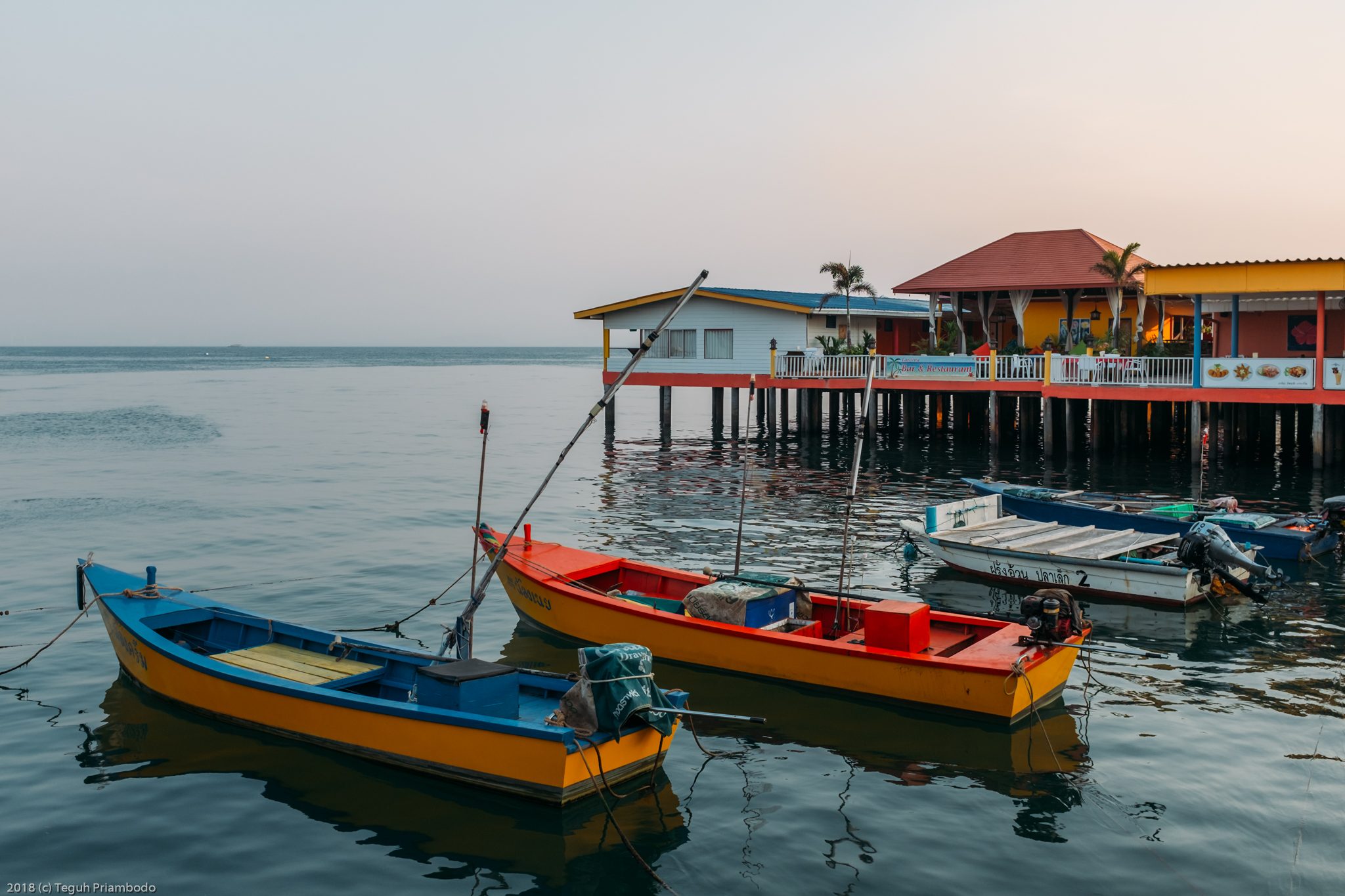 Now the main menu is beaches in Koh Larn. The island has 5 beaches to visit. They are Tawaen beach (same location as Tawaen pier), Tien beach, Samae beach, Naul beach, and Tong Lang beach.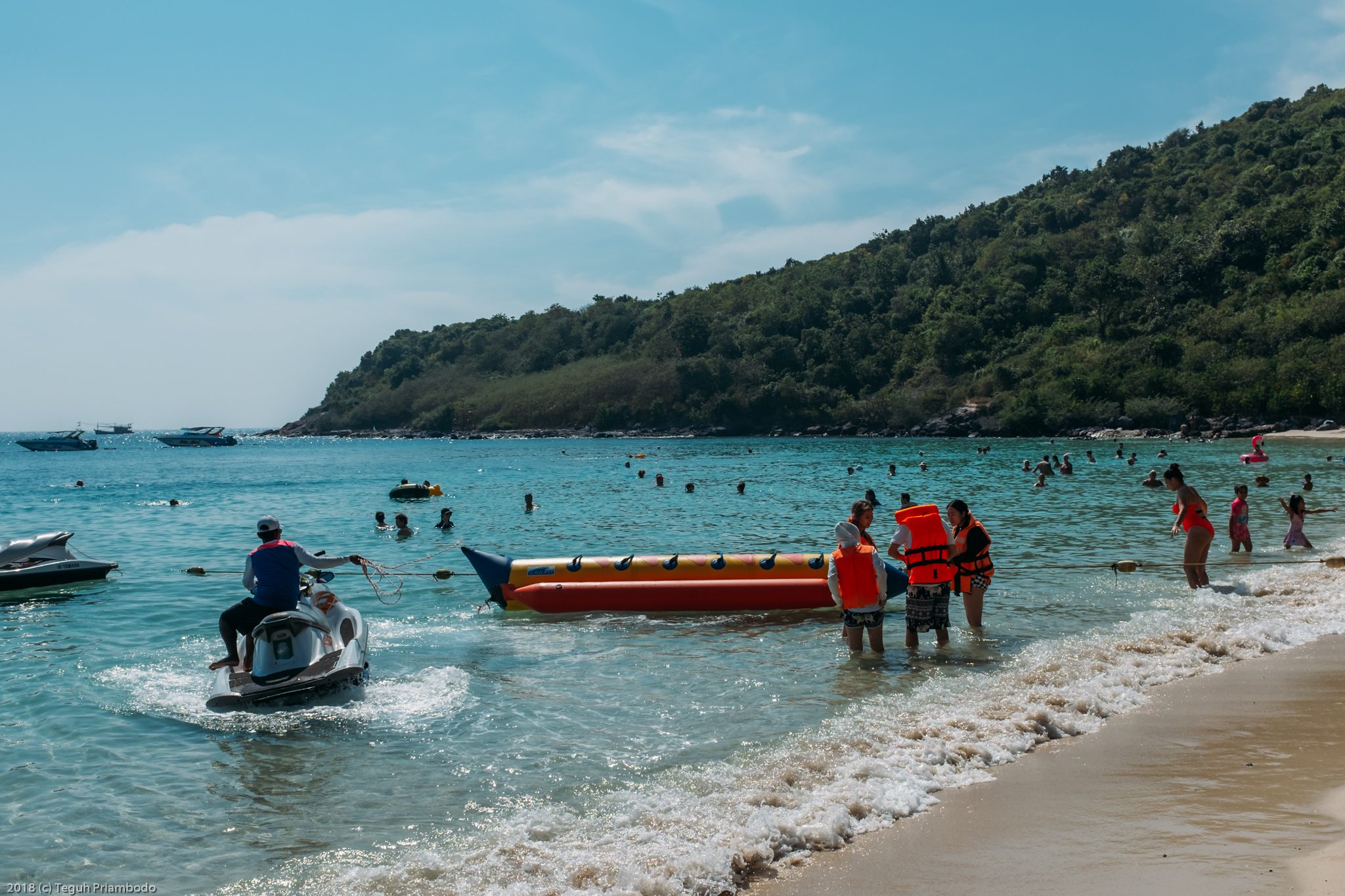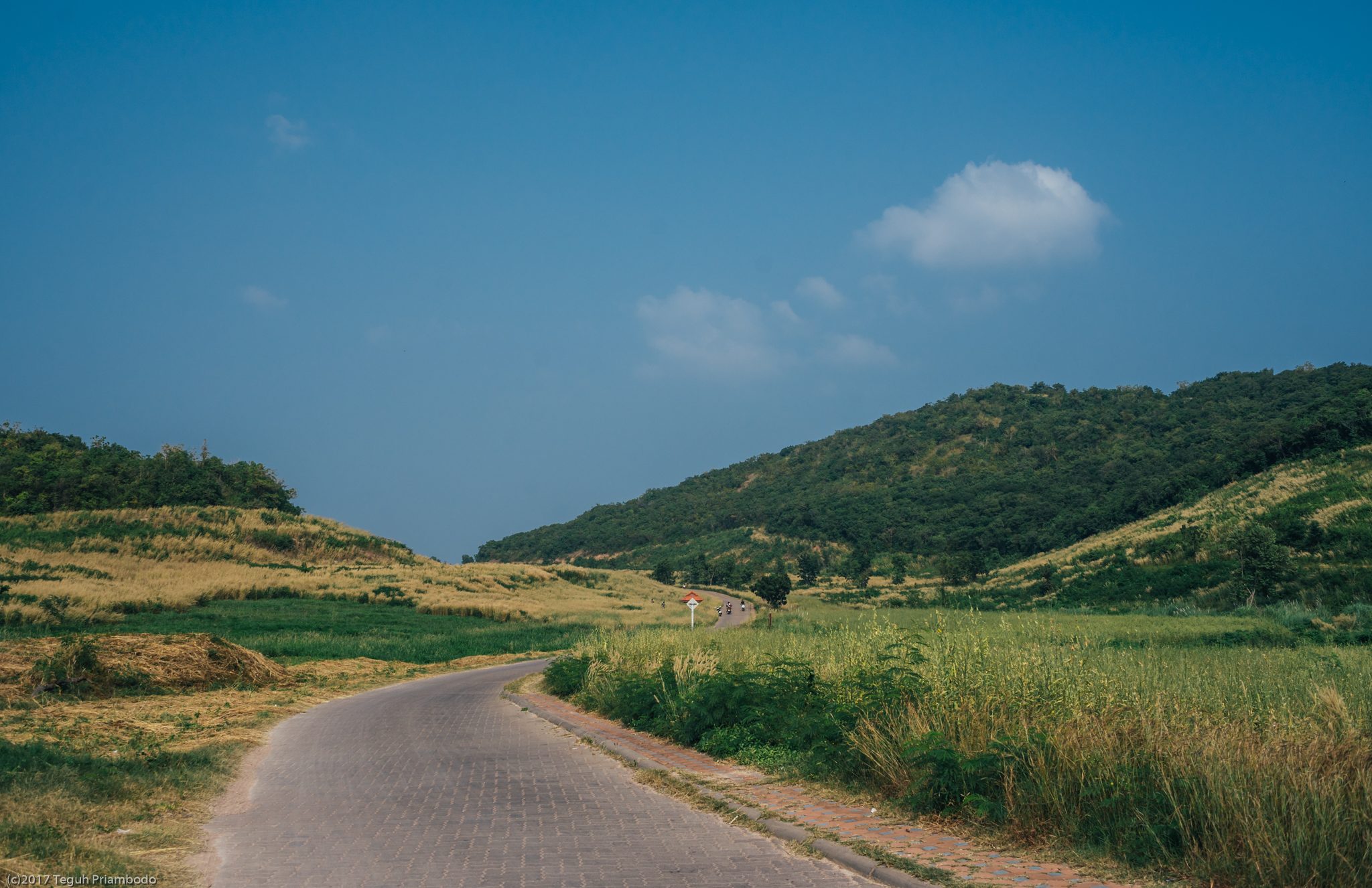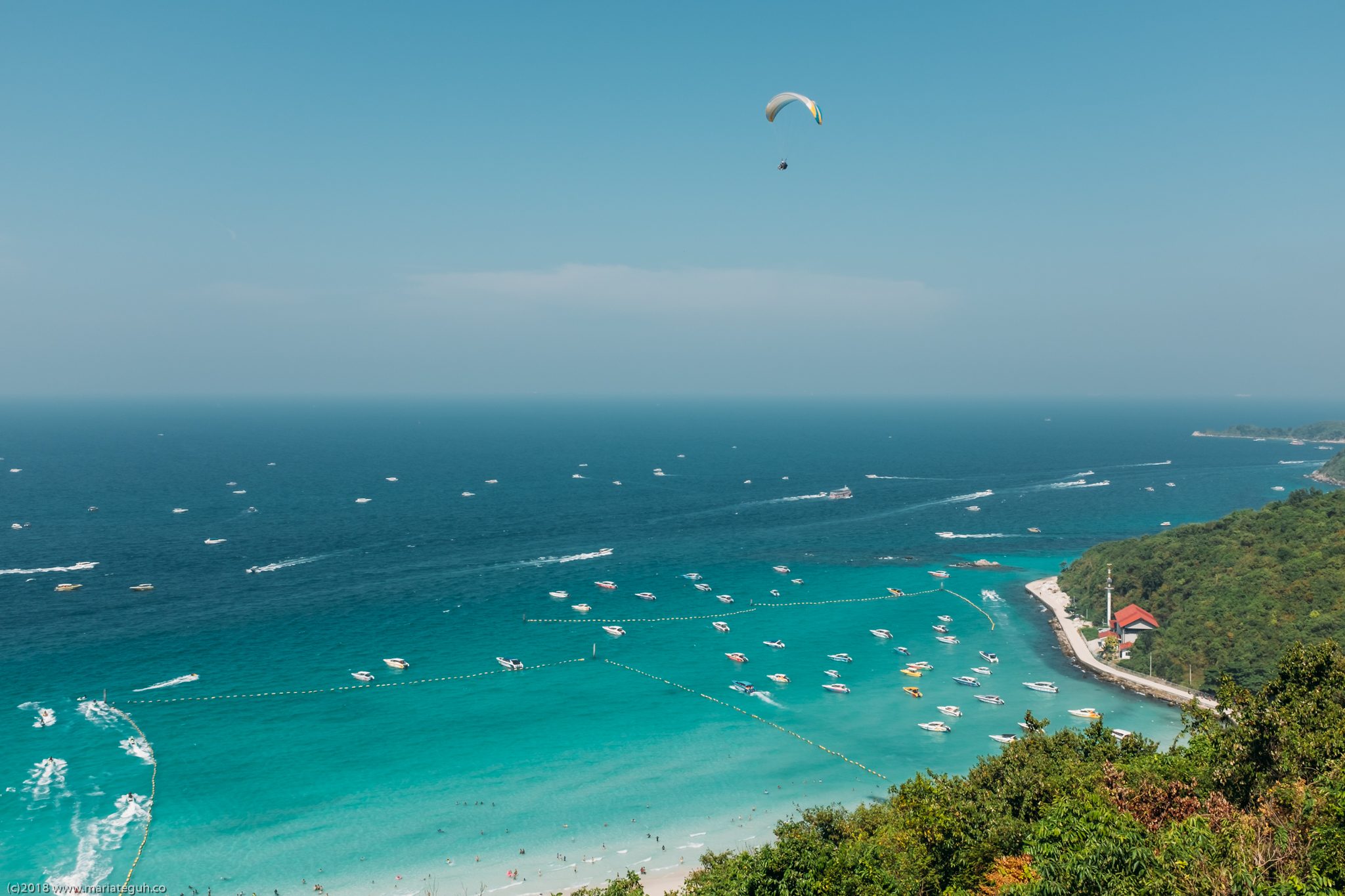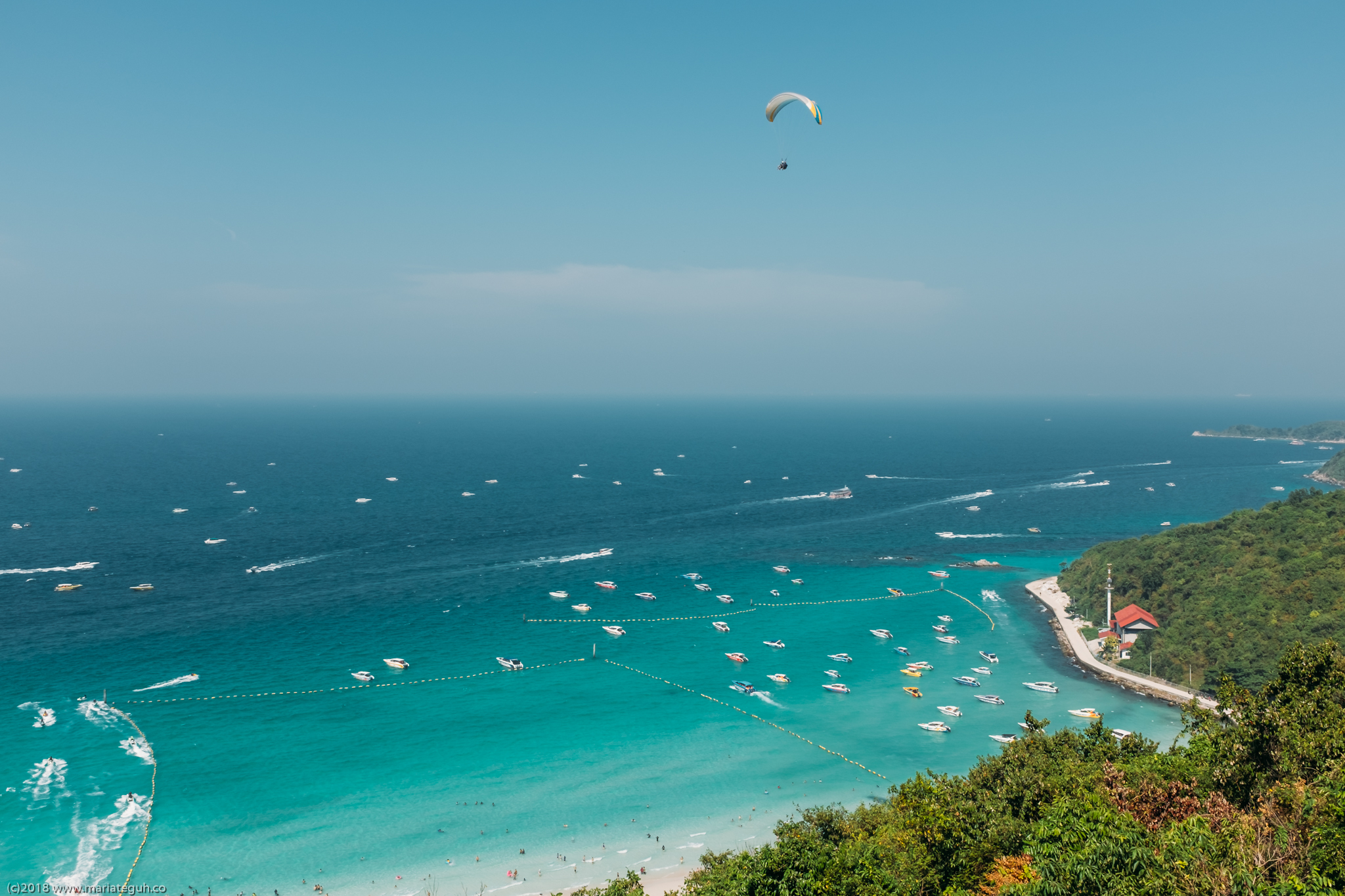 Best or most beautiful beach, we'll say Tawaen beach. They have the most beautiful beach in this island. Not to mention another attraction like banana boat and renting jet ski. Therefore, if you lazy to wander around, make sure boat from Pattaya is heading to this Tawean beach instead of Naban port.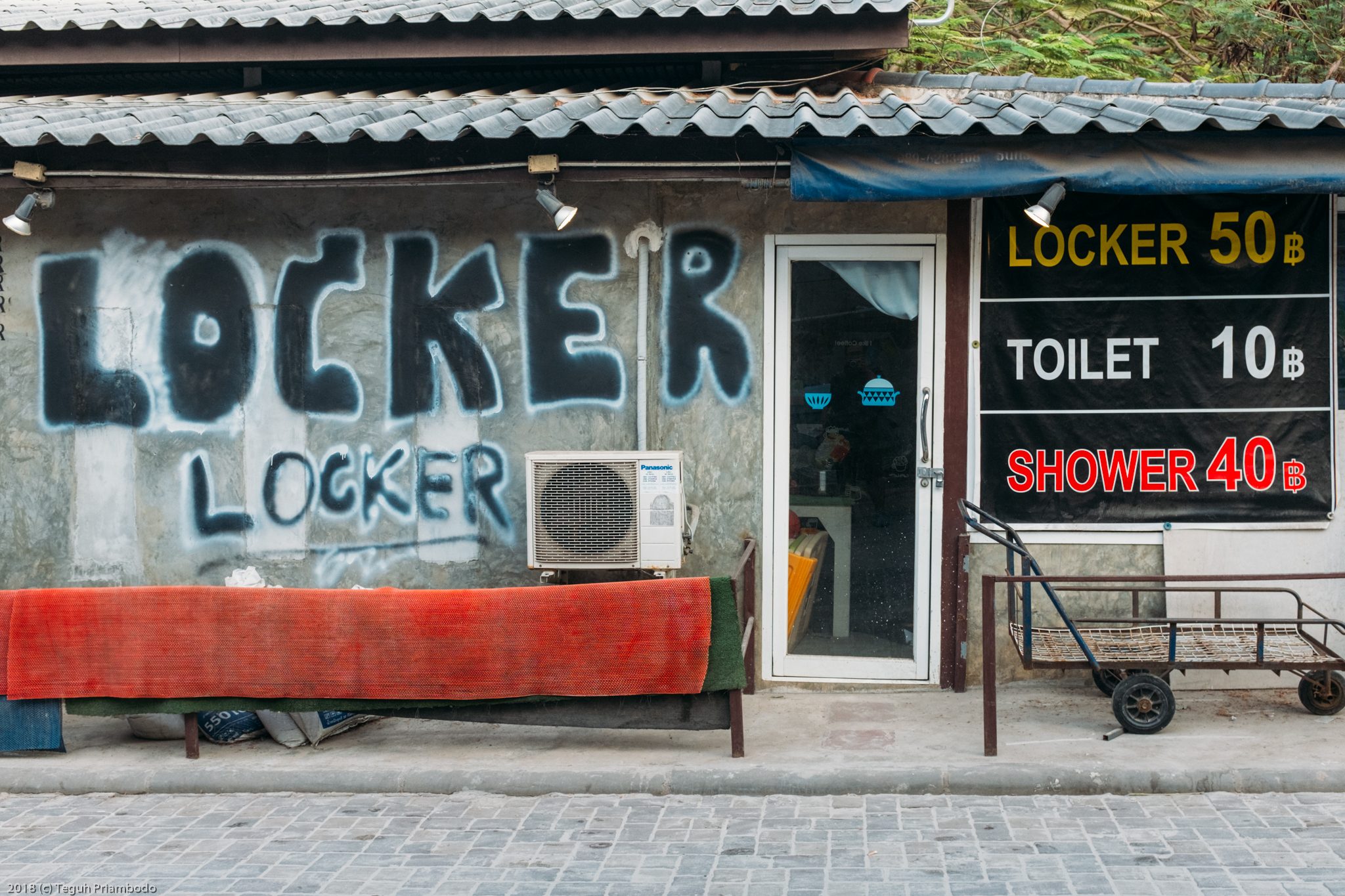 No entrance fee to enter the island, beach or another attraction. You can park your motorbike near the beach you wanna stay for free as well. If you wanna use umbrella and enjoy the beach, all you gotta do is buy the food and the drink they offer. Or if you don't want to buy anything, then you have to "rent" their umbrella for 200 Baht. Food and drink kinda expensive if you compare to Bangkok, but still reasonable. Take note that you need to ask for receipt, as some of them will try to calculate everything that's lying on the table, including food that you bring from outside.
Another attraction like paragliding also available. If you go from Naban port, the spot will be located before you arrive in Taewan beach. You'll see sign "View point" on the left side of the road, go inside, see the fence and huge statue, and that's the spot. If you wanna try, 10 minutes ride will cost you 2000 Baht.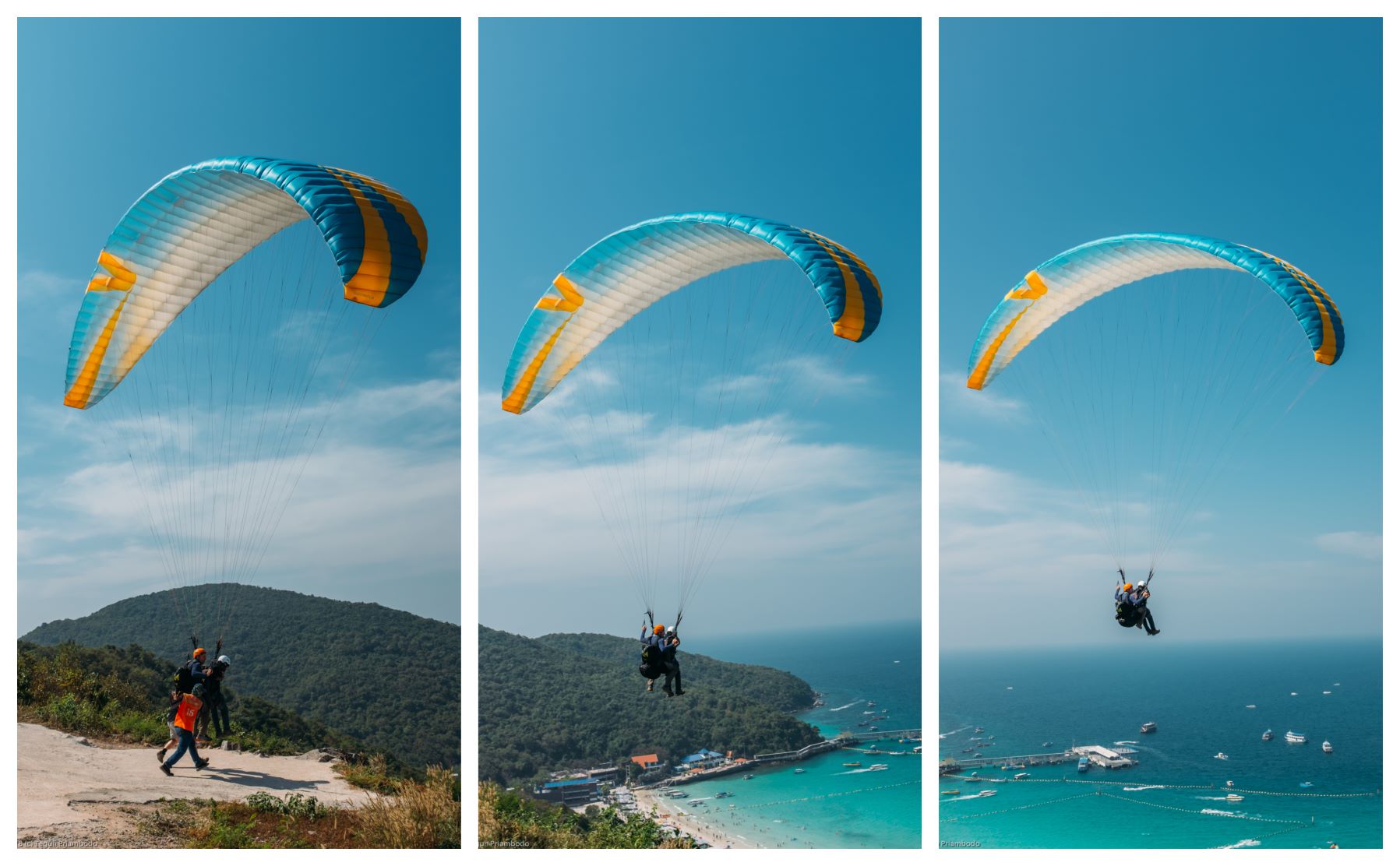 To eat, basically you can have it every where in the island. But we always eat near the Naban port. Remember that the price is a bit higher compare to Bangkok, but again, still reasonable. They have menu in English, with price as well, so won't get you confused.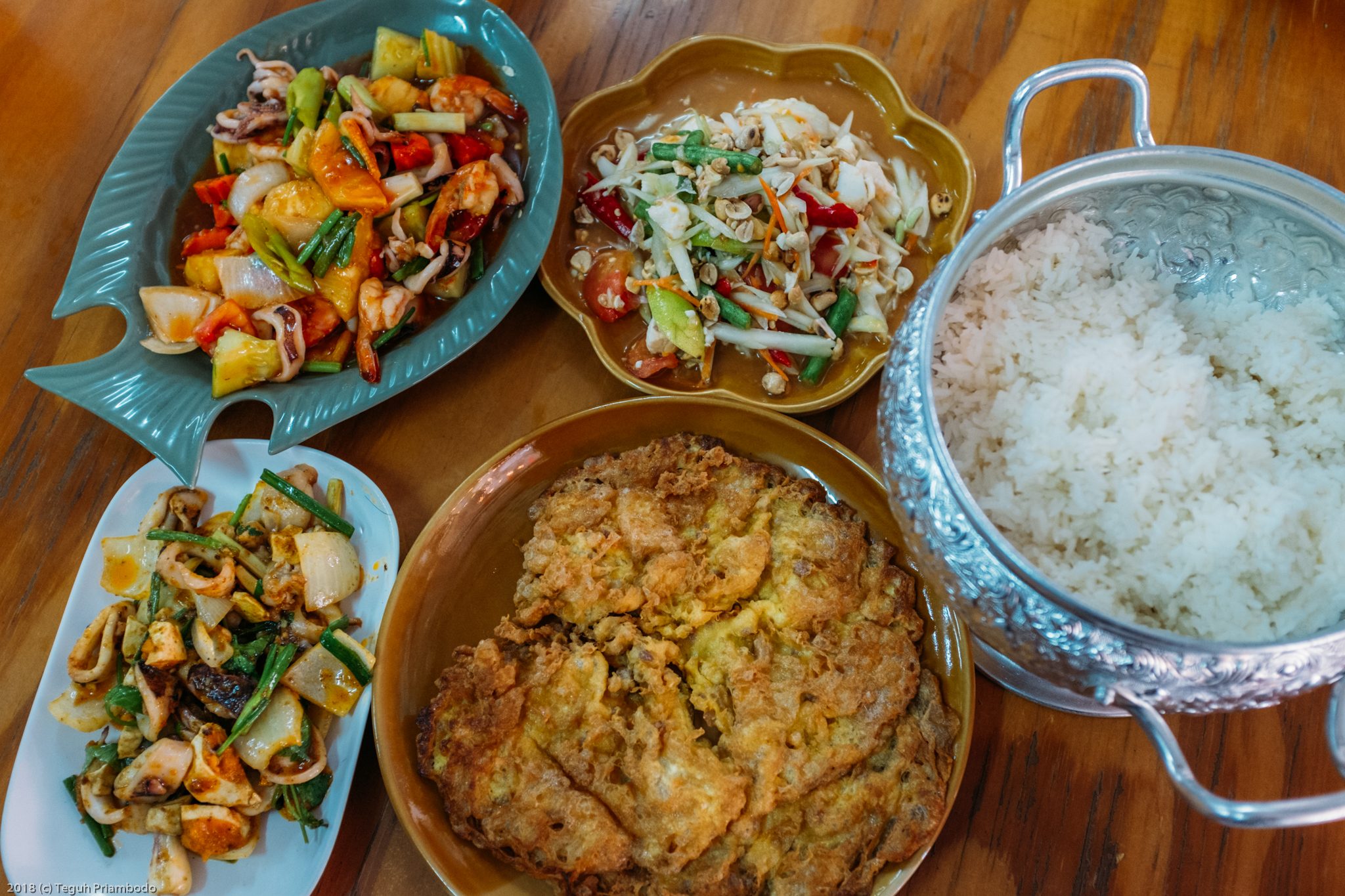 Sad story, this island has dark side as well. Try to find view vantage point there. It's not listed in google maps, but for the clue, the entrance is located as the same as one small police station. It's really abandoned spot, and you need to use the stair to climb.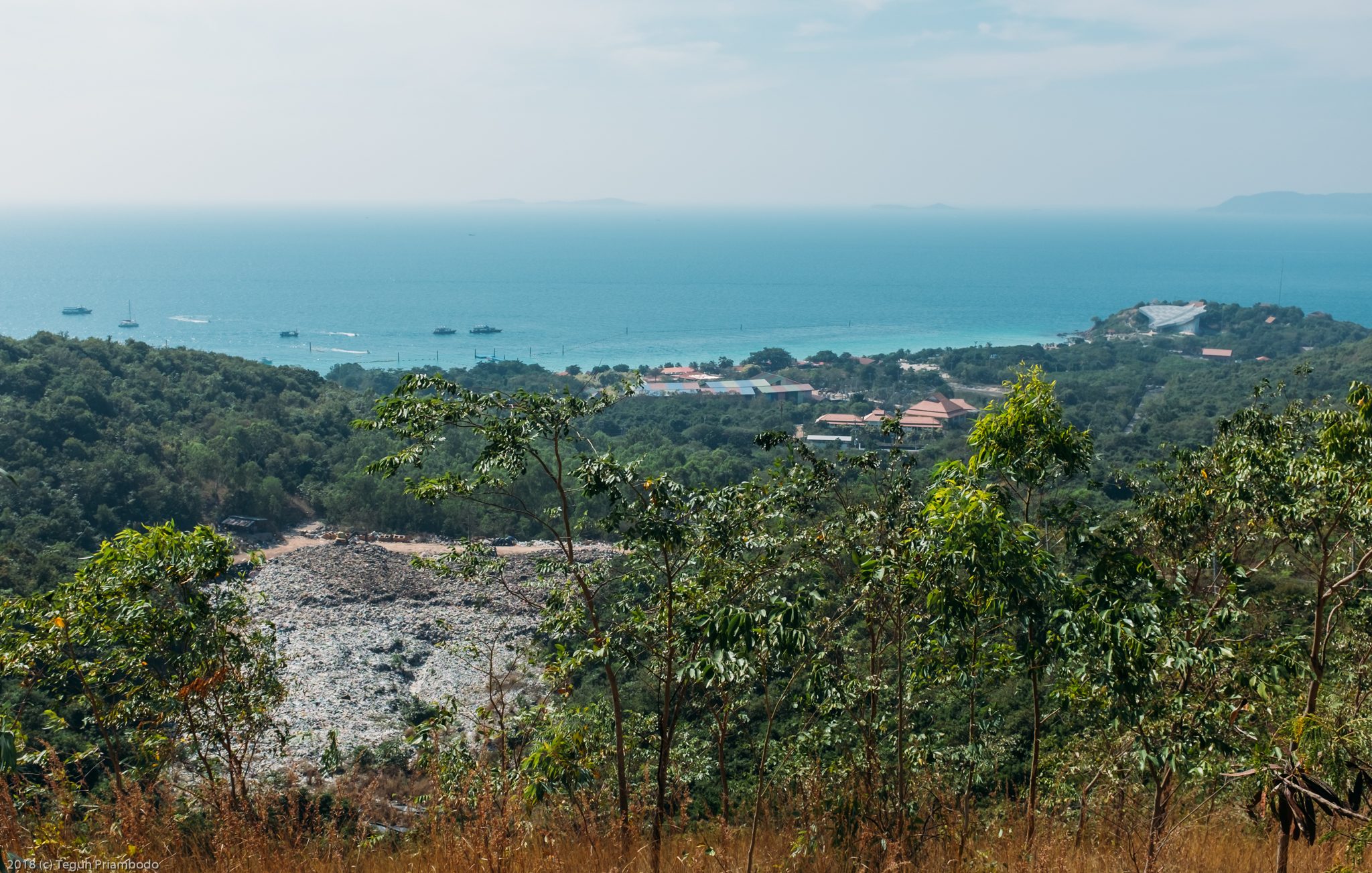 Suggestion, stay a night to explore more hidden spot in this island. When you rent motorbike, you'll get as well map for this island. Enjoy your Koh Larn!!
Happy let's get lost!!