Skip to content
"Grand Palace", exploring and walking around, by yourself
First time in Bangkok would be complete with the signature visit to the Grand Palace. Almost impossible to miss this landmark if you're going to Bangkok. Grand Palace is the official residence for King of Thailand. Therefore, inside you'll find the amazing structures that make this place the most beautiful landmark in Bangkok.
But do you know that around this place, you'll find as well another great cultural landmarks? Let's start the journey to find all those greatness around Grand Palace. And no travel agent or guide required for this trip. Just make sure you got your mobile connected to internet and full stomach 🙂
????????????????????.
If you not stay around Grand Palace, let's say like Pratunam or Sukhumvit area, try the canal boat from Pratunam pier. This pier is located in Pratunam junction. If you walk from Central world to Pratunam, you'll find river and bridge, well the pier is over there. Take the boat to Phanfa Leelard pier, that cost you less than 15 Baht. And ignore the smell of the canal, just imagine you're cruising in Venice 🙂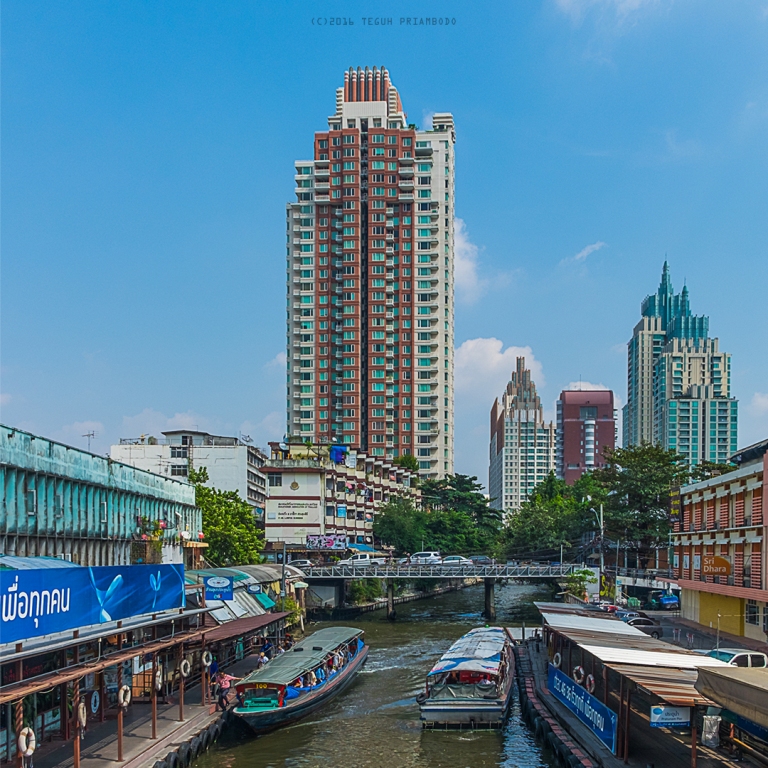 We started this trip at 8AM from Pratunam pier. Don't forget to get enough breakfast, coz you'll have to walk a lot and climbing stairs as well.
*last boat for this boat trip is 7PM
✯✯✯✯✯
If you have arrived in Phanfa Leelard pier, walk to left, and you'll see Wat Saket a.k.a Golden Mount. This is like temple that located in small mountain and covered in golds color. You can't miss this place, as its location is quite high.
They open everyday, from 8AM to 7PM. Ticket is only 20 Baht per person.
Enjoy the panorama view of Bangkok from the top of the temple. Simply amazing!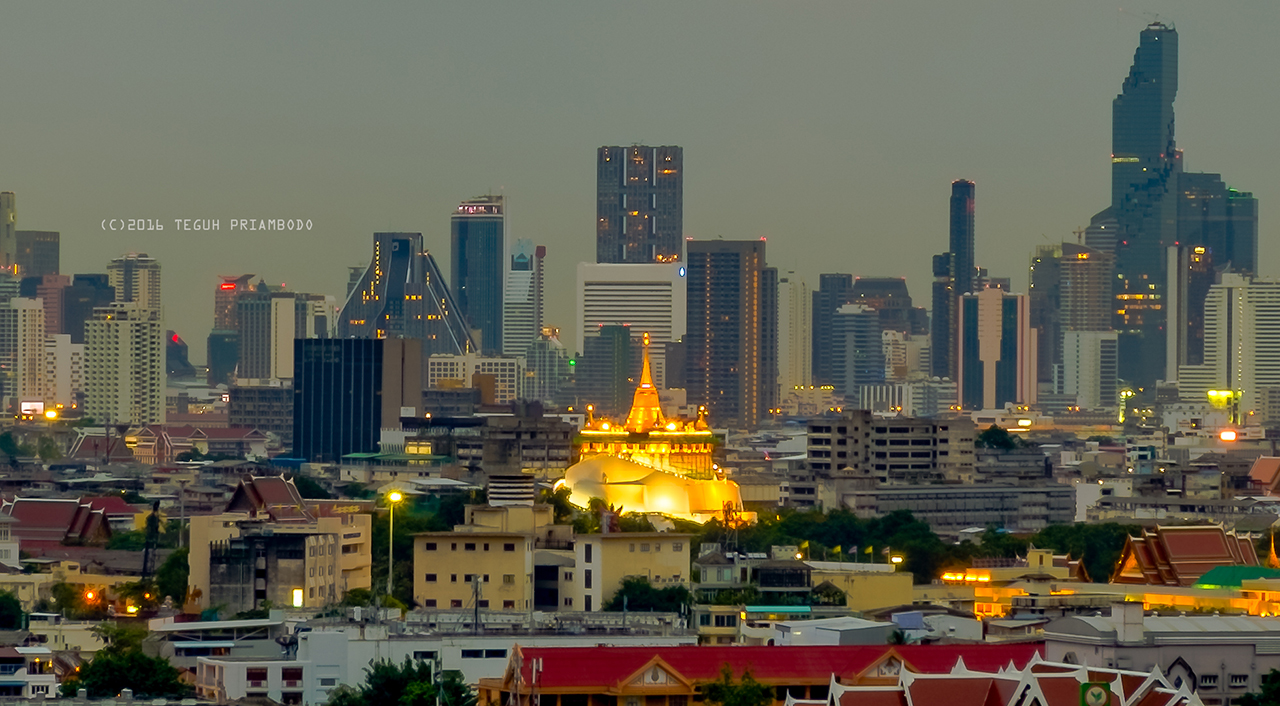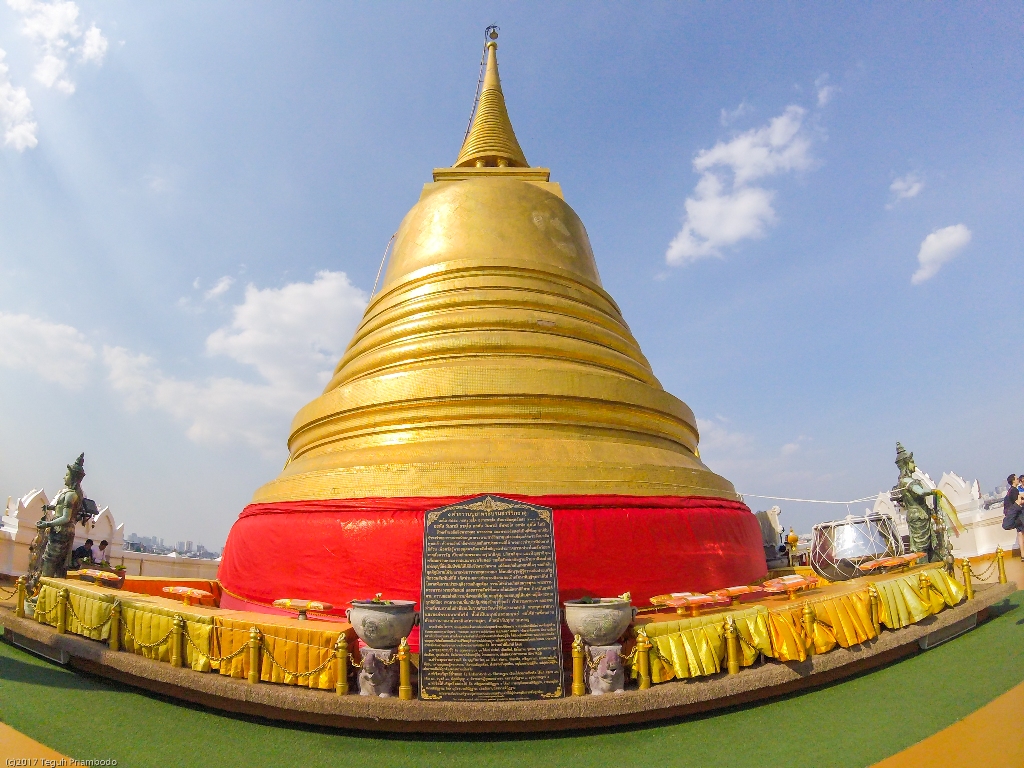 ✯✯✯✯✯
Done with Wat Saket, go back to the junction where you leave your boat and take left. You can see like park there with small "palace". It's called Loha Prasat, or "Metal Castle".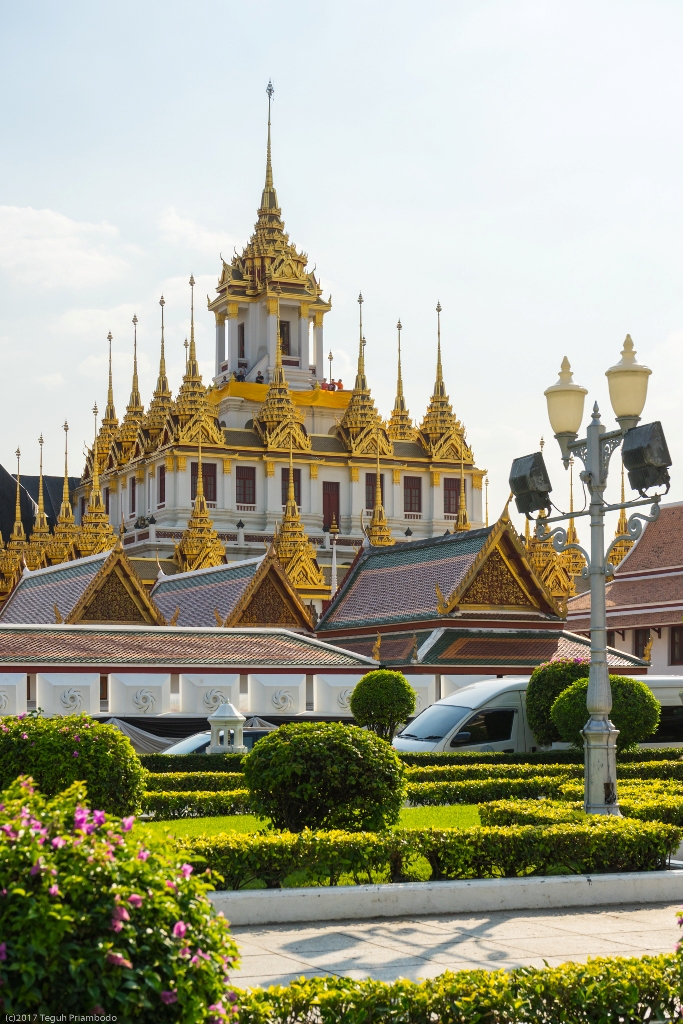 Just like the name, most of the castle are made from metal.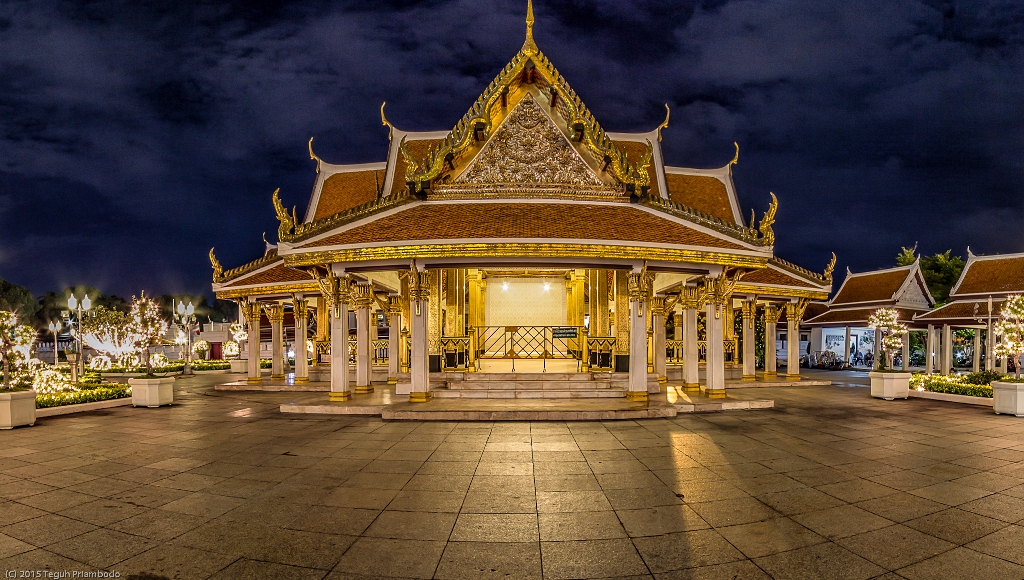 There's no entry fee to enter this place. But strongly recommended to leave some donation on the box there.
✯✯✯✯✯
If your "art sense" is tingling, it is caused by the 2 art galleries that located next to Loha Prasat. It's Rattanakosin Exhibition Hall and Contemporary Art Gallery. Most of the time these places are free to enter. So if you want to try, just go inside enjoy the art 🙂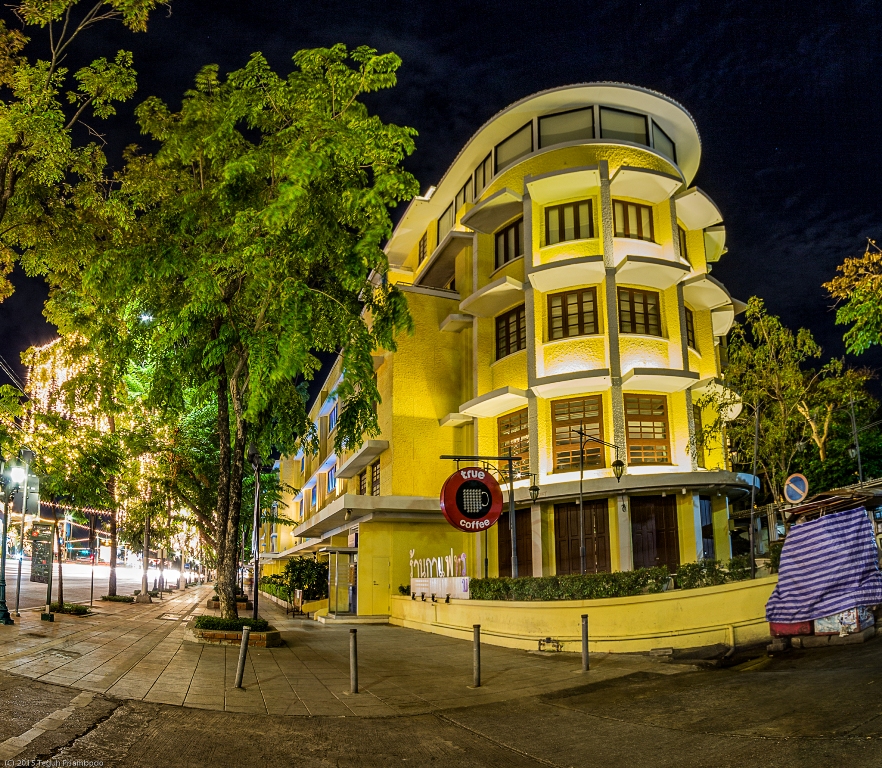 Continue walking, next to Contemporary Art Gallery is the famous Democracy Monument.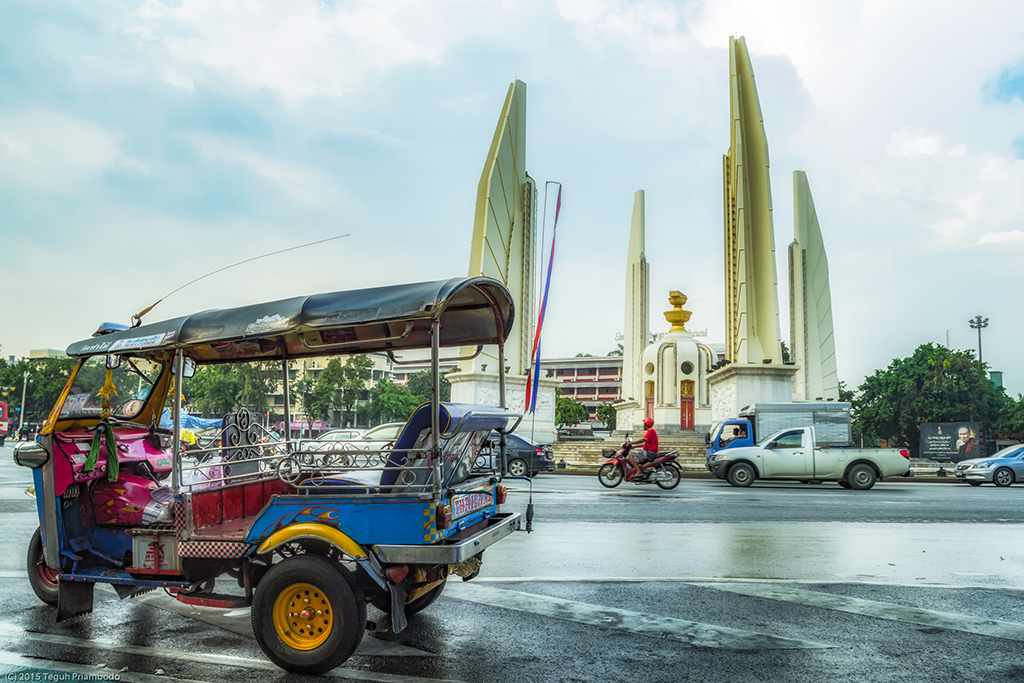 ✯✯✯✯✯
From this art gallery and Democracy monument, you'll find a junction. Take left to see Wat Suthat and Giant Swing.
Quite a walk to go this place. But before you arrive at Wat Suthat, there's one place to eat if you wanna have coffee break. This place is famous for their bread and milk. Make sure you get in the line, coz there'll be queuing customers!!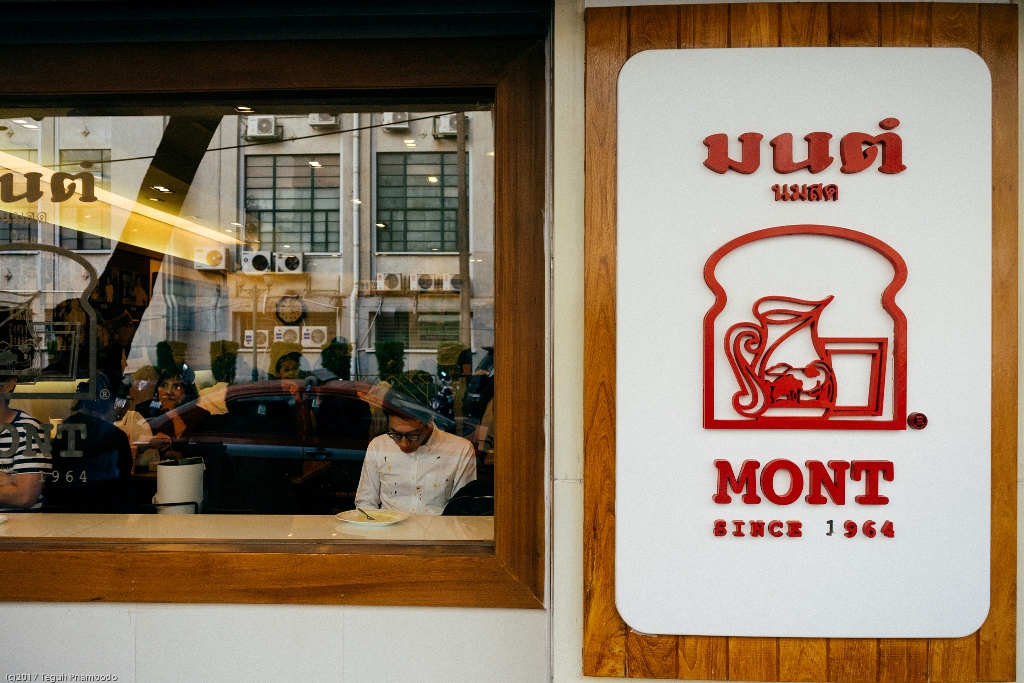 Few hundred meters from this place, you'll see the Giant Swing and Wat Suthat. Entering Wat Suthat will cost you only 20 Baht.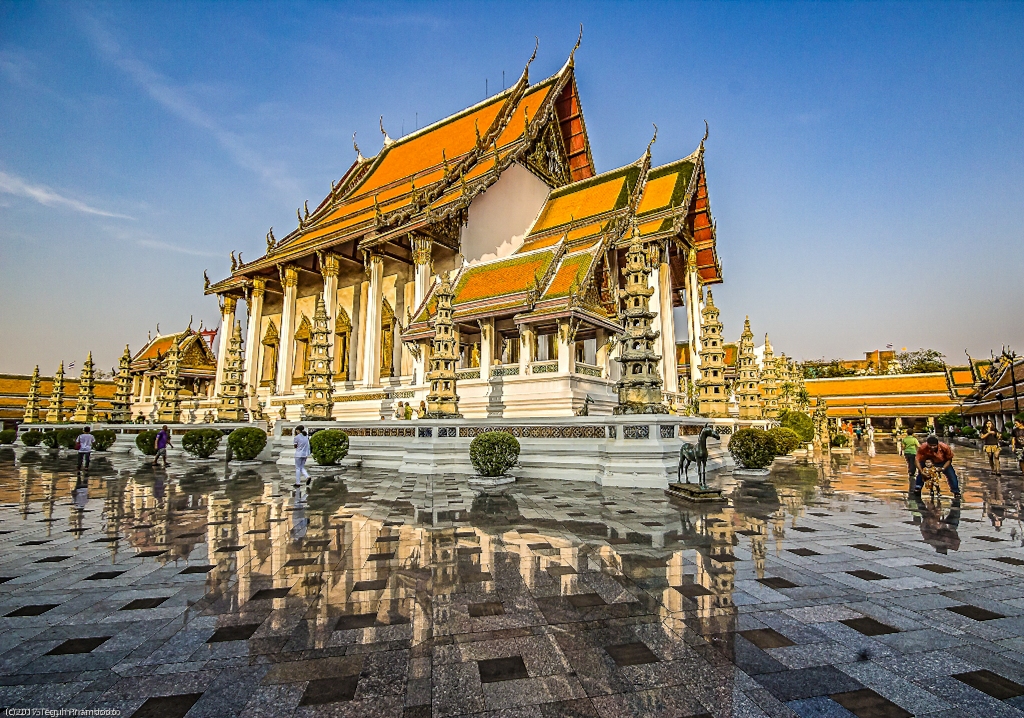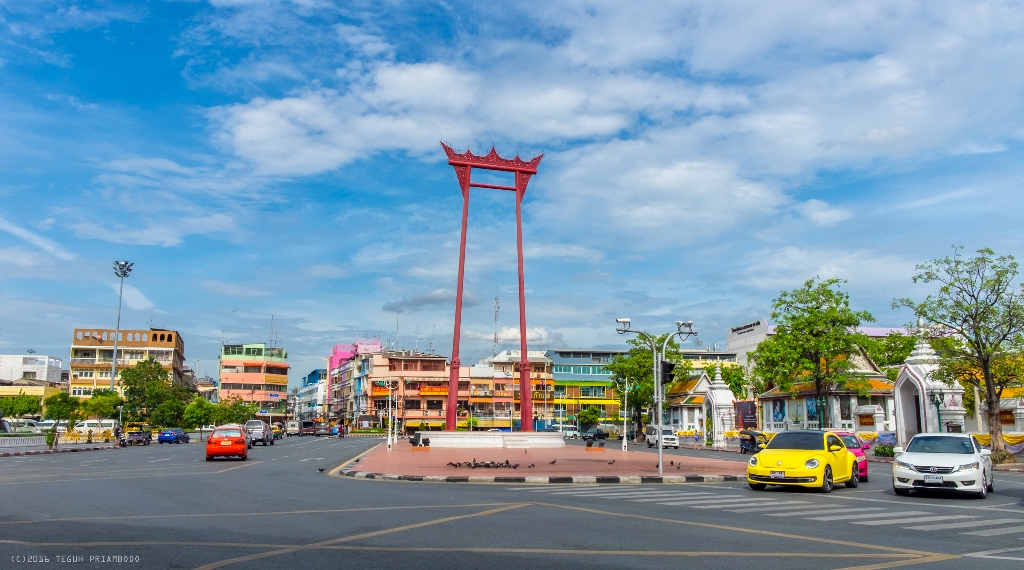 ✯✯✯✯✯
Back to Democracy monument, and take left to go to Grand Palace. It's another long walk. You'll pass the road to Khaosan Rd from here. But we suggest to leave Khaosan Rd for the last spot to visit and enjoy the Grand Palace as the priority.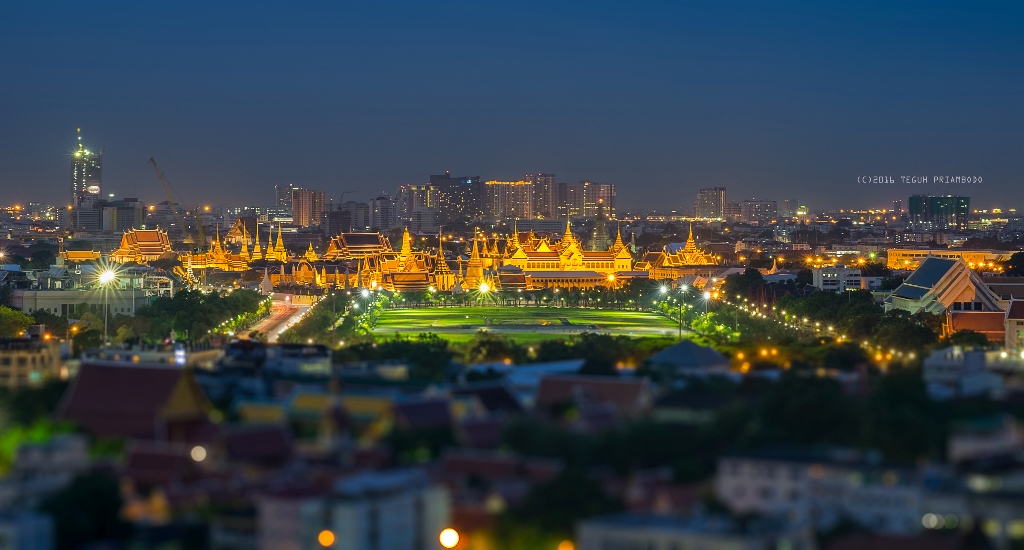 Grand Palace ticket will cost you 500 Baht. But this ticket actually can be used to enter several places in Bangkok. Please remember to be polite to enter this place. They will have strict dress code, so make sure to obey it. If you just wearing short, go to the shops in front of the gate, they're offering to rent some proper clothes for 100 – 200 Baht.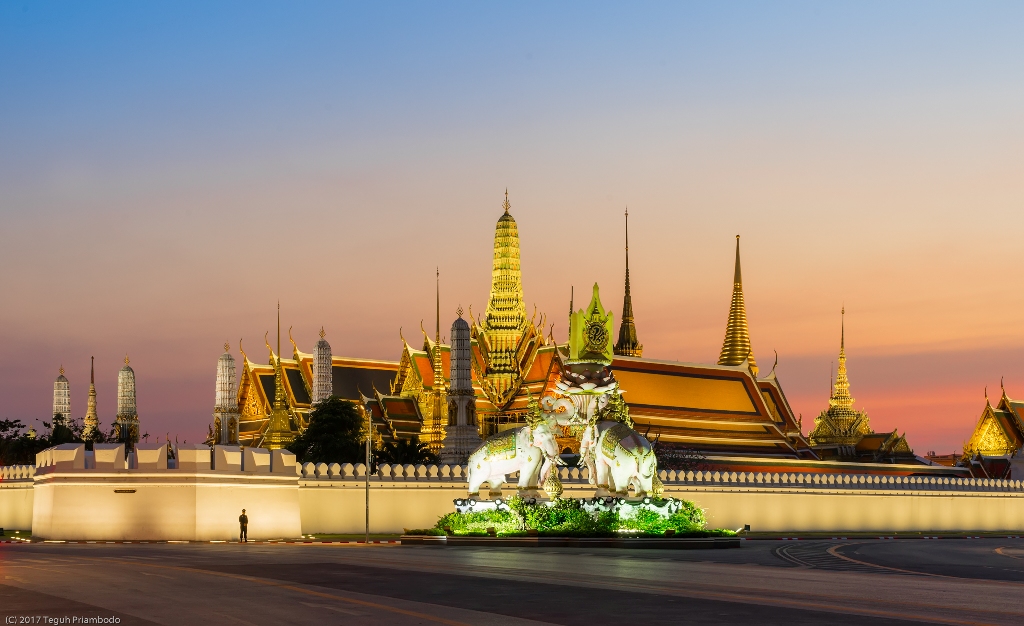 Outside Grand palace, you'll find many shops and people selling snacks and drinks. Try them to energize your feet and continue the walk
✯✯✯✯✯
When you have gone outside Grand Palace, behind the place is Wat Pho, or people call it as The Sleeping Buddha.
Same dress code is applied here. And the ticket price is 100 Baht.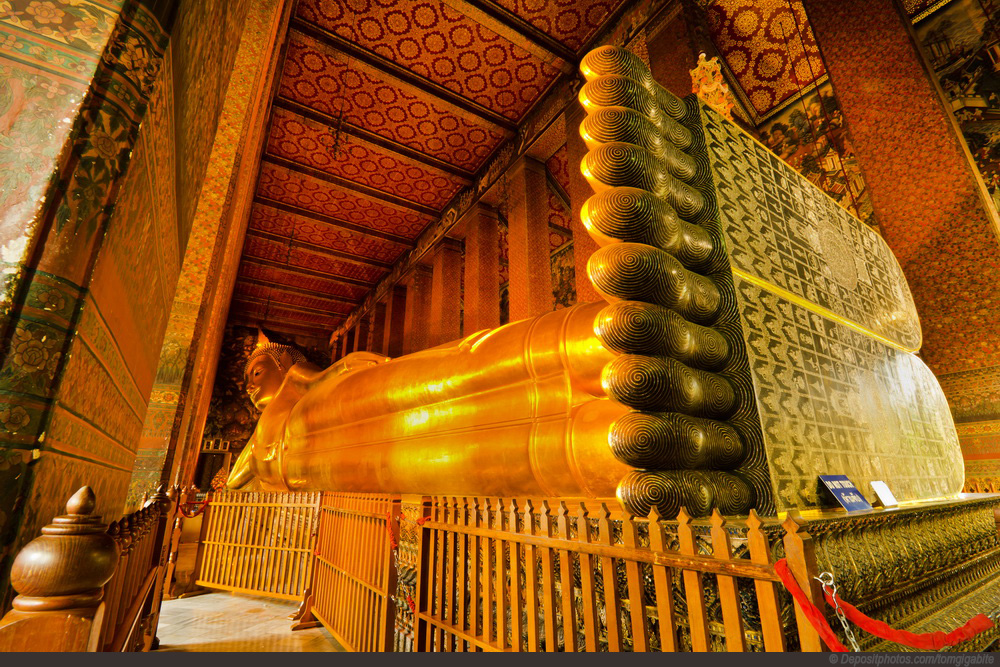 ✯✯✯✯✯
Across from Wat Pho, you can see the famous Wat Arun, a.k.a The temple of dawn. Visiting this temple will require you to use boat (3 Baht).
You can decide to enter the temple, this will cost you 50 Baht, or just enjoying the view from outside. Again, same dress code is applied here.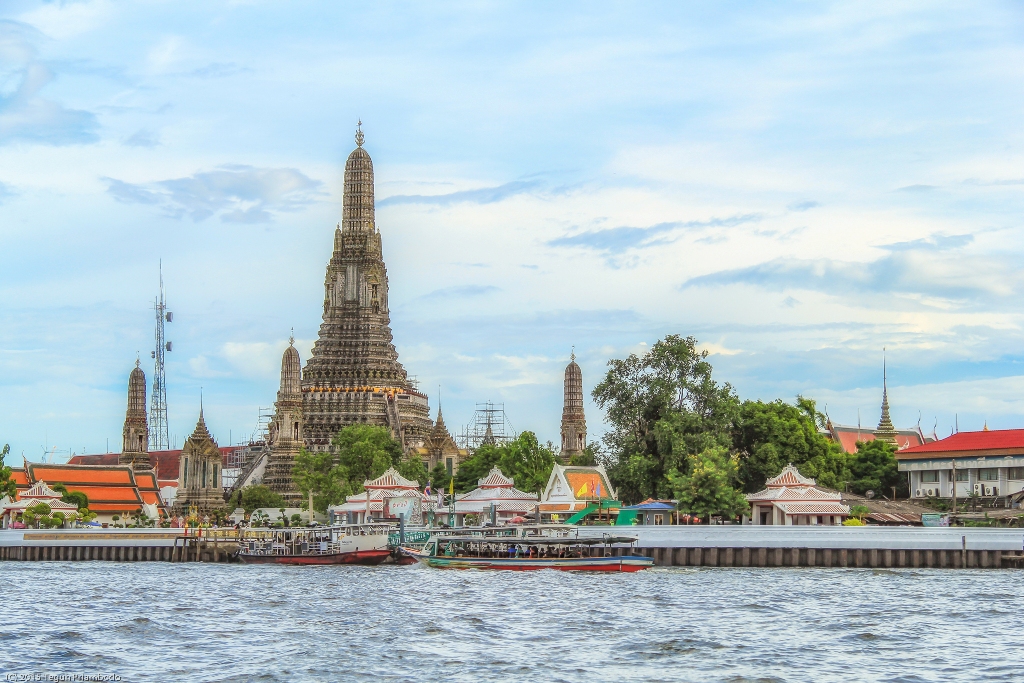 ✯✯✯✯✯
To end the day, you have 2 options. Enjoying sunset and dinner in restaurants near Wat Arun, or get your dinner in Khaosan Rd.
If you decided to stay in Wat Arun, you got many option of restaurant there. Might be quite pricey, but the food mostly good and the place also great.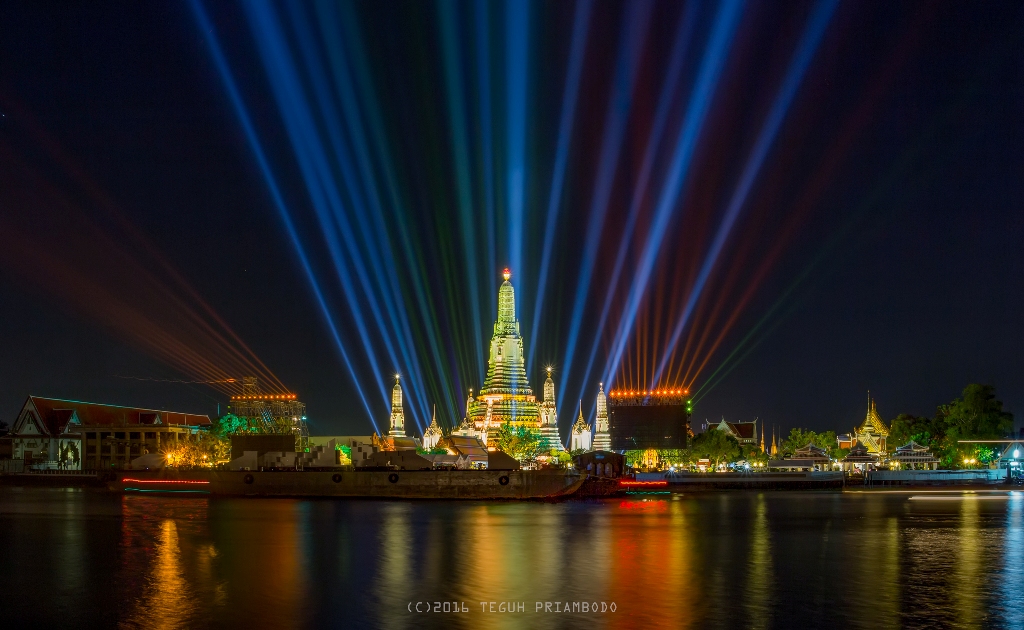 Decided to go to Khaosan Rd? Take a walk again until you reach the place. This place might offer you more various  foods to eat. From the simple street Pad Thai (40 Baht), KFC, to Thai restaurant. And since this place is mostly crowded, the view of your dinner will be quite different with Wat Arun.

✯✯✯✯✯
There you go your trip for 1 day around the Grand Palace area. It's better to explore Bangkok by yourself right? Check out this map, as we pointed each place that you can visit like we explained in this article.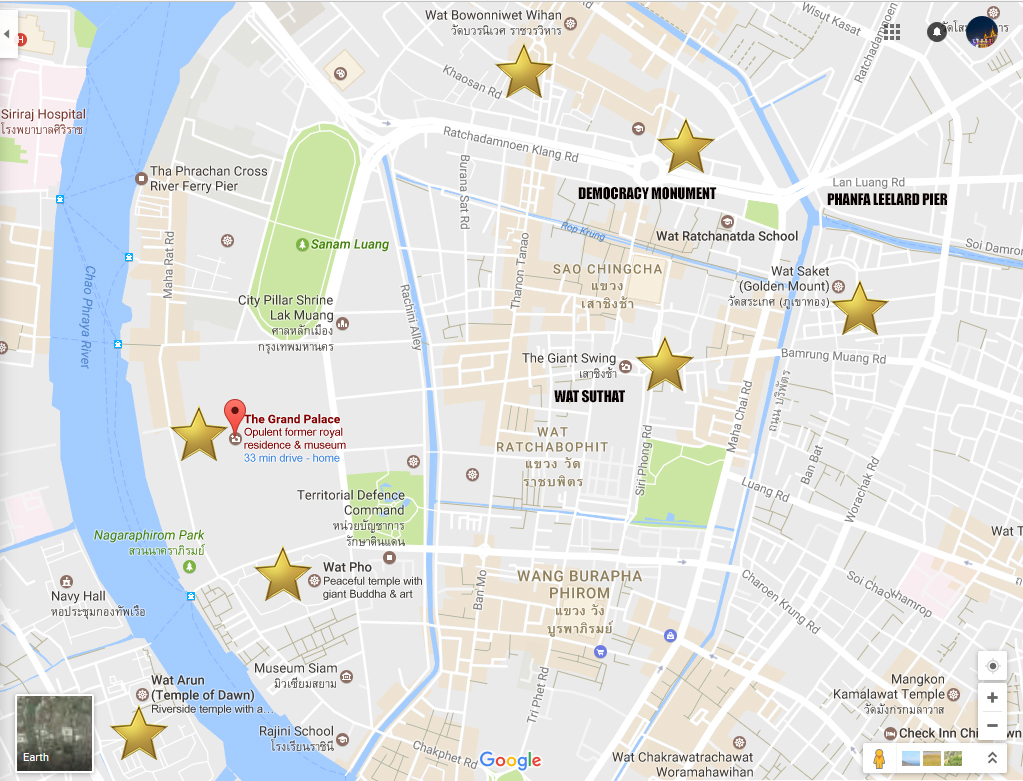 For those who want to try, please make sure that you sleep well the night before and eat enough. Bangkok is quite hot, sometime the real feel could reach 40'C, and that's challenging for walking in day light.
Happy let's get lost! 🙂