Skip to content
"Songkran", water festival for everyone!!!
Songkran, the Thailand water festival is coming!! Yes, the biggest water festival will be celebrated nation wide in Thailand from 13 – 15 April 2017! If you haven't known yet, or this could be your first Songkran, basically this is water festival a.k.a play with water with anything and anyone you like, and everywhere!
Historically, Songkran is Thailand new year where Thai people go to temple, offering food to the monks, and pouring water to Buddha statue. This activity pouring water to Buddha statue represents to clean away sin and bad luck.
If you're planning to celebrate it in Bangkok, there are some famous spot to celebrate this event! But before going there, let's checking first if you are ready or not. Here's some tips to make sure you can have totally fun.
1. Dress properly –> Means that you need to wear comfy shirt. Don't wear something that will torture you. Simple t-shirt and short are the best option. Remember, weather during Songkran usually will be very hot. This doesn't mean you can wear anything you want. Always respect others, especially local culture.
2. Protect your devices –> Impossible for you to go out without bring your mobile or camera right? Simple thing, use double transparent plastic bags to cover your mobile. Or you can buy the real plastic bag to cover for cost 10 – 20 Baht in the street. This also applies for your wallet and money.
3. Bring your water gun –> This is the most important thing. Songkran without water gun is tasteless. You can buy this gun almost everywhere, from price range 50 – more than 1000 Baht!! If you buy it in the mall or supermarket, price usually will be more expensive. Try to buy in the street or the traditional market, they usually have it with more affordable price. Pick your gun wisely folks!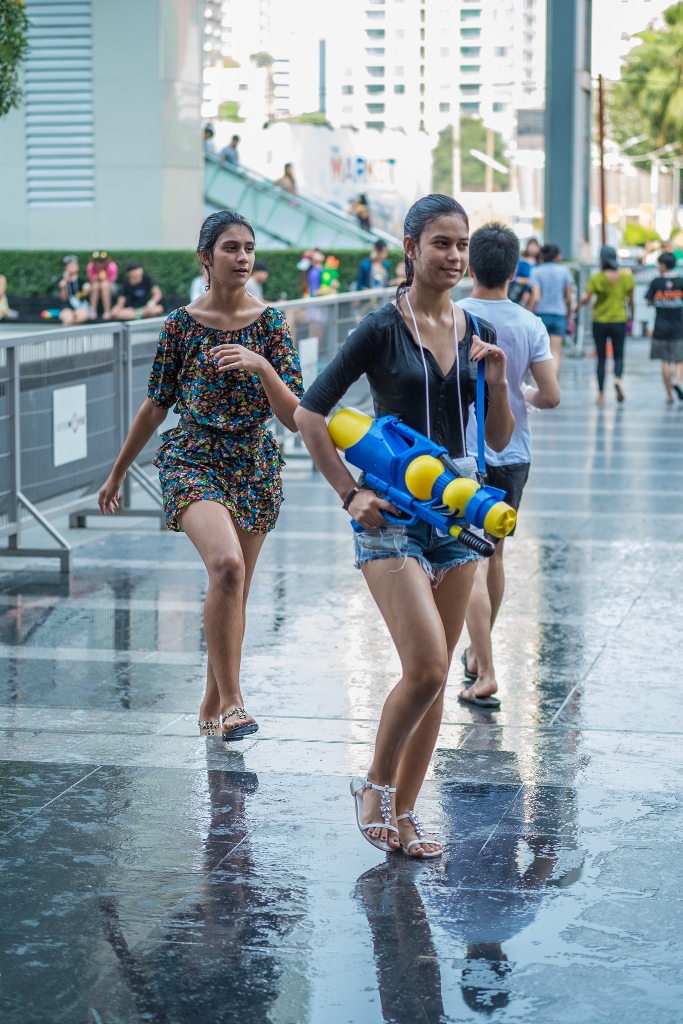 ????????????????????
All is prepared!! Now let's go to the "warzone"!! What you can do during playing water?
1. Use your water guns –> You can shoot anyone you meet in the road. However, don't be a prick by shooting them in the face. You can also shoot your water guns on vehicles in the street. But it is recommended to not shoot it at motorbike that run fast, this can cause the bike fall and injure others. Also, if someone asking you not to shoot them, don't shoot them. Respect others, so others can respect you.
2. Flour/powder in the face –> This flour/pwder is used by most people to make sign in your face. You can do the same to others. But if you don't like it, you can say no to them, and vice versa.
3. Refill your water guns –> Yes you can do this. For 5 – 10 Baht, you can refill it at people who provide the very big bucket contains water. Alternatively, 7/11 is always ready for you to provide mineral waters 🙂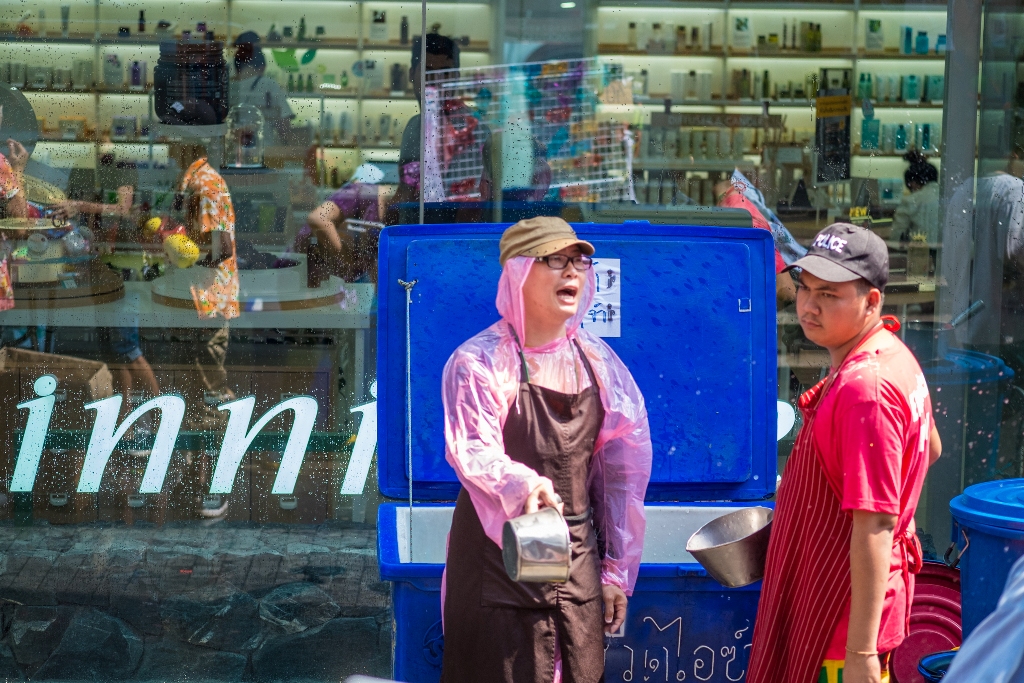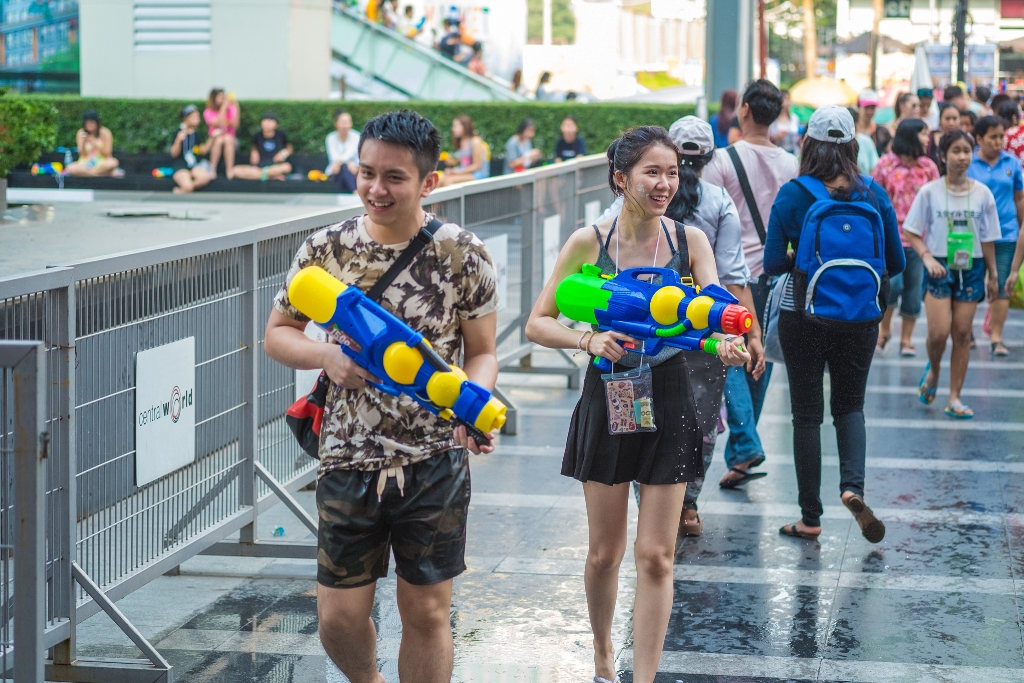 ????????????????????
So, where's the good spot to spend Songkran in Bangkok?
1. Silom Road –> Just get BTS to Sala Daeng or MRT to Silom. Go out, face the crowds, and survive the water war! For us, this the most "crazy" place to play during Songkran. The crowd just like you eat buffet with foods from around the world, and you need to eat it all. So get some great breakfast before shooting people with water here 😀
2. Siam Paragon and Central World –> This place, especially Central World provide more crowded event compare to Silom Rd. They even have their own foam party and music performer there! More like theme water gun festival with music performers!
3. Khaosan Road –> This also one great spot to play water during Songkran. With bigger area and more people usually. The mass concentration is not only inside Khaosan Rd, but usually will spread into Democracy monument. So that's one huge place to play.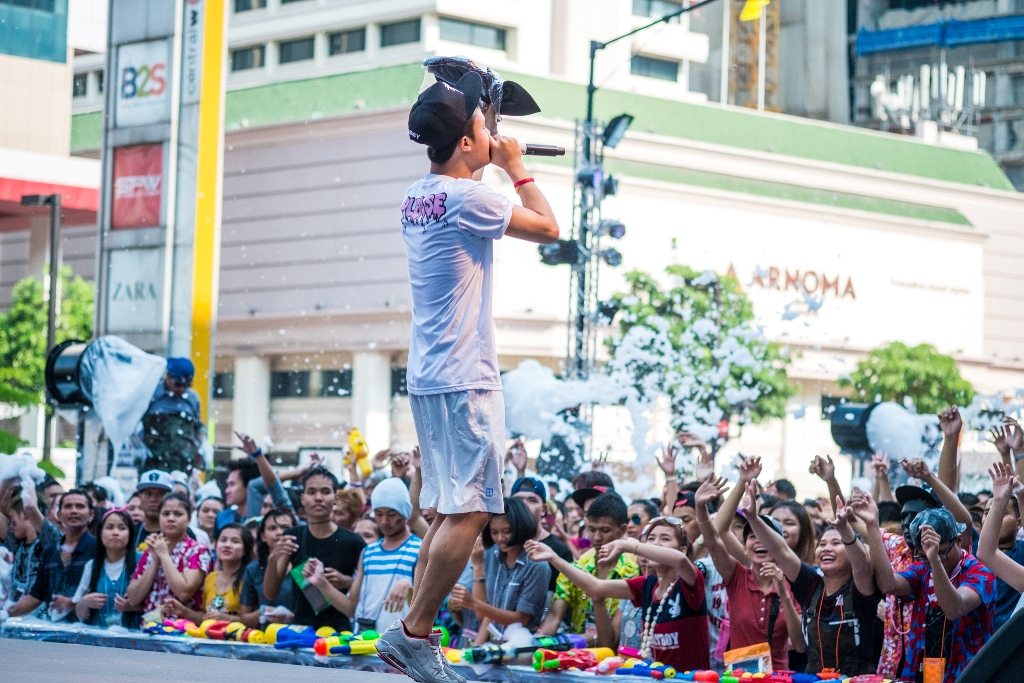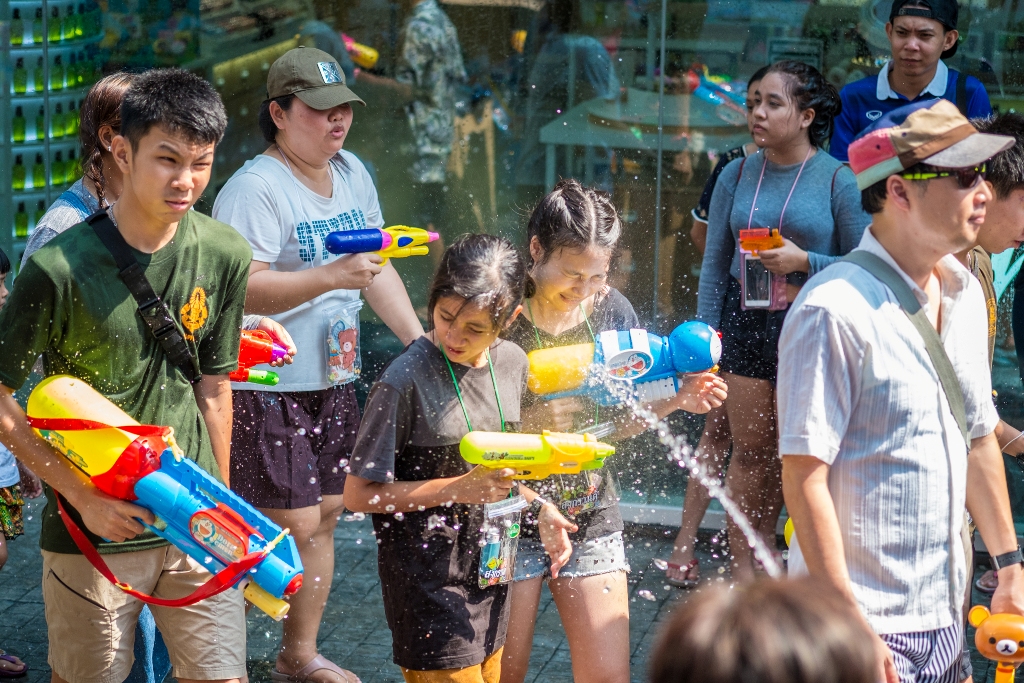 ????????????????????
To complete your adventure during this festival, other things you should know as well.
1. BTS and MRT won't allow you to enter with your water guns filled water. Empty your water guns first and go inside.
2. Malls usually won't have problem to you let you in. But in some cases, the security will not let some people come in with clothes so wet and water dripping everywhere from them. So just be prepared, and make sure that you have look of not going make their mall dirty full of water and flour 🙂
3. It is strongly recommended to bring another clothes and pants. Cover your bag with plastic to avoid them getting wet as well. You really don't want riding bus, train, or taxi with all your wet clothes.
????????????????????
Conclusion, make sure you get all the tips above, and you are ready for Songkran!
Happy let's get lost!!