Skip to content
Amphawa + Maeklong. 2 unique markets you must visit in Thailand
These Amphawa and Maeklong are 2 unique market that we really suggest you to visit while in Thailand. Amphawa floating market might be has been known as one famous floating market. While Maeklong railway market, could be your most unique experience to go to traditional market.
To make it more unique, this time we'll share how to go there using train. Why unique, coz you need to take 2 trains and 1 songteaw to reach both places.
*** Let's start the journey! ***
The route for this trip will be Bangkok – Mahachai – Maeklong – Amphawa. First, in Bangkok, to start the trip, you need to go to Wong Wian Yai train station. This train station could be reached via BTS Wong Wian Yai station, and continue with walking or taxi. It's less than 1KM distance, so it's not that tired to walk there.
From this train station, you'll take train to Mahachai, for around an hour trip, and cost you only 10 Baht. Train departs almost every hour, starts on 5AM. It's economy class train, so don't wear something thick 🙂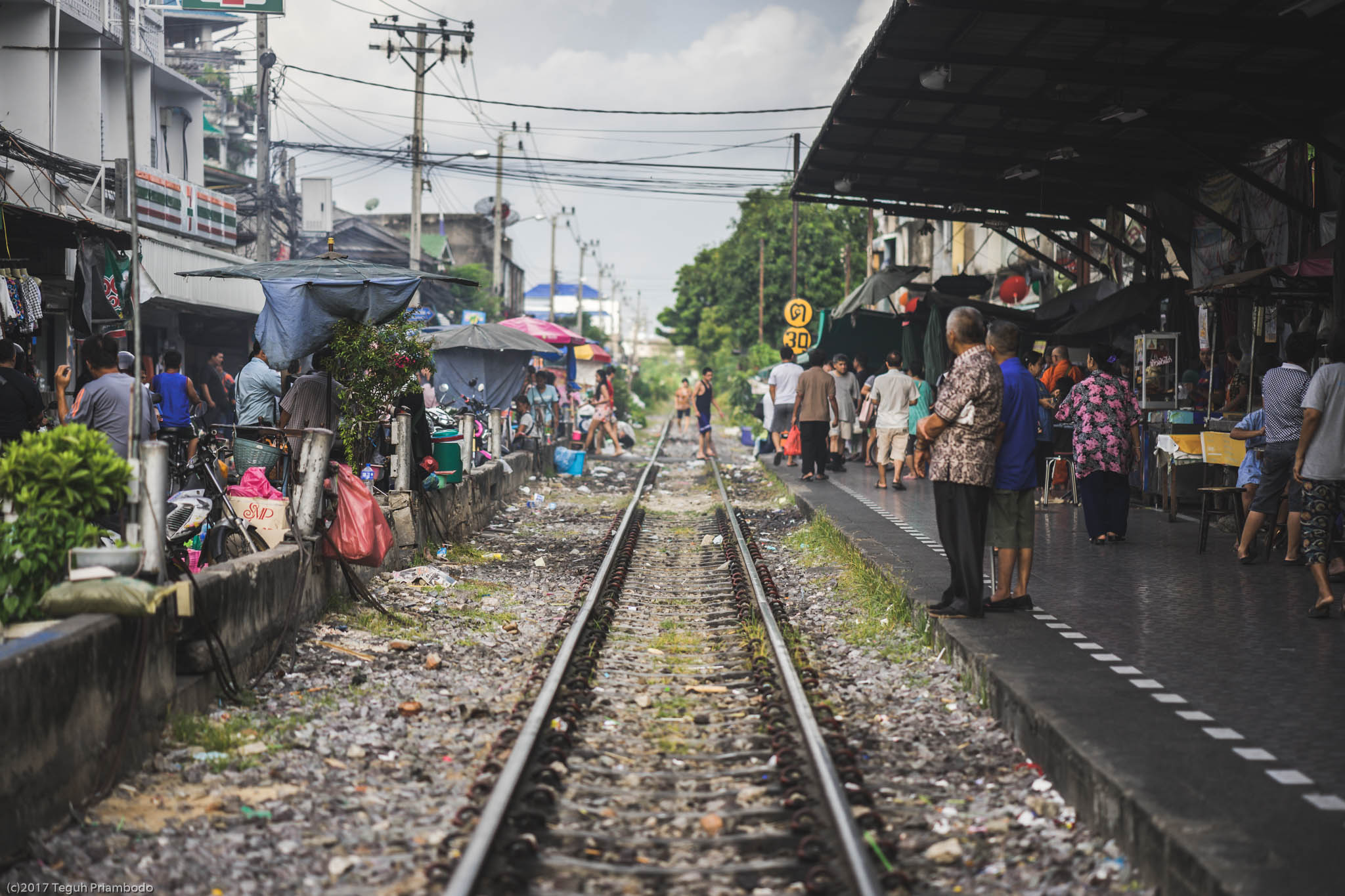 Arrived at Mahachai, you'll be welcomed with traditional market theme. Go exit through the station, take right, and walk straight until you see junction with view of big river beside you.
Along the road to the junction, you'll see like biggest seafood market in Thailand. Not only the fresh one, but also the dried one.
At the junction, take left to cross the river for 3 Baht. After arrived, just go straight to go out from the small alley and take right. You'll see big sign "MAHACHAI TRAIN STATION". Follow the road until you see the railway track. It's less than 1KM, so it won't make your legs tired
The train station will be on the right, or at the end of the railway. Train from this station will bring you to Maeklong, and yes it's only 10 Baht, plus another 1 hour trip. A bit different with Wong Wian Yai, train schedule here is not as often as Wong Wian Yai. So make sure you take the right timing between those 2 stations.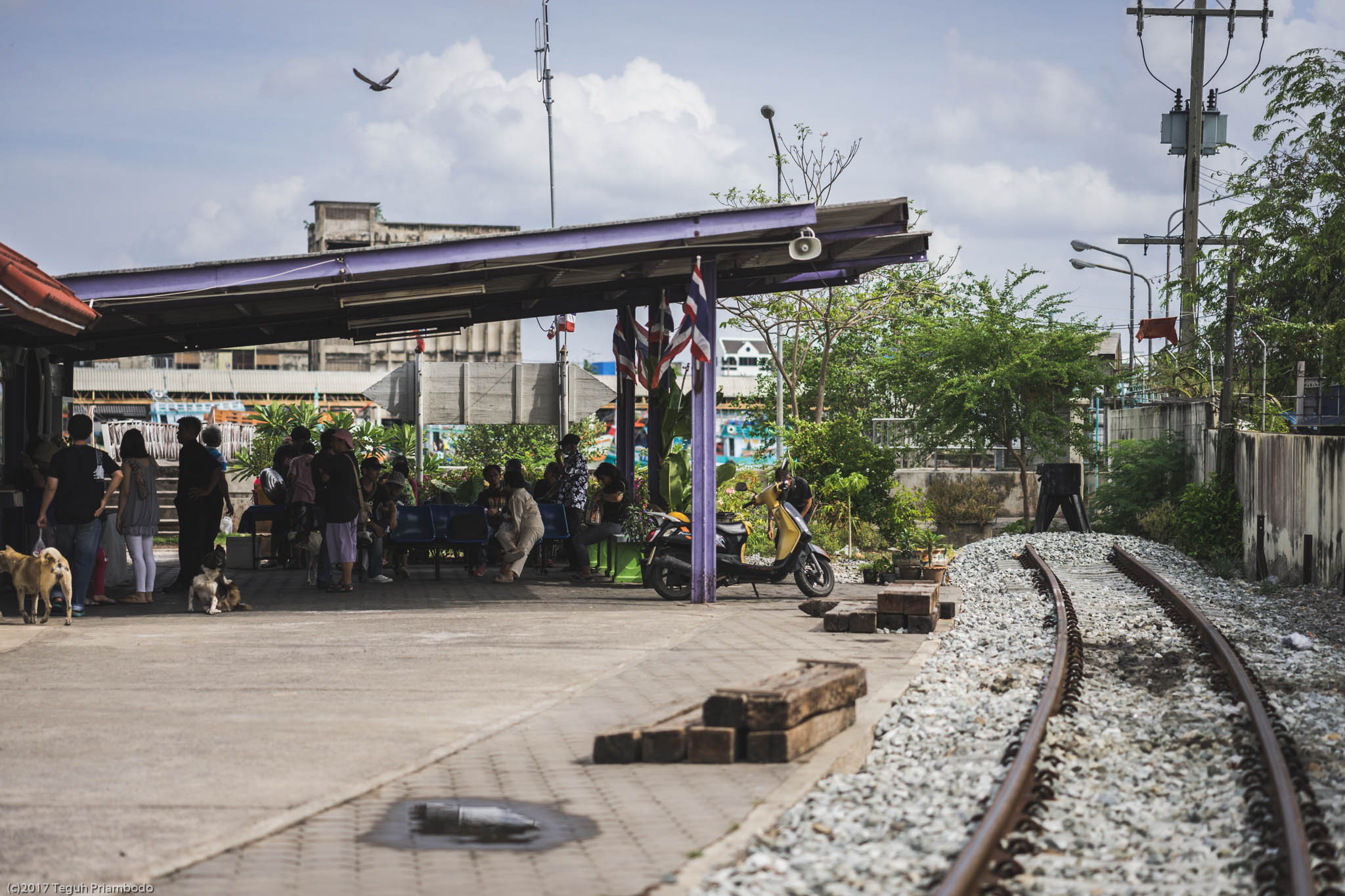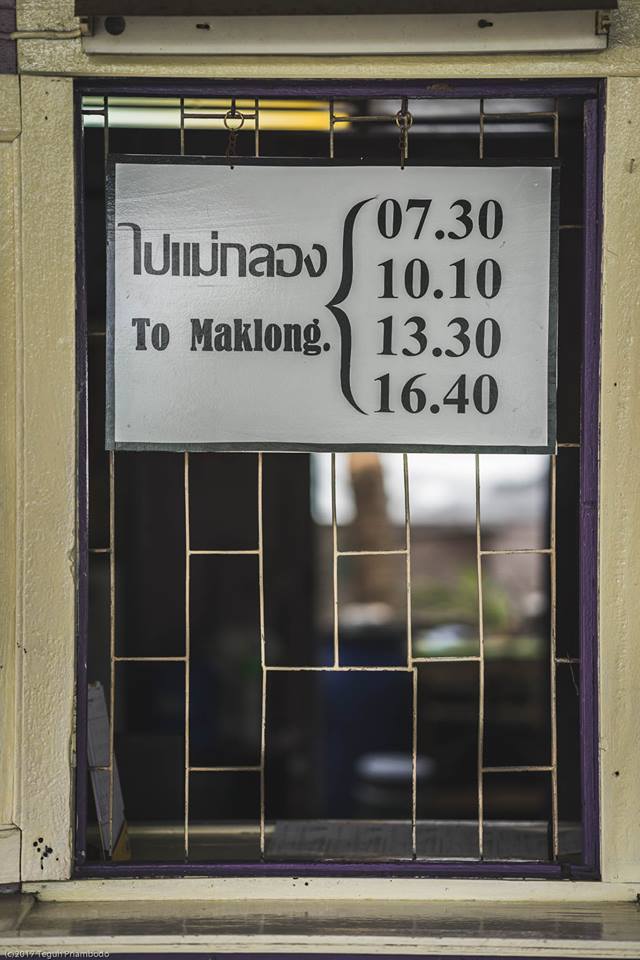 *****
Now you arrived at Maeklong! This is where you can see why this market is quite famous in Thailand!
With no train arriving, this is a traditional market where people shopping and wandering. While the train coming, the train temporarily closed. The trick to capture all those moments is, once you arrived from Mahachai, walk back directly inside the market. The train that brings you from Mahachai, will going back in around 20-30 minutes. During that time, you can capture the market, with and without the train.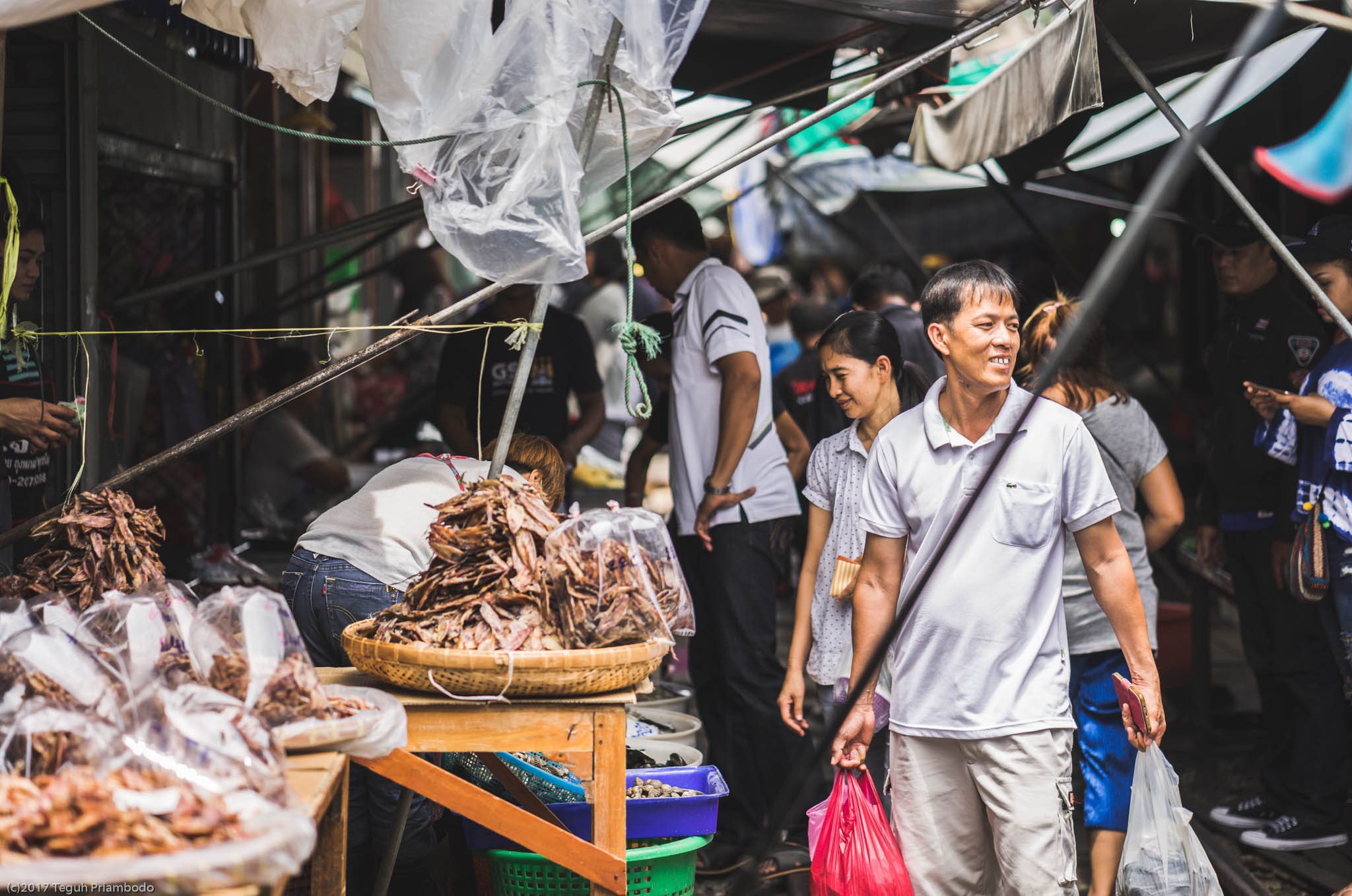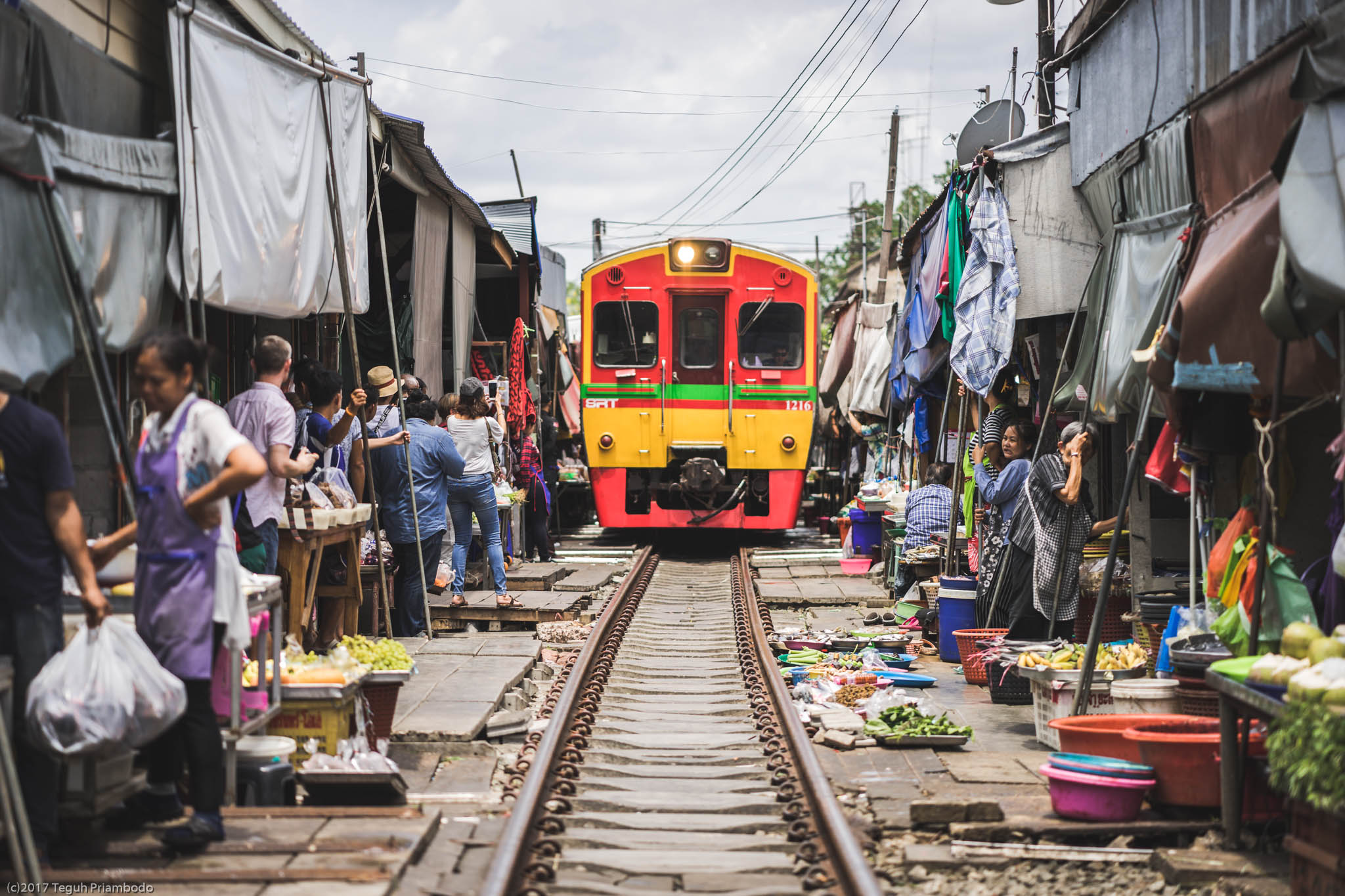 *****
Enjoy your first experience shopping with train coming at you? Now it's the time to go to Amphawa floating market!!
Once you go back to Maeklong train station once you captured the train, you'll the road and take right. Walk straight until you see junction where it has like restaurant selling noodle and pork rice. Take right again and walk until you see blue songteaw.
This blue songteaw is your transportation to go to Amphawa floating market. Will cost you another 10 Baht for 6KM journey. And need to remember, always ask the driver will they go to Amphawa floating market before you take the songteaw.
Once you arrived, just go inside to see the amazing floating market of Amphawa!! You'll see lots of vendors selling foods, and also handicraft there. Our suggestion, take ride with boat first to enjoy the river. Don't take personal boat, that'll cost you 1000 Baht!! Take the regular one where you'll go with  another passengers, that'll cost you just 60 Baht per person. This trip could take like 2 hours, as the boat will stop several times to let passengers visit and see several places along the river.
There 2 kind of boat trip, the one you could take on daylight, and another is at evening (start around 6PM) where you could see fireflies. Both boats cost you the same price. so pick wisely 🙂
The boat is done, now your time to enjoy the food, handicraft, and people here. If you eat in traditional vendors, no worries, as the price is very cheap. They hotel as well inside the market, but last time checked it's quite pricey, like around 1500 Baht per night.
If you have tasted and explore everything there, for sure it's already night, and you can't go back to Bangkok using the same route. Your solution is, taking minivan. The minivan can be found beside the bridge that crossing the Amphawa floating market, and in front of local bank. Make sure it's the main bridge that people use to cross with their cars or motorbike. Just cost you 70 Baht per trip to Bangkok, and last minivan is around 9 – 10PM. This minivan will take you Bangkok South bus terminal (Sai Tai Mai), but better you ask the driver to drop you at Central Pinklao. From here, you could continue the trip to central using taxi or local bus.
And now let's total the cost we spend to go . Wong Wian Yai – Mahachai 10 Baht (train) + Crossing the river at Mahachai pier 3 Baht + Mahachai – Maeklong 10 Baht (train) + Sonteaw to Amphawa floating market 10 Baht + Going back to BKK 70 Baht (minivan) = 103 Baht!!
Pack your things, no need to think twice, and taste the unique market of Thailand now!!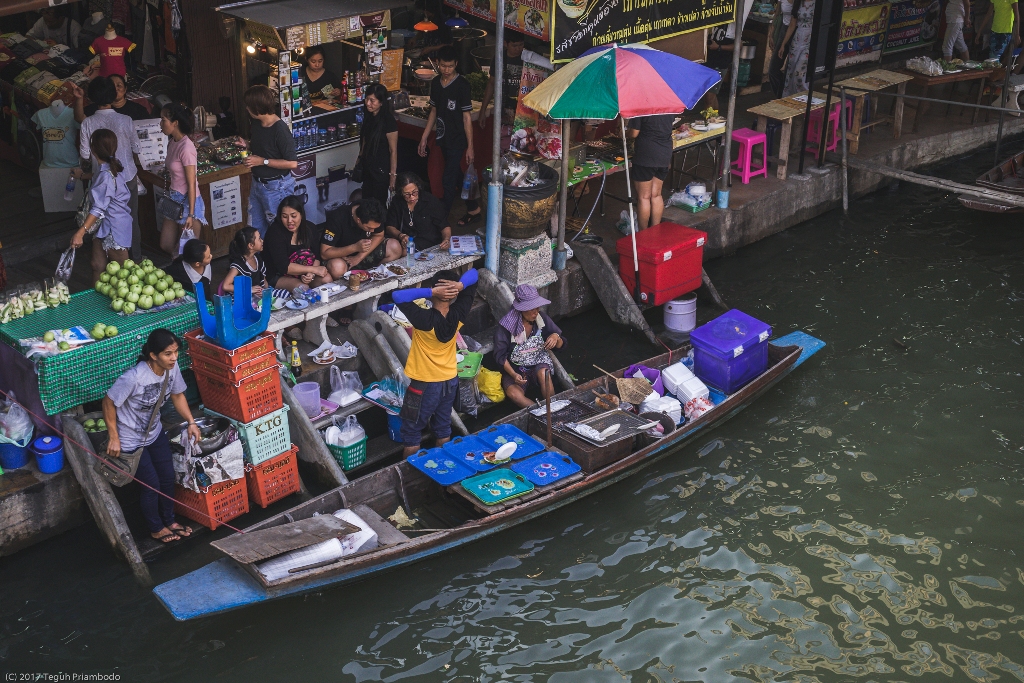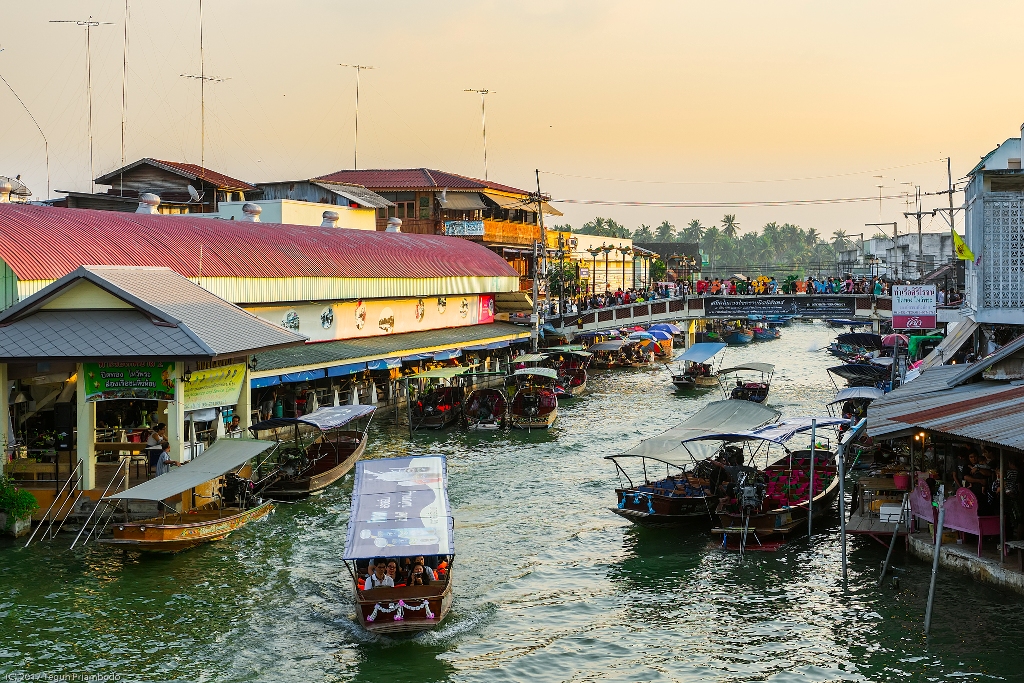 Happy let's get lost!!