Skip to content
Why Yangon, why Myanmar. That's the question we got from some of our friends when visiting Yangon. Due to the "negative" news world see recently about their crisis of refugee, some of our friends questioning why picked to visit Myanmar. And to answer that, we believe is better to use the image below.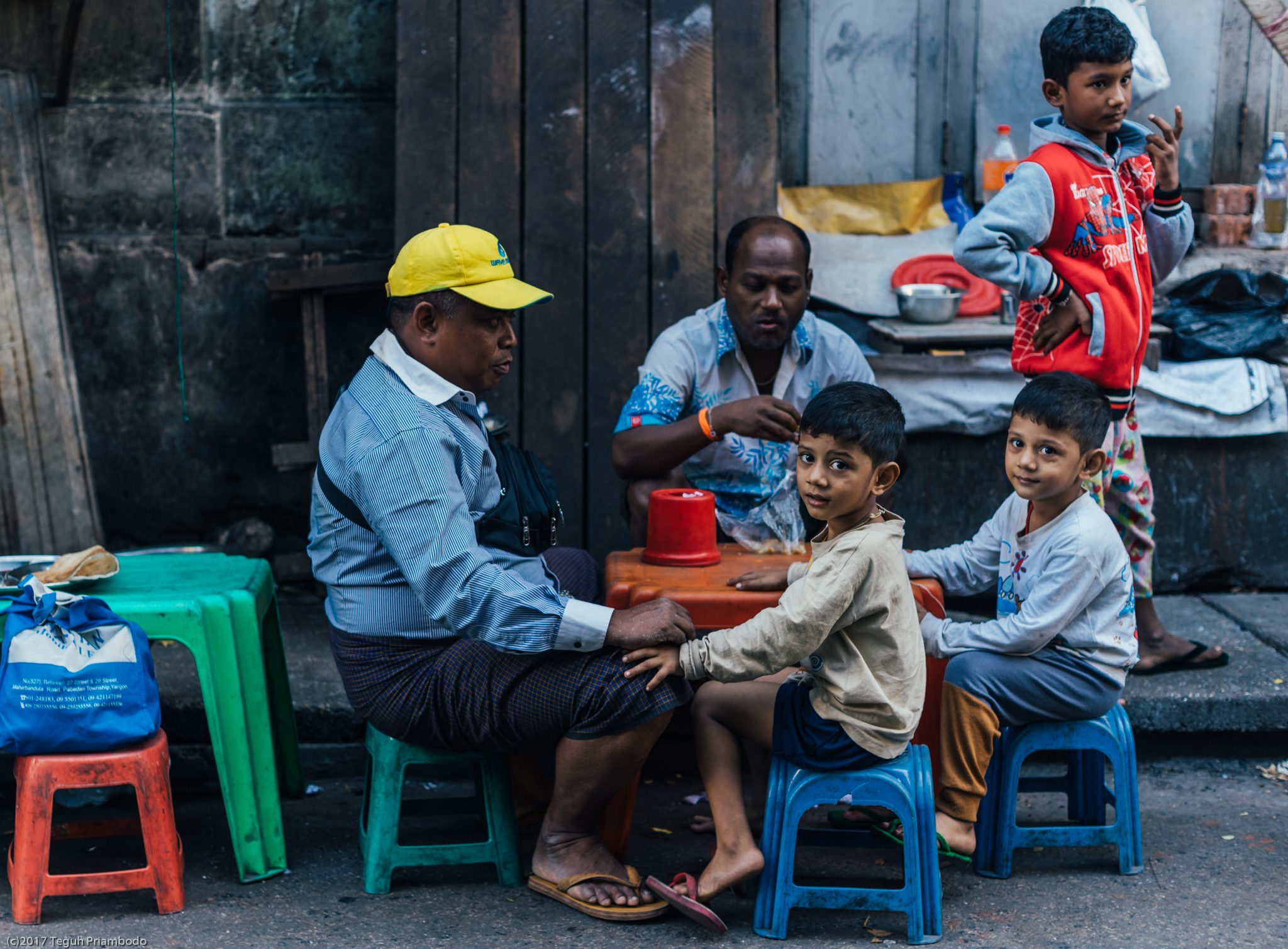 So, to start our story of Yangon, we'll say this place is completely safe and uniquely beautiful to visit.
Getting to Yangon from Bangkok, there's 2 ways. First you could try using bus from Bangkok that could take almost 24 hours. Start your journey from Mochit bus station to Mae sot, and then continue from Myawaddy to Yangon. Second, using flight that go daily from Don Mueang or Suvarnabhumi airport, for 1 hour trip. Regarding to visa requirement, though you are citizen of ASEAN, going through Myawaddy, Myanmar immigration staff sometime will tell you that you'll need evisa or pay some Baht. Got 1 friend that tried the land border and forced to pay, though she's from Indonesia. She insisted that ASEAN is free to get 14 days tourist visa, and finally made her way to cross the border. You can check about the evisa requirement here.
Arrive in Yangon international airport, to go the city, you could take the bus, but this will require you to walk around a mile to the nearest bus stop. So we suggest you to take taxi. Before going out, after the immigration, take the city map on information table. This will be very useful for you. Also next to that, you can buy sim card for your mobile. All providers have the same quality for us. Their package for data starts from 1500Ks (Myanmar Kyat).
Back to the taxi to central, in the exit gate, they provide sign of the rate going to the city. Most of them will be around 6000 – 7000 Ks. But if you prefer to book online, try Grab. We use our Thailand grab, and it got us 6700 Ks to go the hotel we stay. Distance to the central is around 15km, and if you go in the morning or afternoon, prepare for the hectic traffic along the way.
Where to stay? Between 2nd to 45th Street is the best place for you to stay while in Yangon. Central of the city will be located around Sule Pagoda. Bus, government offices will be located around this spot. We stayed at Rangoon 40 Hotel that located in 40th street. They have nice and clean room, and also staff that super friendly. Moreover, it's only short walk to center of the city. So, we suggest you to stay in the hotel around 2nd – 45th street.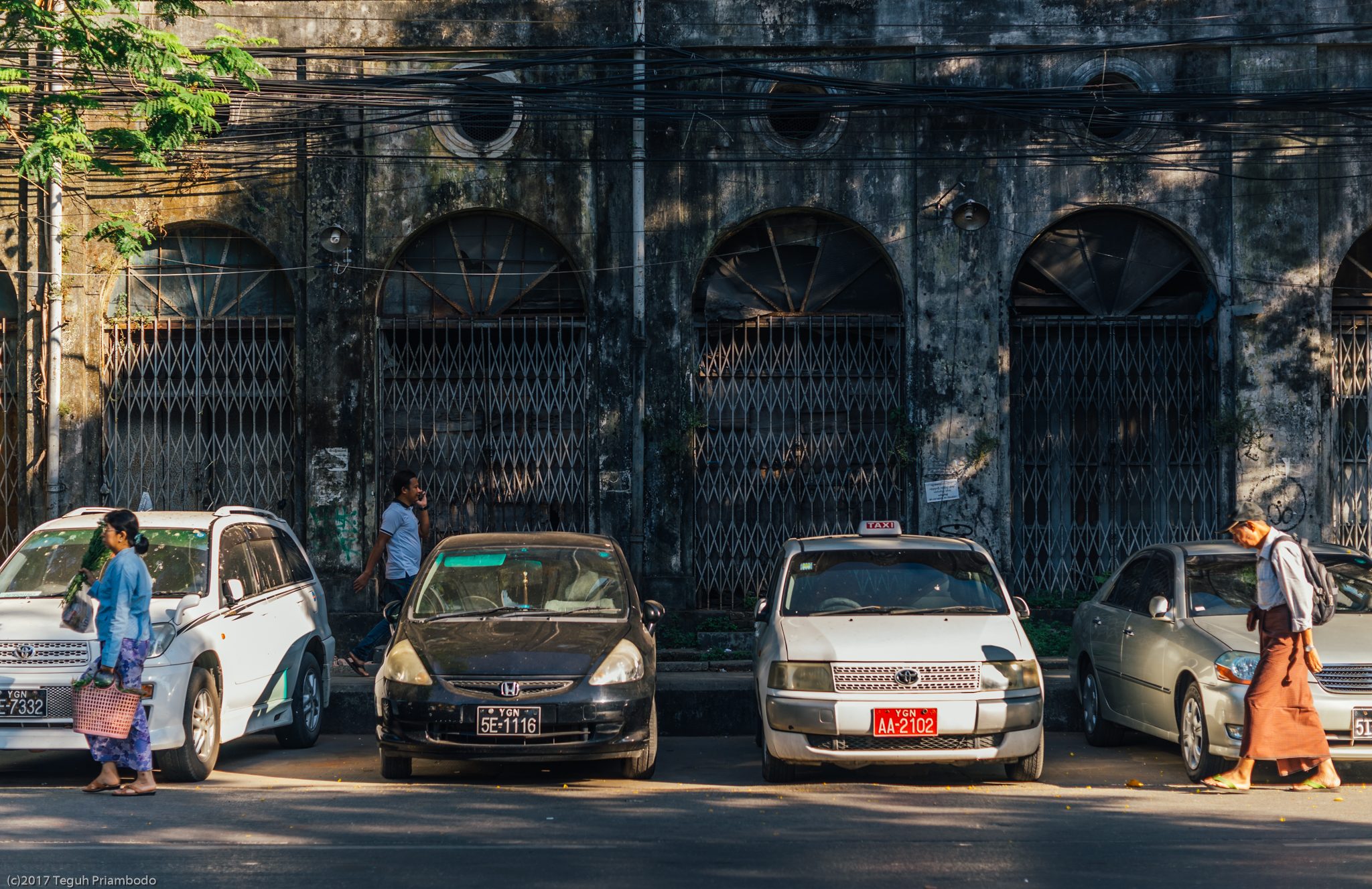 What to do in Yangon? As we mentioned earlier that this place is uniquely beautiful. If you have roamed the capital in all Southeast Asia countries, you'll find Yangon have different definition of beauty.
To begin talking about enjoying this city, we'll start with on how the city could amaze you with combination of ethnic diversities and very old building design that can be found in every corner of the city. Therefore, walking through the city is very recommended.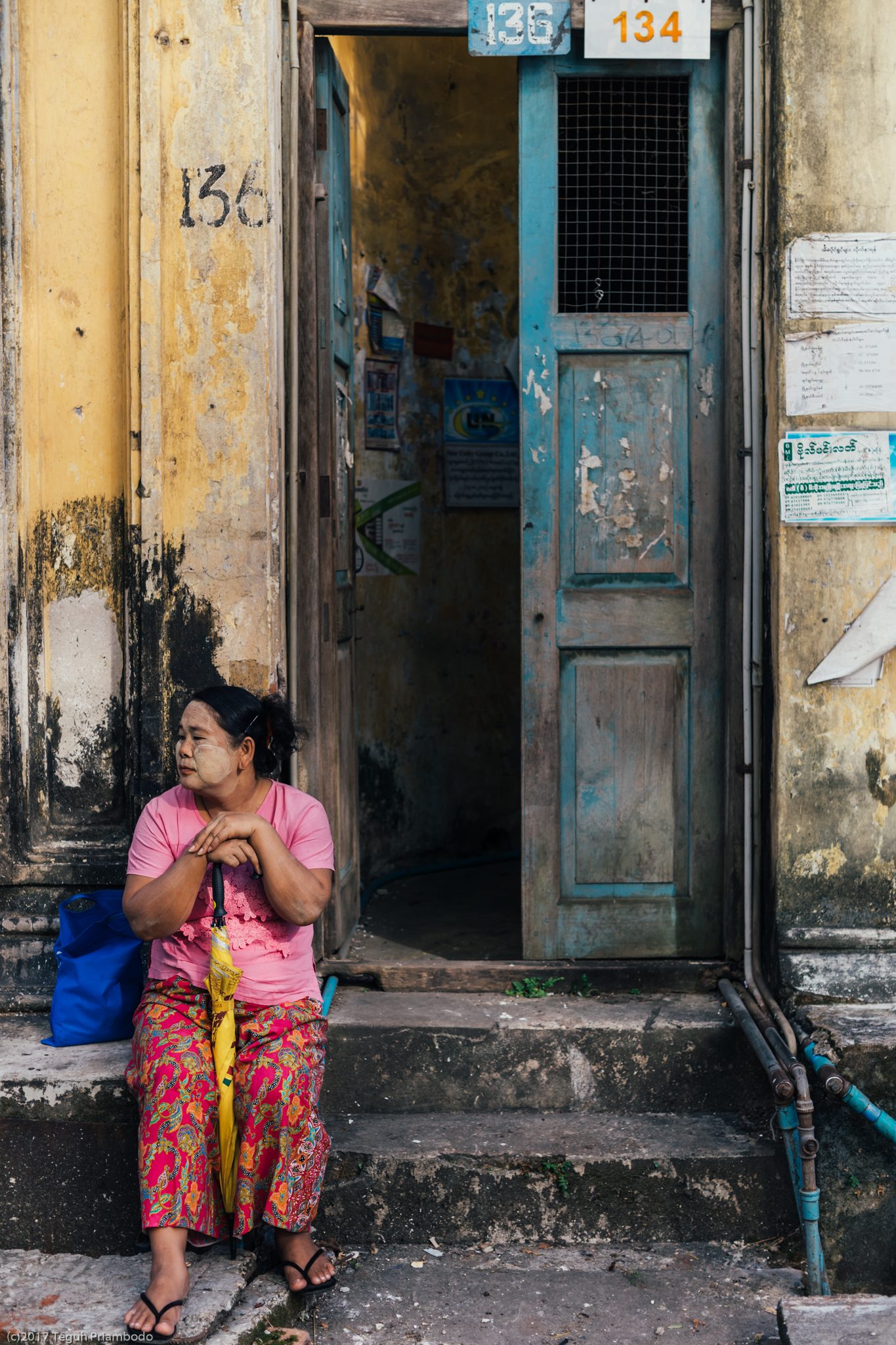 Yangon most populated with Indians and Chinese Burmese. You'll find many temple and mosque actually along the street of Yangon. If most of the news saying conflict between those ethnics, what we found is more about different things living together and  make this city another hidden beauty in Southeast Asia.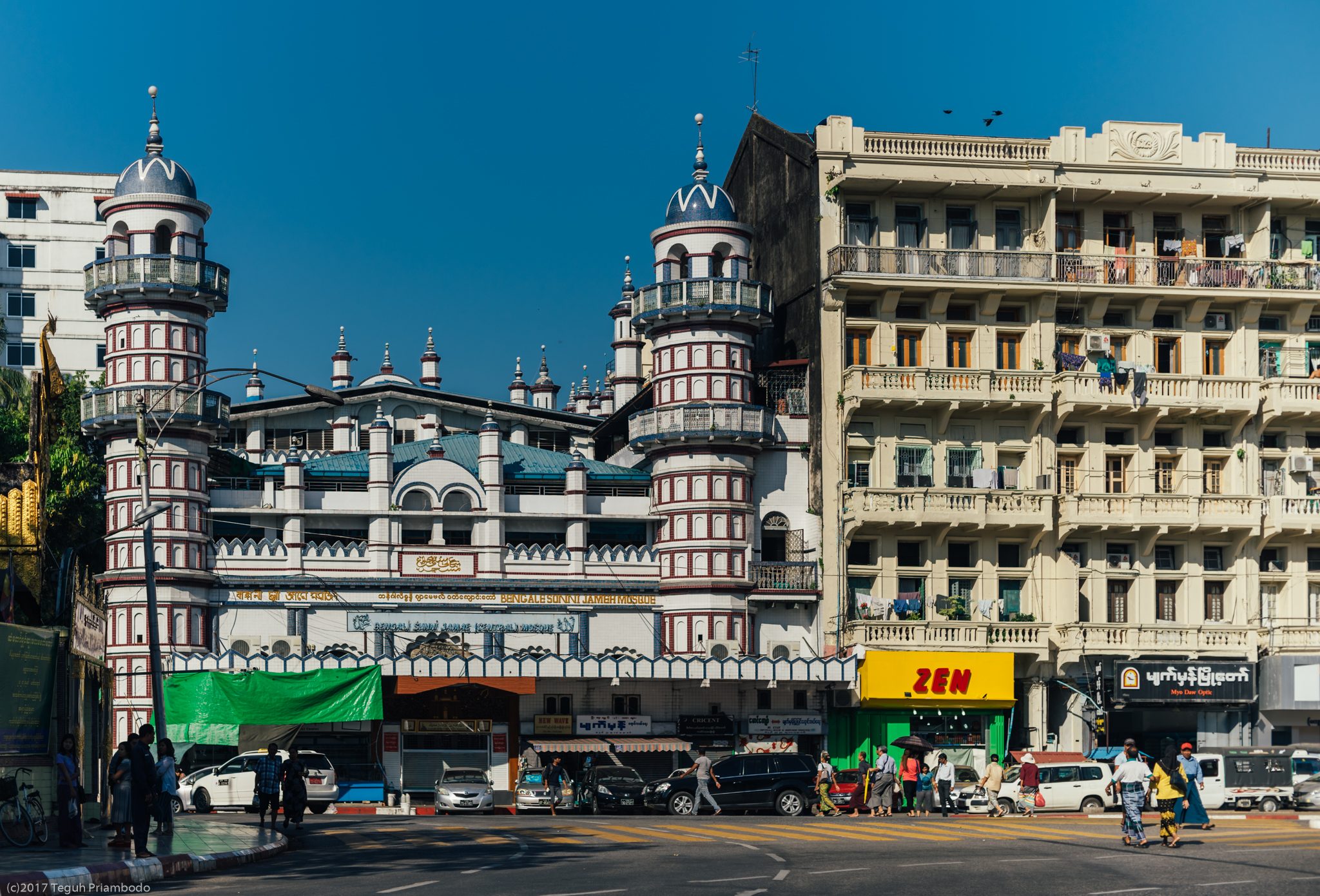 Old buildings are easily to be found in Yangon. From place to live, to govt office, they are everywhere around the city. This is one great interesting point to explore in Yangon. While in another SEA capitals what you see is tall skycrappers, in Yangon you'll find less less less of tall and modern buildings. Strand Rd is well known for having many old and great buildings. Explore that area in morning to see the real experience life in Yangon.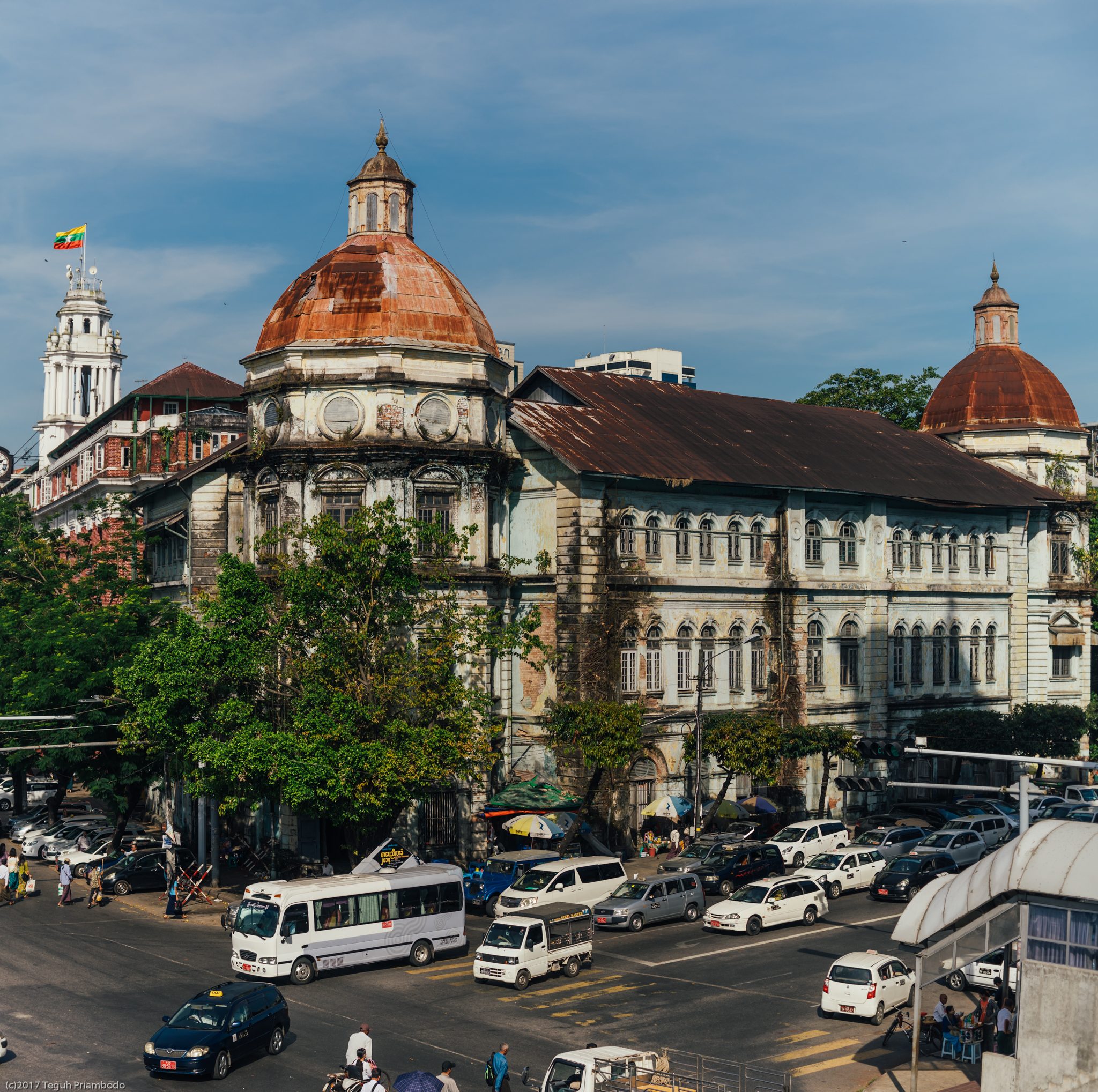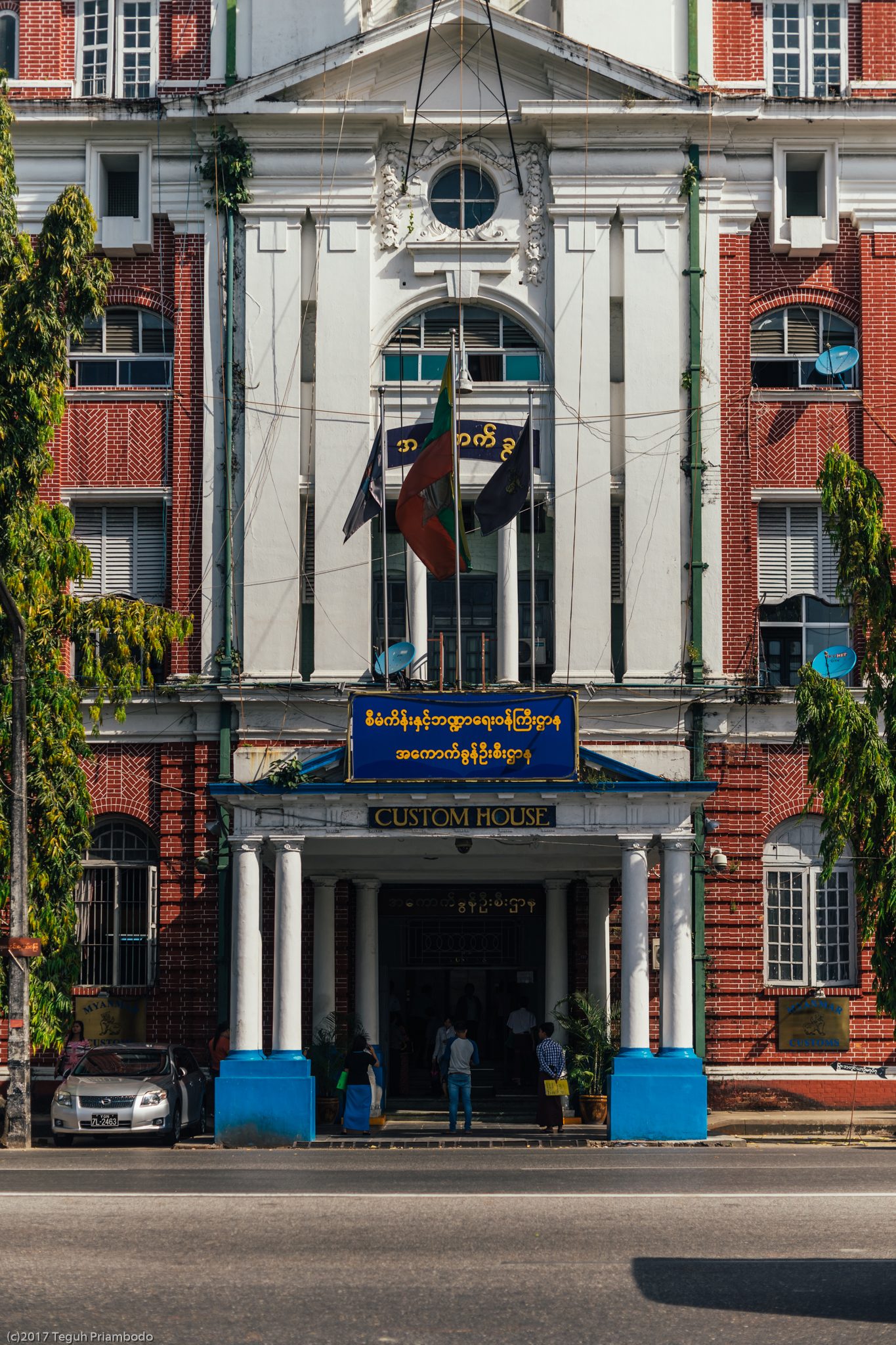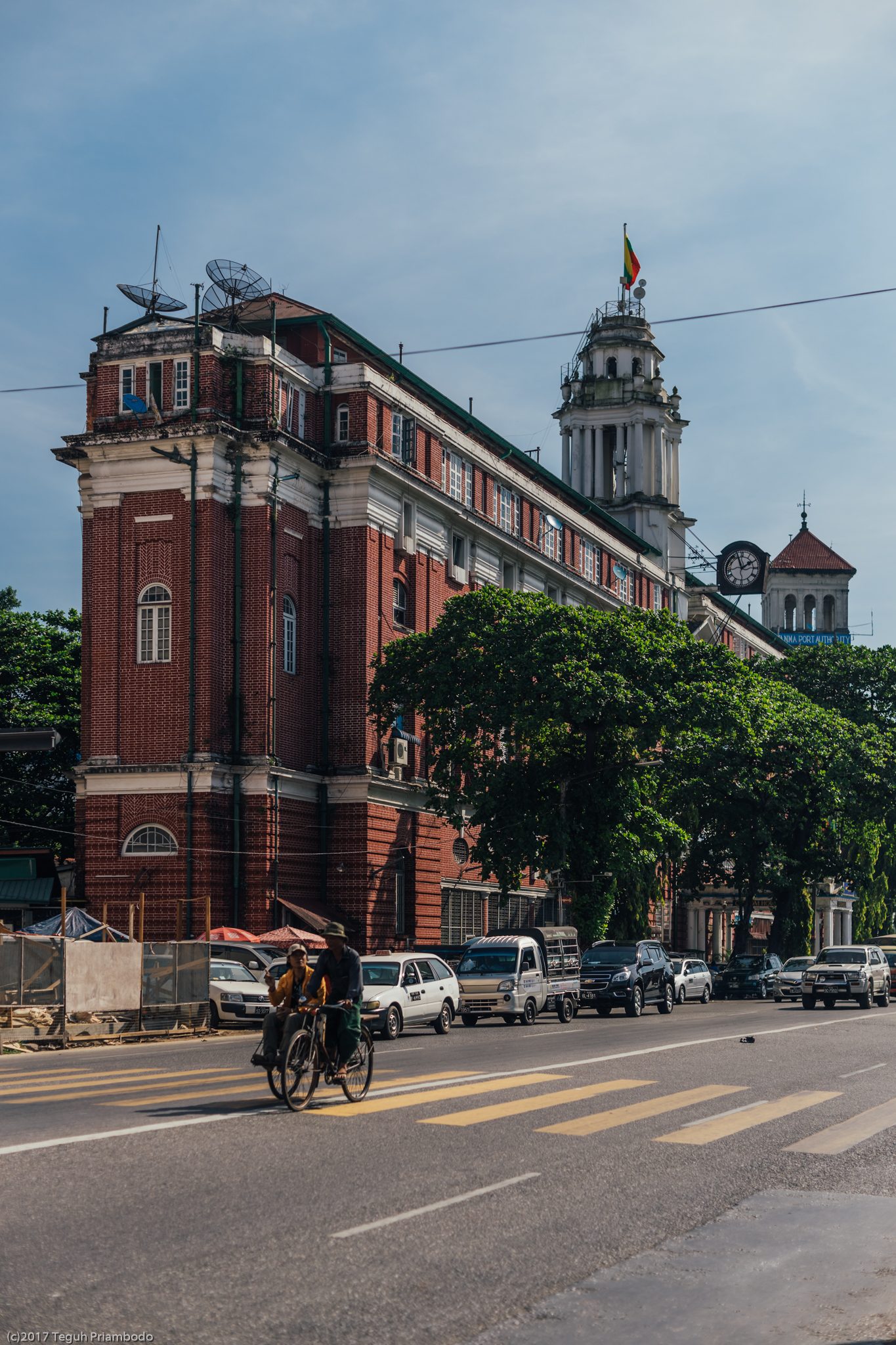 Eat like local. To eat in Yangon might be different compare to other capital. To begin discussing about this, you must know that tea is playing a very important role in Myanmar culture. Therefore, every time you eat, having tea is inevitable in Yangon.  And why the sensation is different to eat in Yangon? If you're not visiting restaurant or food court in mall, then you eat in street using plastic table and chair. You can have many options to choose, from rice combined with mutton curry, noodles, or even spicy salad.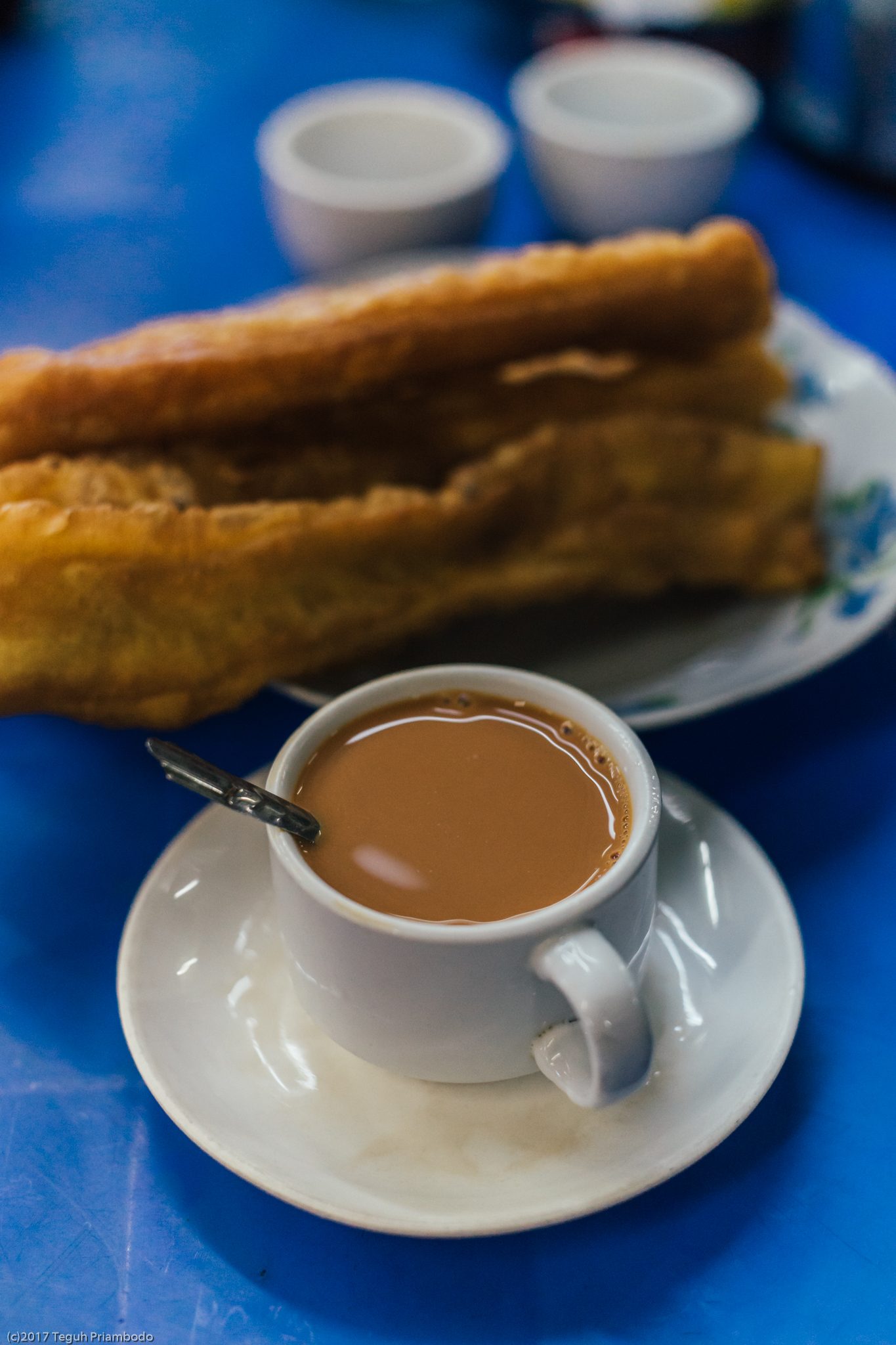 Another thing to add about eating in Yangon. We know that for some people, hygiene is must thing have about food. But being backpacker, of course won't allow you to eat expensive foods everyday. We found a food court (top floor) in mini mall called "Ruby Mart", located near 37th Street and Asia Plaza hotel, that actually "affordable". While eating in food court at Junction mall could cost you at least 5000Ks, in this Ruby Mart you still can have it for 3000Ks per menu. To eat in the street could be way more cheaper, as we got like Biryani rice with beef curry + tea for only 1200Ks!! So the choice is yours.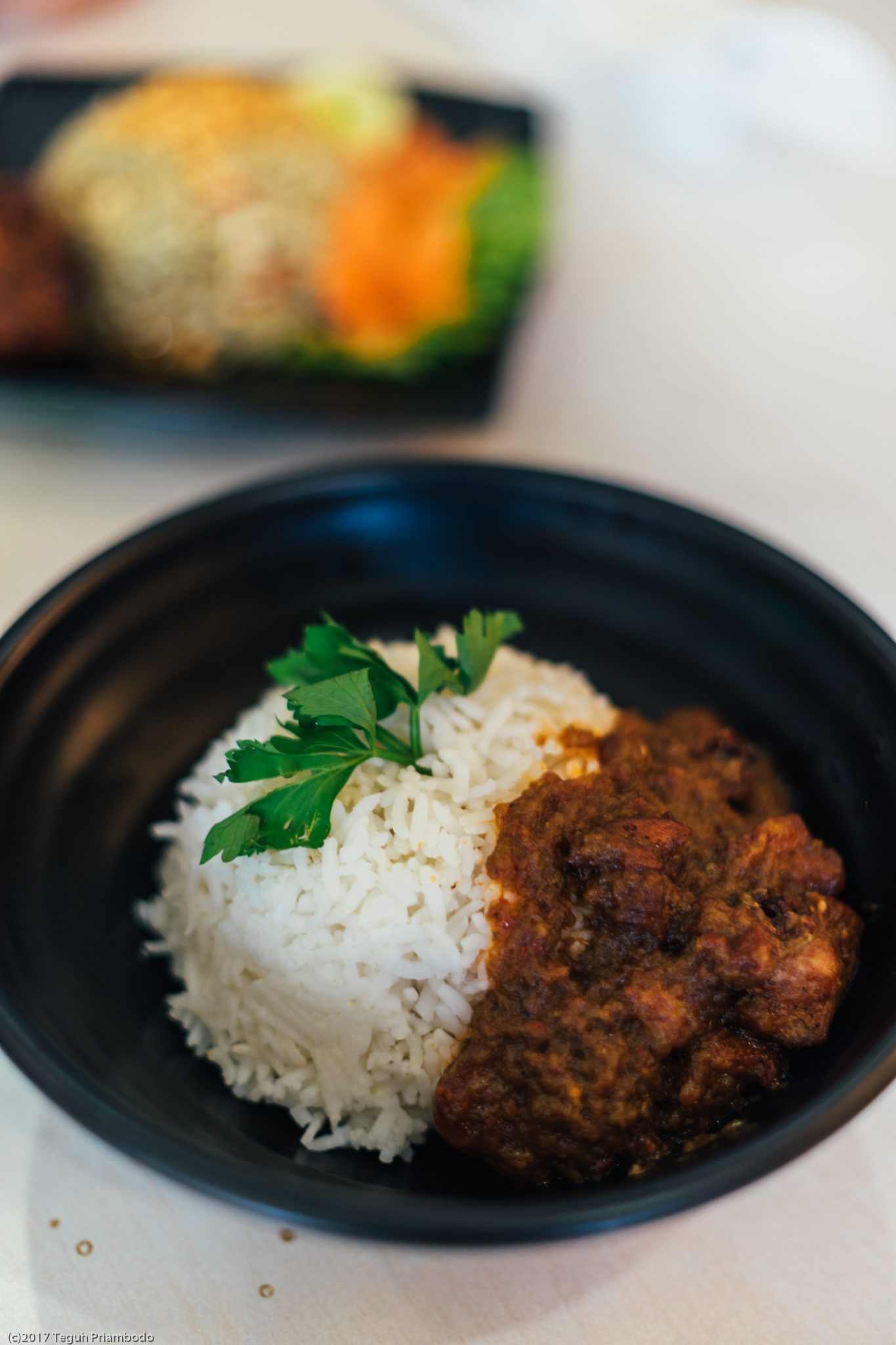 Still talking about eating, we can't forget about Chinatown. Here, Chinatown is located in 19th and 20th street. They start to open around 5PM. Here you can choose to sit and enjoying beer in the bar, or pick the barbecue menu from their stall. Price, kinda expensive, if you take like barbecued fish along with another meat balls etc, could cost like around 20000Ks.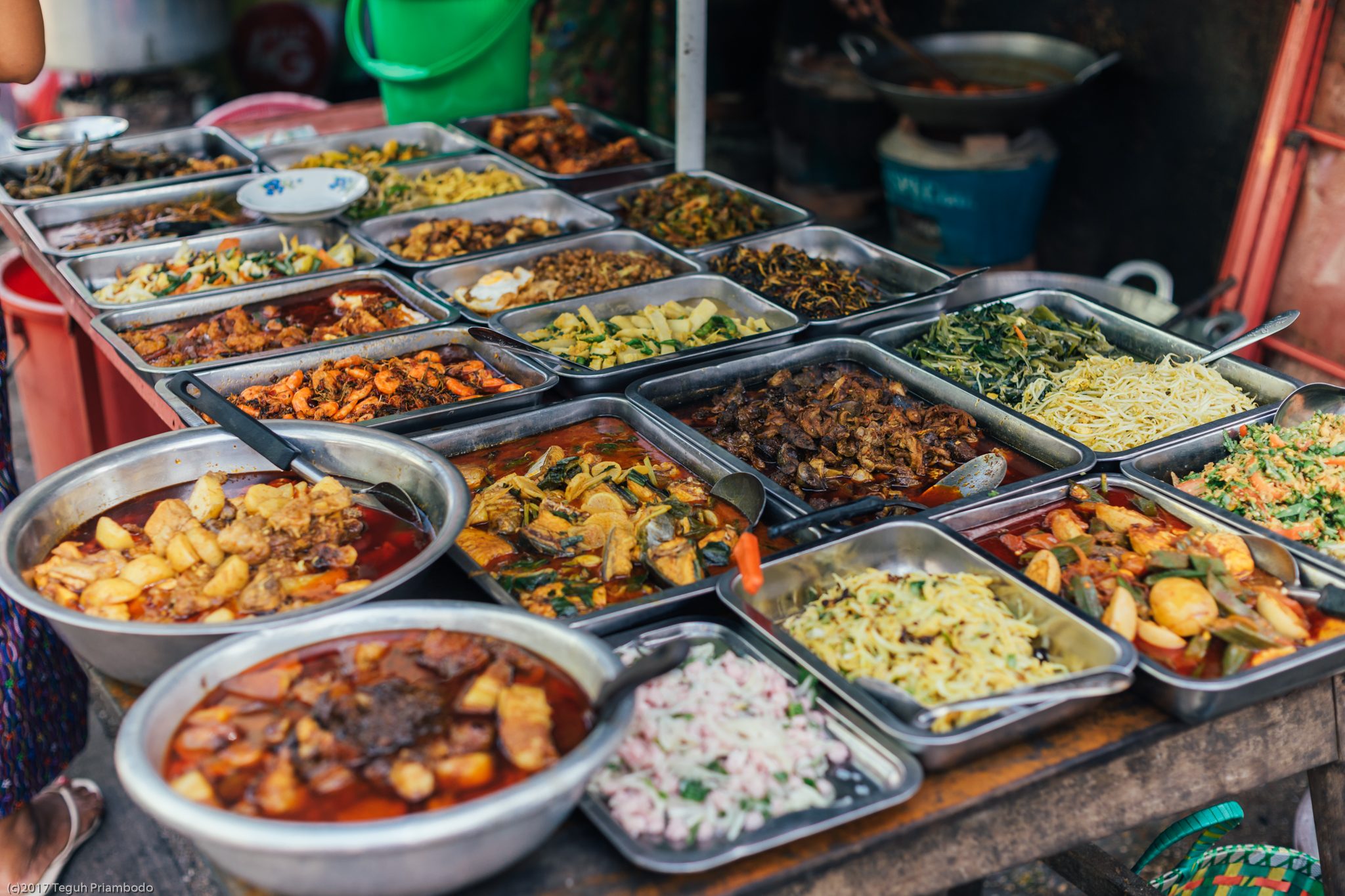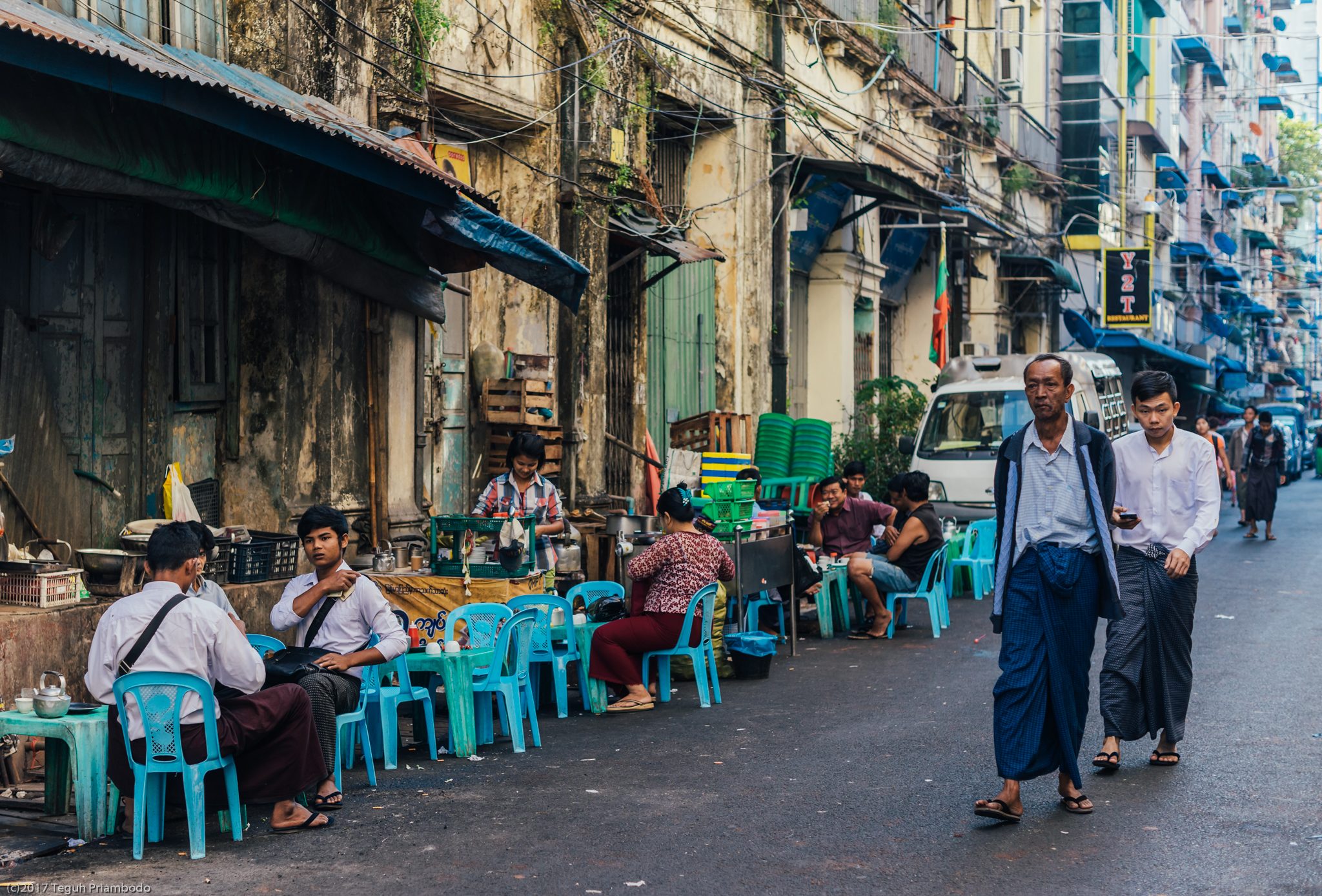 1 unique thing you must know in Yangon, is about their habit to do "Betel nut chewing" or local call it "kun-ya". It's like tradition where they chew combination of Areca nut + slake lime + catechu + and wrapped in betel leaf. Almost in every corner of the street you'll find people selling it. That's why, if you're walking around the town, and see some like red or orange stain on the floor, don't step on it, coz it's the stain from the spit of people doing betel nut chewing.
Next is about the signature visit of Yangon. Can't miss for sure the famous Shwedagon Pagoda. Located just around 2km from Sule Pagoda, so walking there is also possible. Price for ticket currently is 10000Ks per person. What we can suggest is to visit this place in the afternoon (you don't want to get your feet burnt walking in hot tiles caused by the sun) and bring plastic bag to carry your sandals or shoes and socks. Since this place has 4 entrances, if you bring along your shoes with you, then you can go outside the pagoda from another entrance. Wear proper dress, as for women, you need to wear long pants at least, or you can use clothes provided by them by leaving 3000Ks as deposit.
There's another temple or Pagoda you can visit while in Yangon. Such as Botataung Pagoda, Kaba Aye Pagoda, Sule Pagoda, and many more!! These pagodas mostly will have entrance fee, but it will be cheaper than Shwedagon Pagoda. It's range from US$2 – 3. But to be honest, not much to see inside.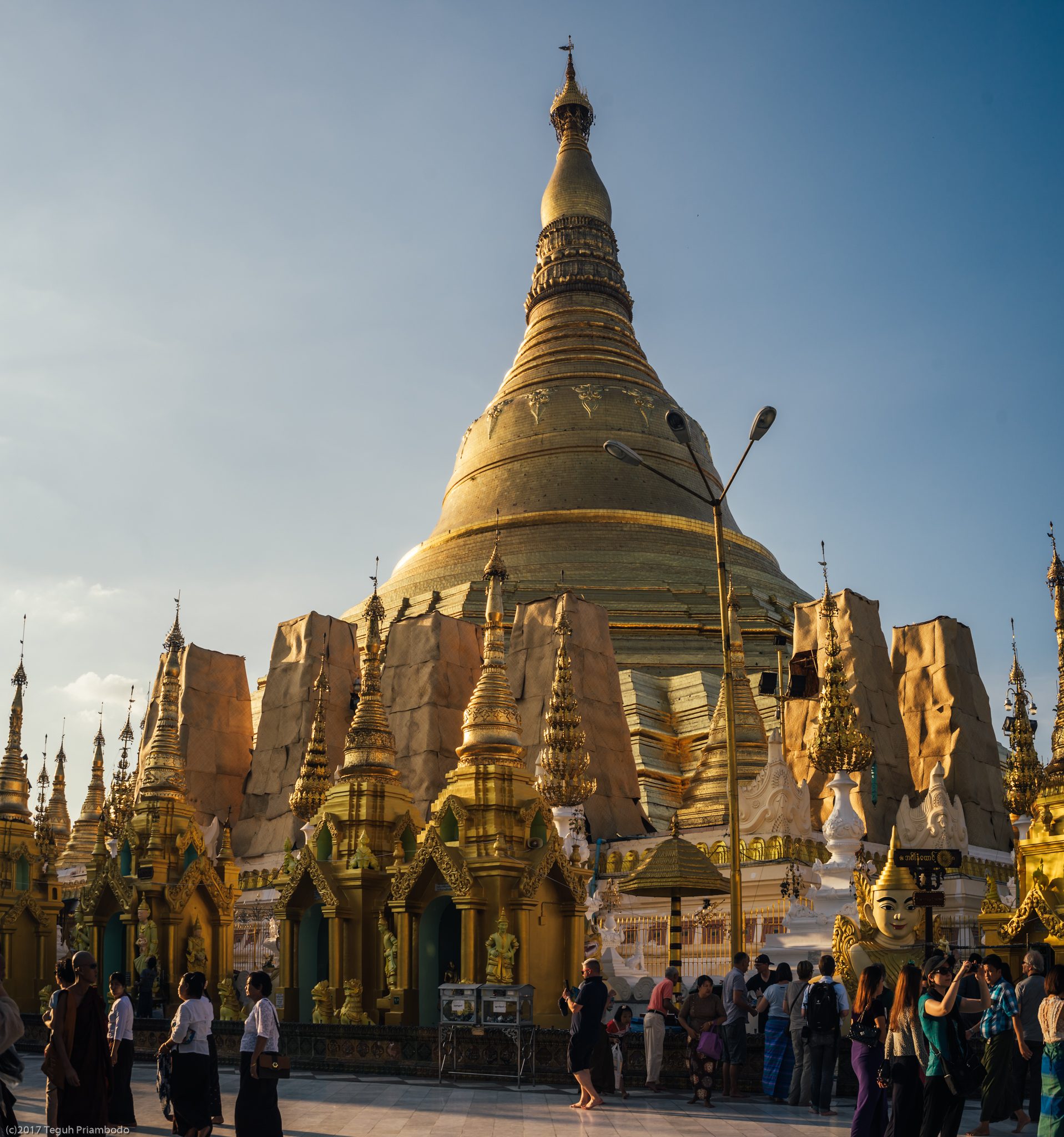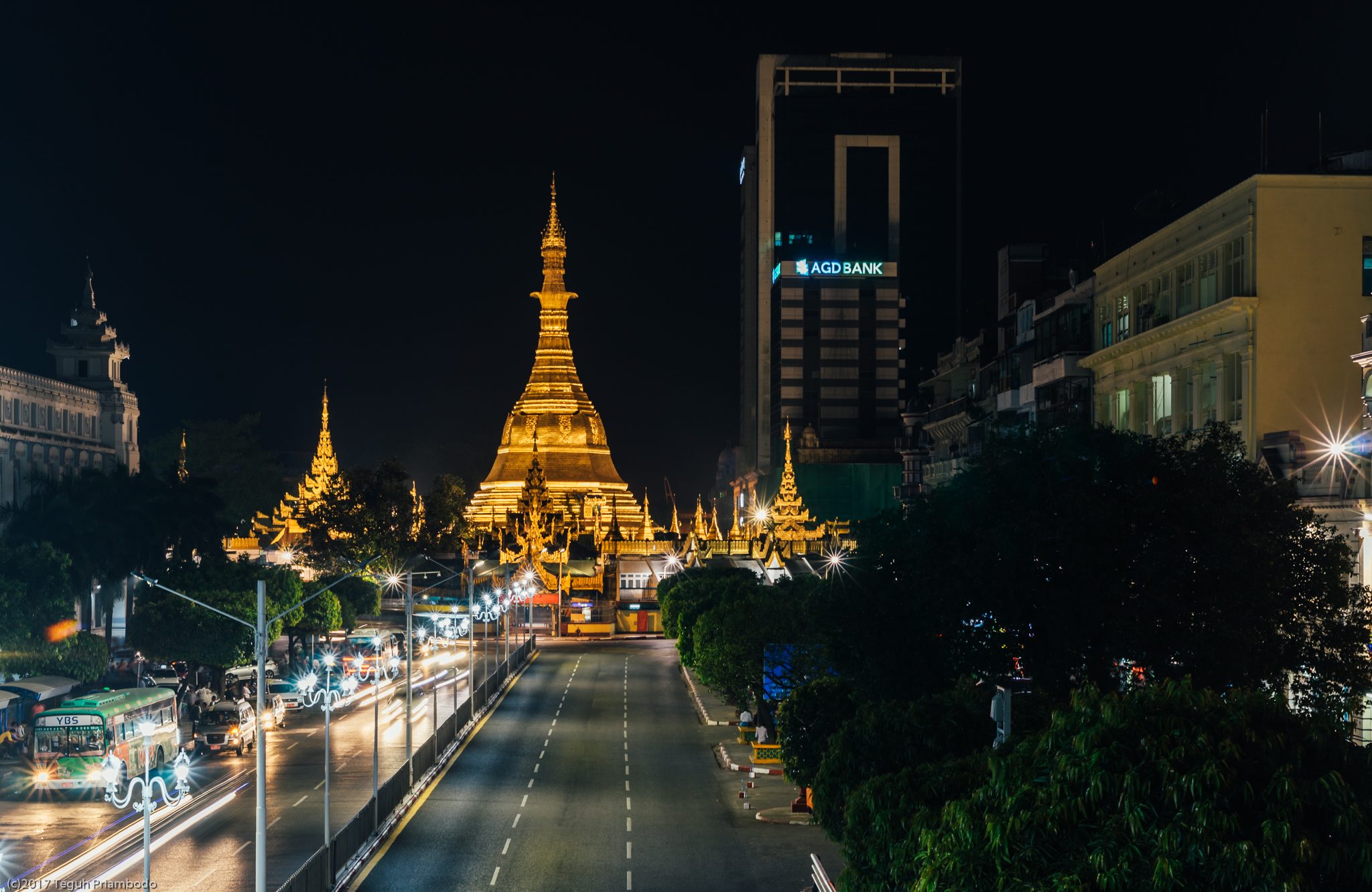 Another experience to have while in Yangon is involving in the middle of their traditional market. Located in 26th street, this is the place where you can experience the real action of economy in Yangon. Everything is traditional, from how people sell their stuff on the floor just using paper, yelling over here and there to bargain, to car that actually passing through the tiny road of the market! Clearly this place can't be missed while walking strolling in Yangon.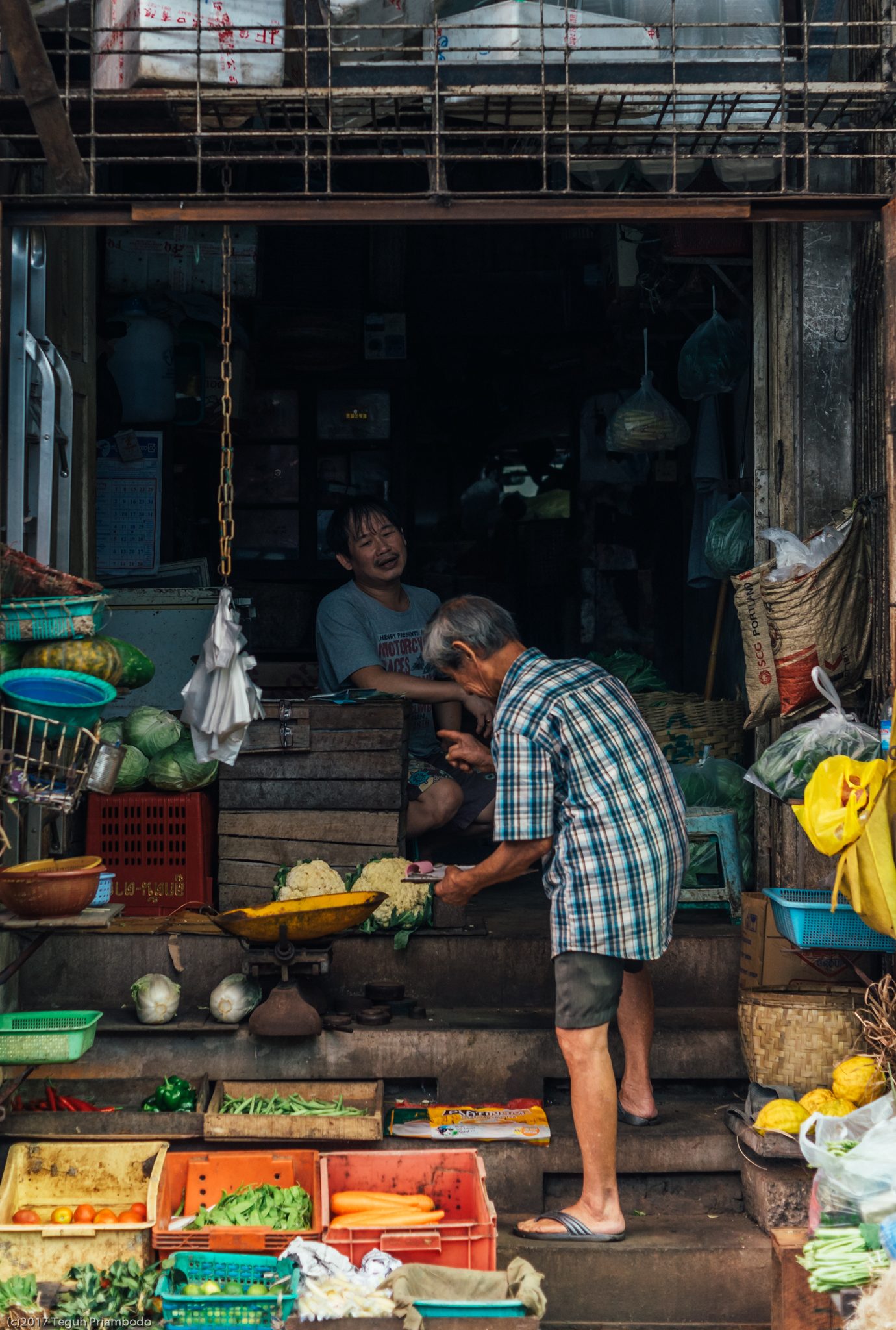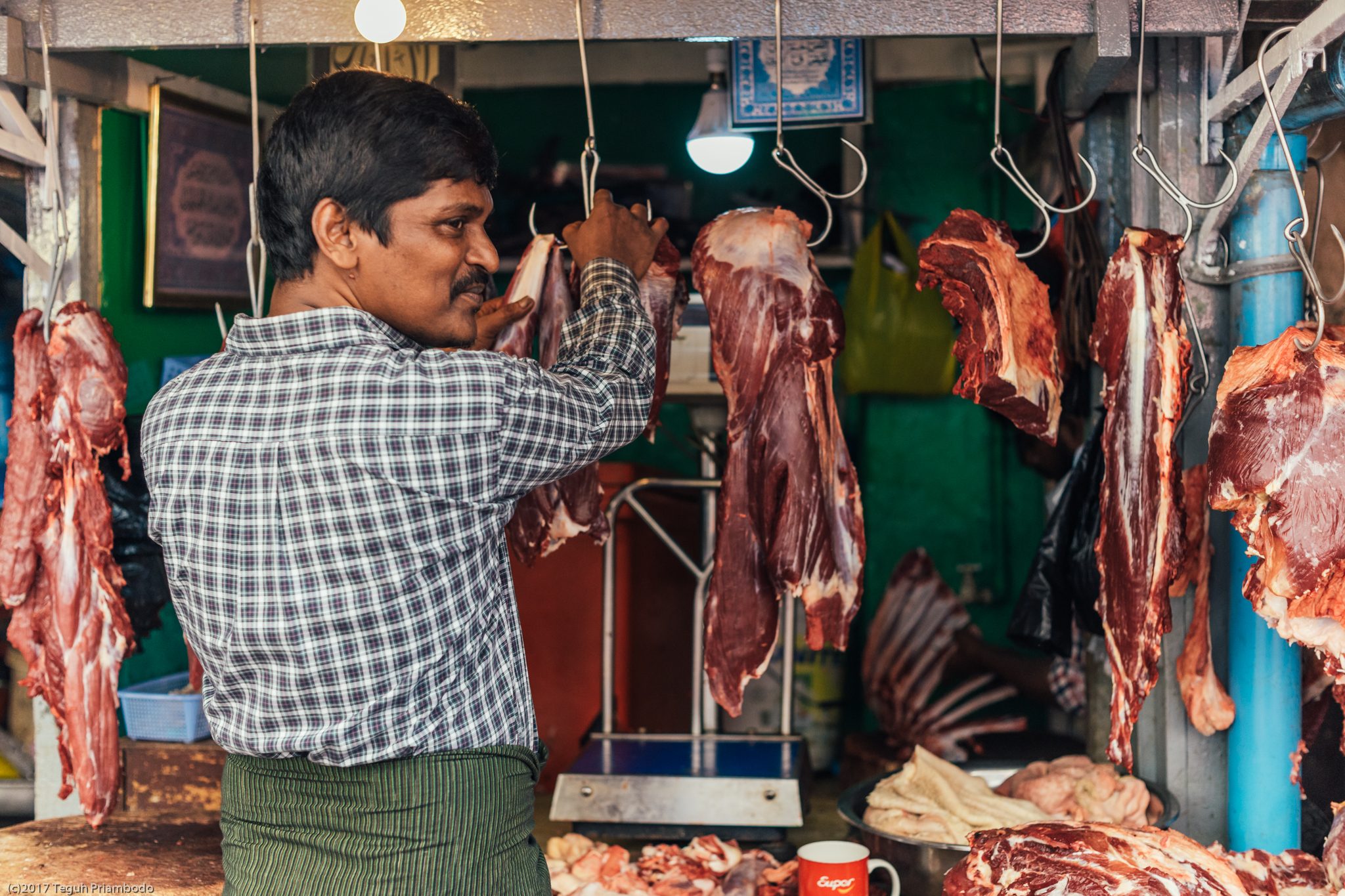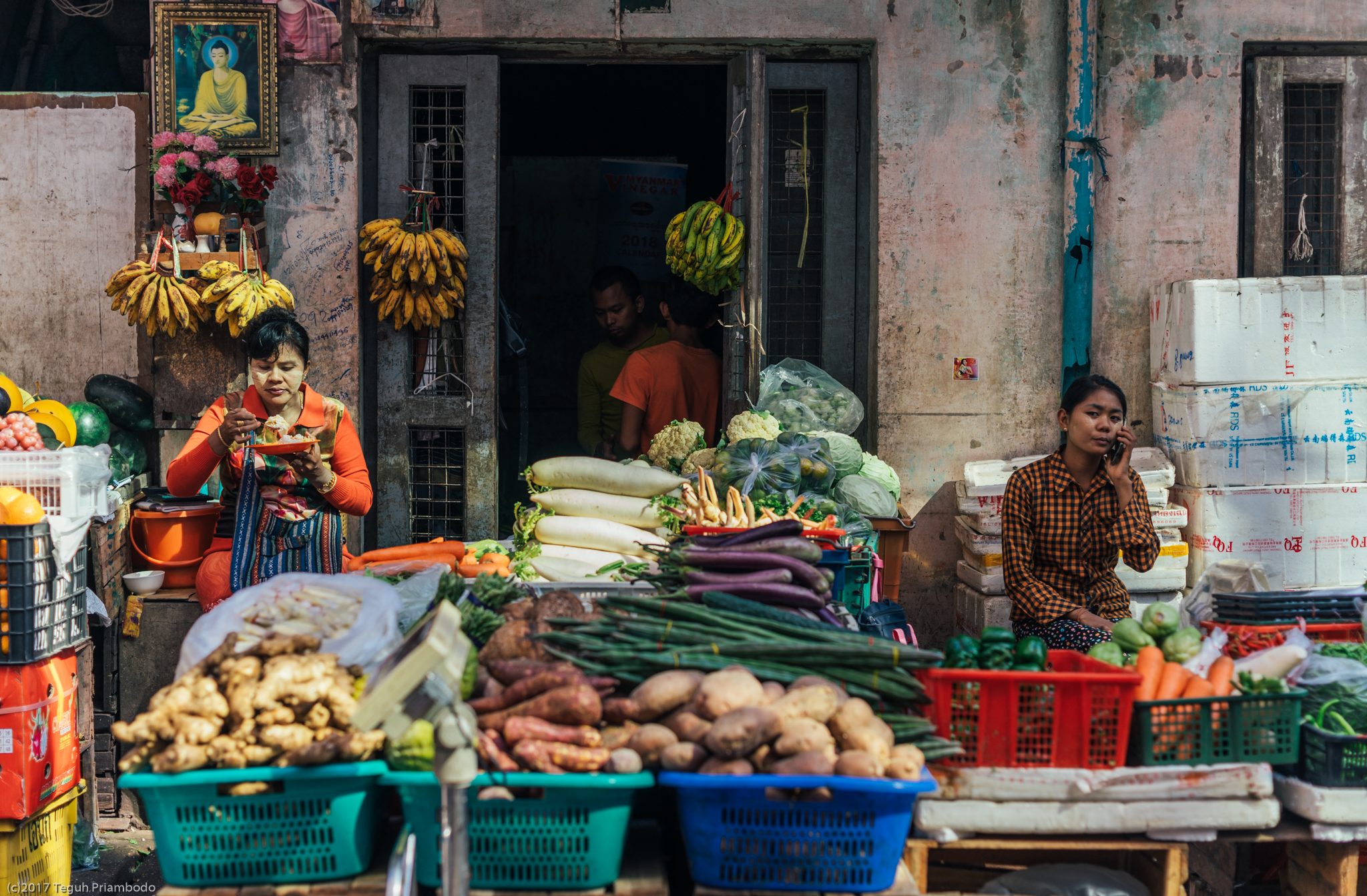 About shopping, one market cannot be missed is Bogyoke Aung San market. Located across from Junction mall, this is the market where you can buy their traditional Longji (Myanmar traditional costume), jewelry, and eat of course. Longji price starts from around 4000 – 5000Ks, depends on the fabric. The better fabric they use, like cotton or silk, the more expensive. Need to know that the place was closed when went on Monday, so maybe visiting in another day is better. Also they provide like traditional food court there, so you can also enjoy Myanmar food. Place is close at night.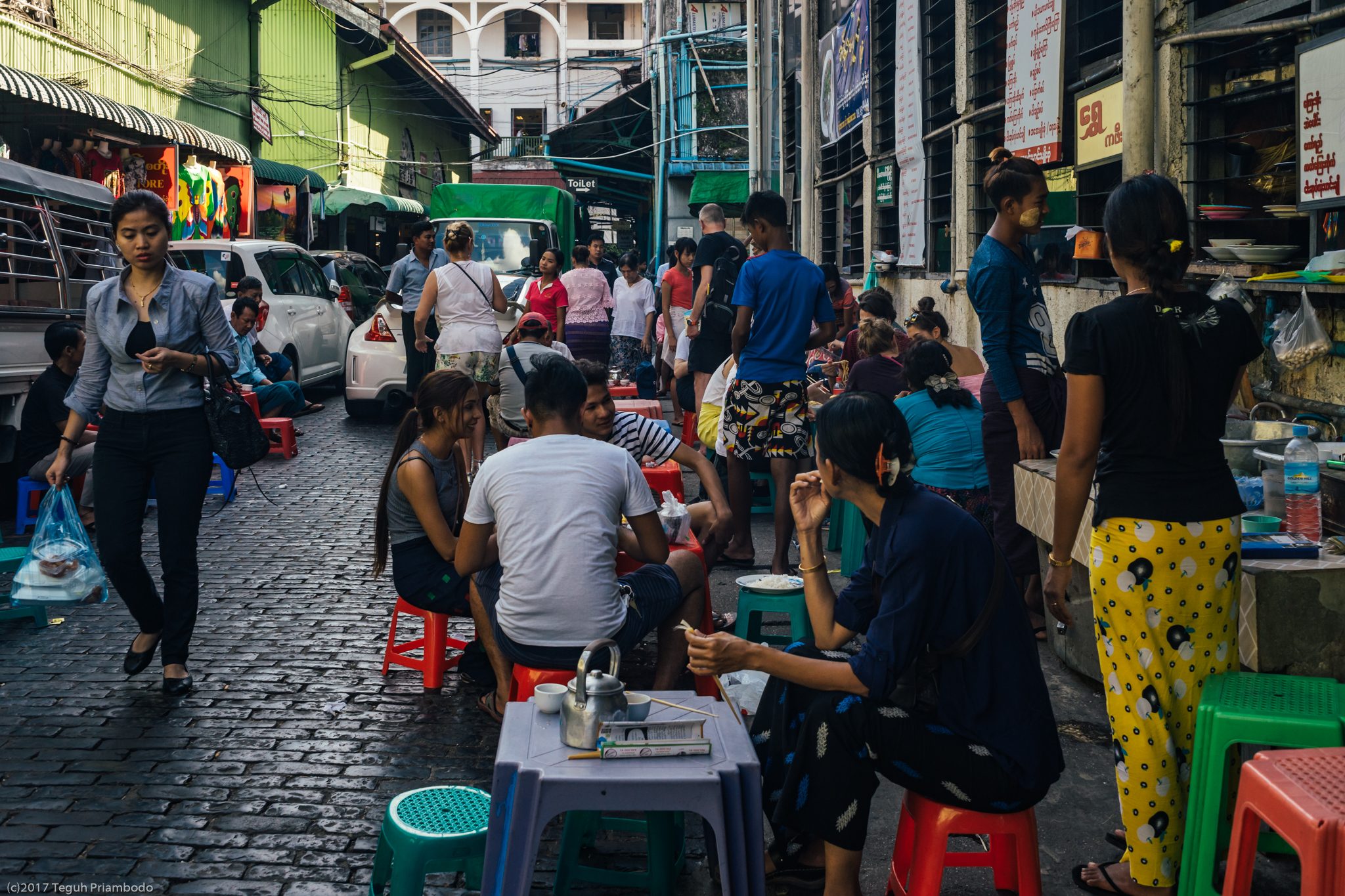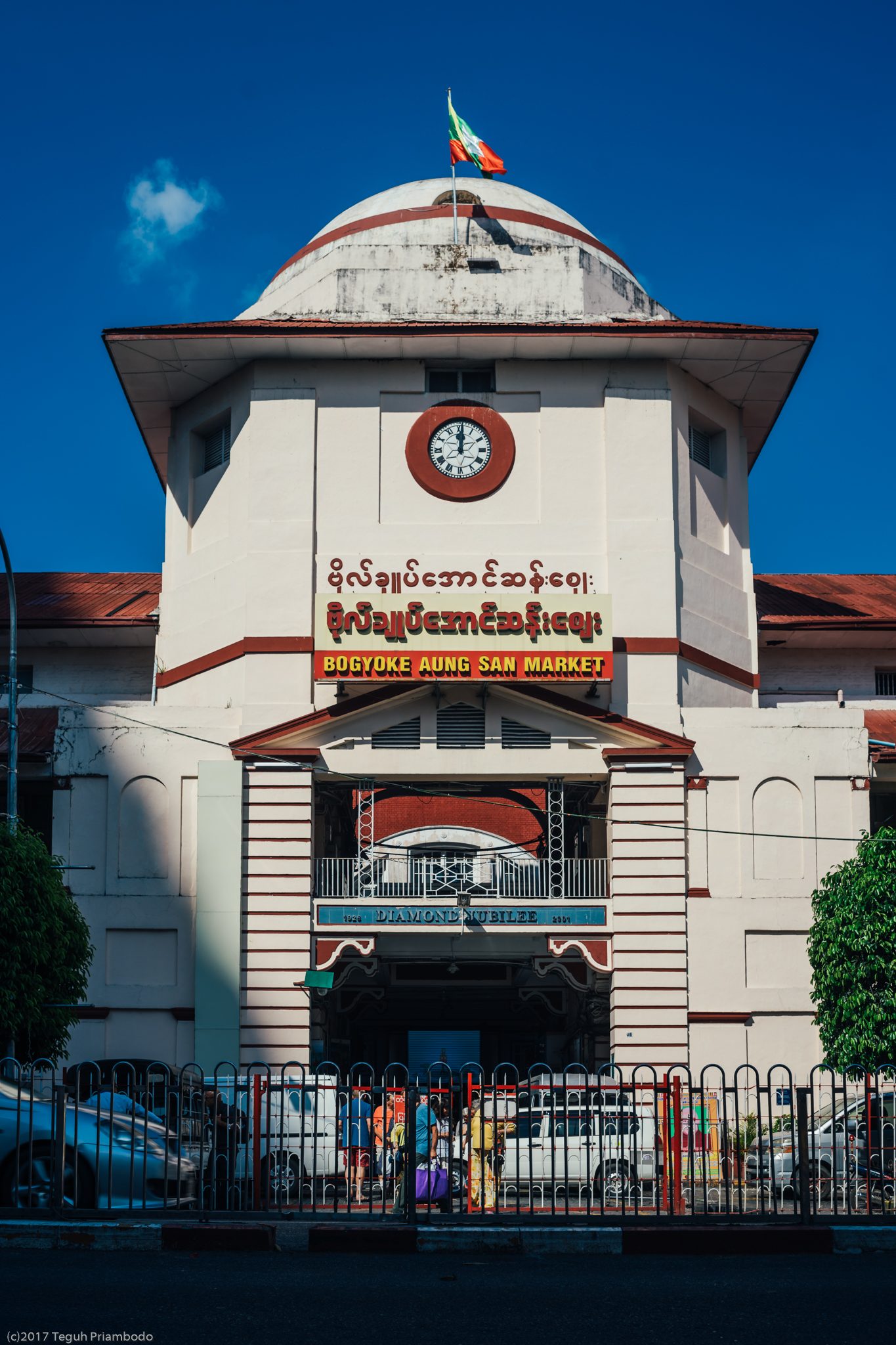 Speaking of public park, there's 2 park that famous in Yangon. Kandawgyi park and also Inya lake. Inya lake so far we know is free to enter. Just a big lake with the park around it. Kandawgyi park is different. Just to enter the park, you need to pay 200Ks, and will be 500Ks if the staff see you bring camera. There's another wooden board walk inside the park, and it's another 2000KS to enter it. If you decide not going to use the wooden board walk, you still can enjoy Karaweik Palace and restaurants that located inside the park. What we suggest, once you enter from where you pay the entrance fee, on the left is a platform where you can enjoy the lake, Shwedagon Pagoda, and Karaweik Palace. Make sure you stay in this platform during sunset. Too much beautiful in 1 frame.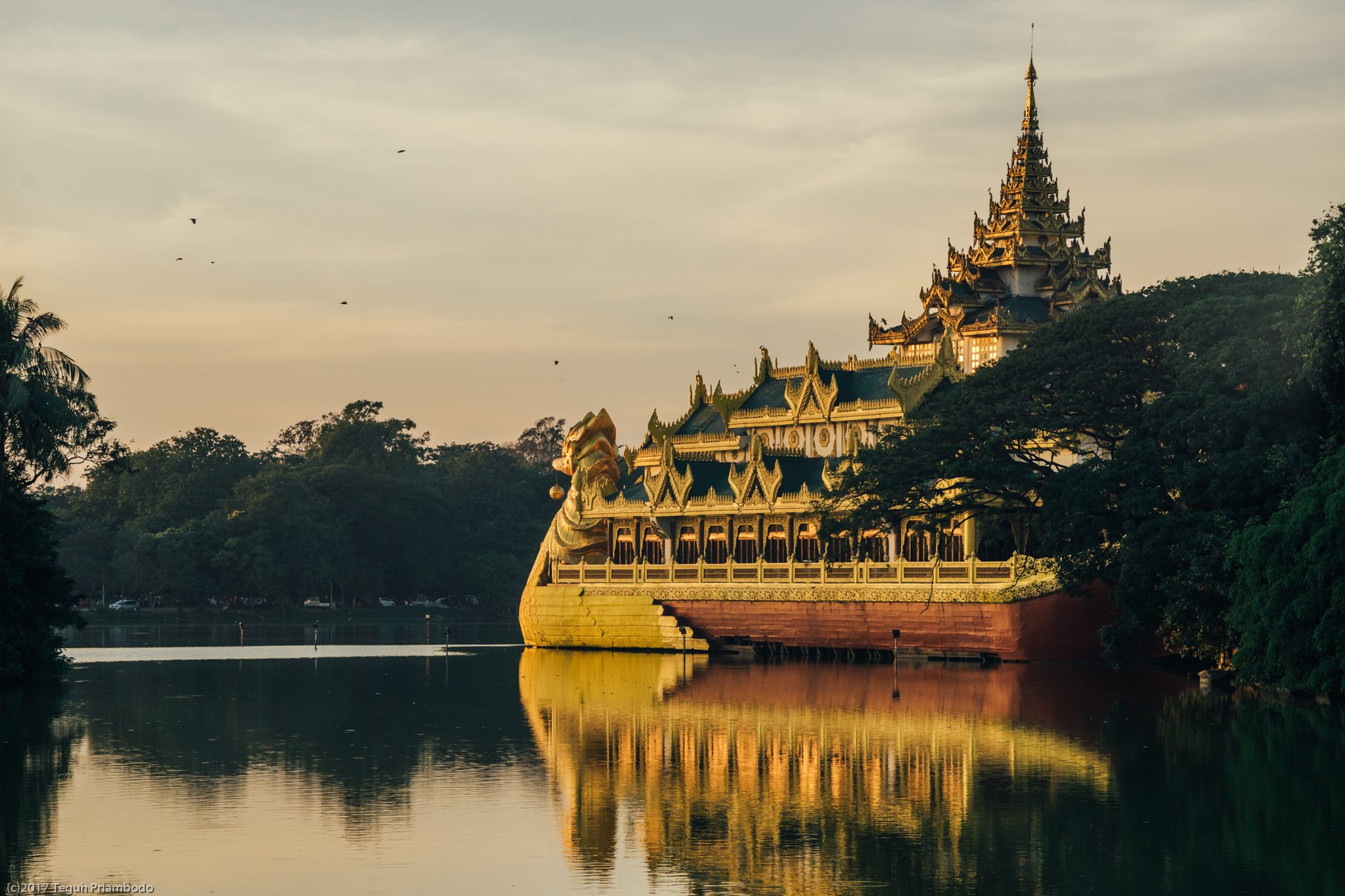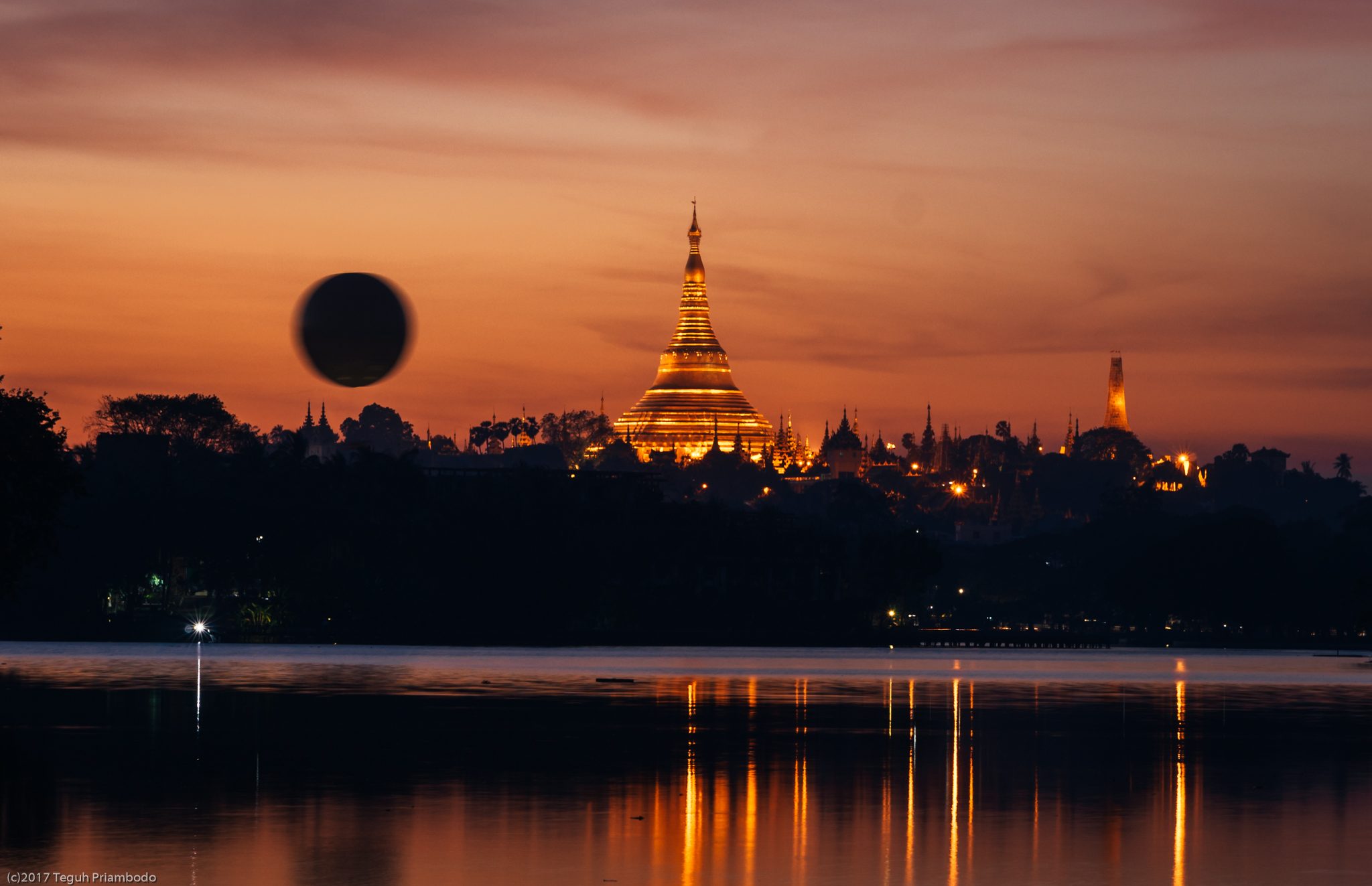 The best thing to experience while in Yangon, for us, is taking the circular train. This is the train that takes you travel circling Yangon. Ticket is only 200Ks, and the whole trip could take literally 3 hours to finish! Train easily can be taken from Yangon Central Railway station. Train is available from 6AM to 5PM, but strongly suggest you the morning schedule. Taking the train is a great way to experience and see the life in outskirt of Yangon. Moreover with all the interactions inside the train, would be very interesting to capture them in your shots. Something you really cannot have in another SEA capitals.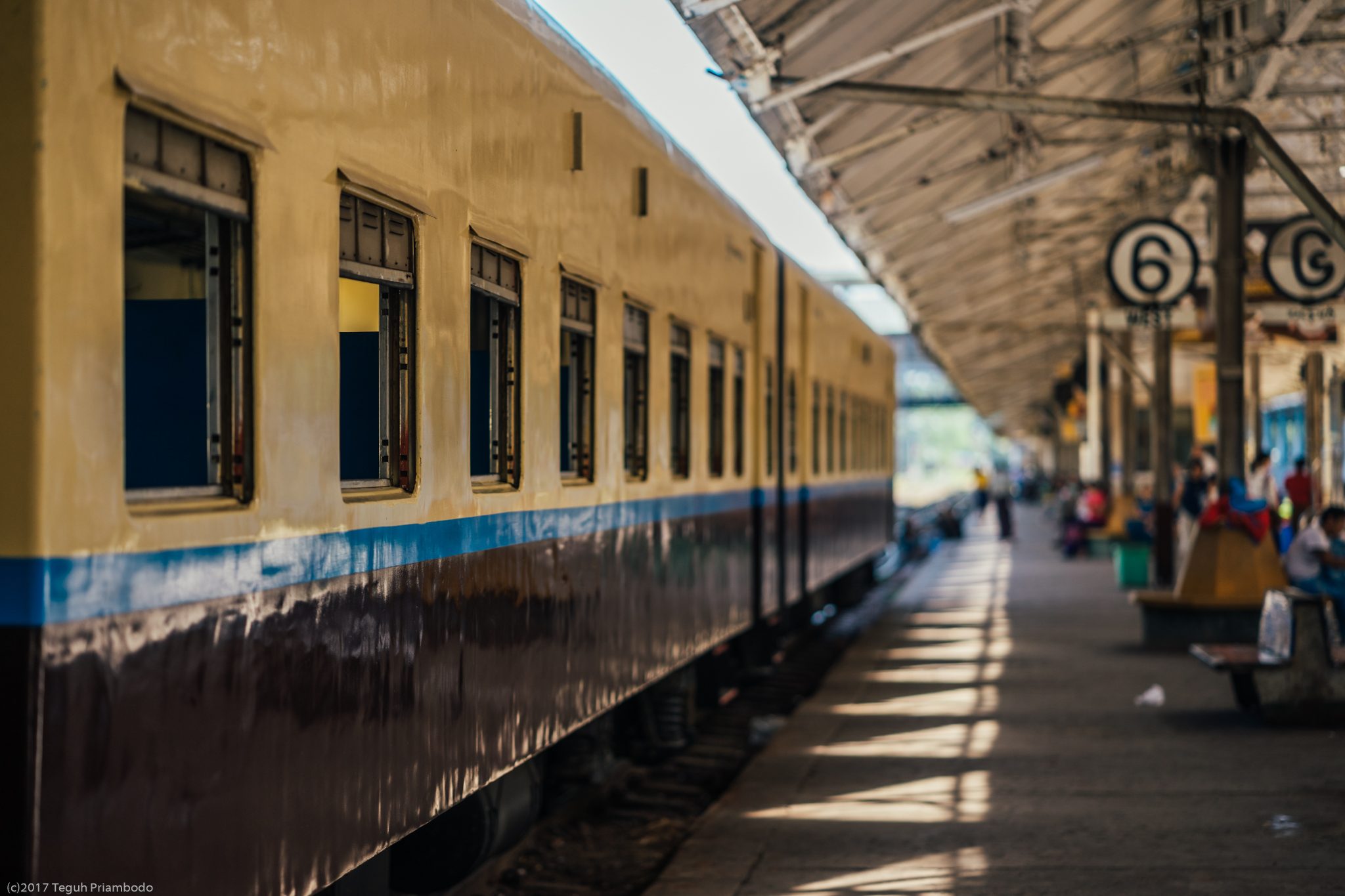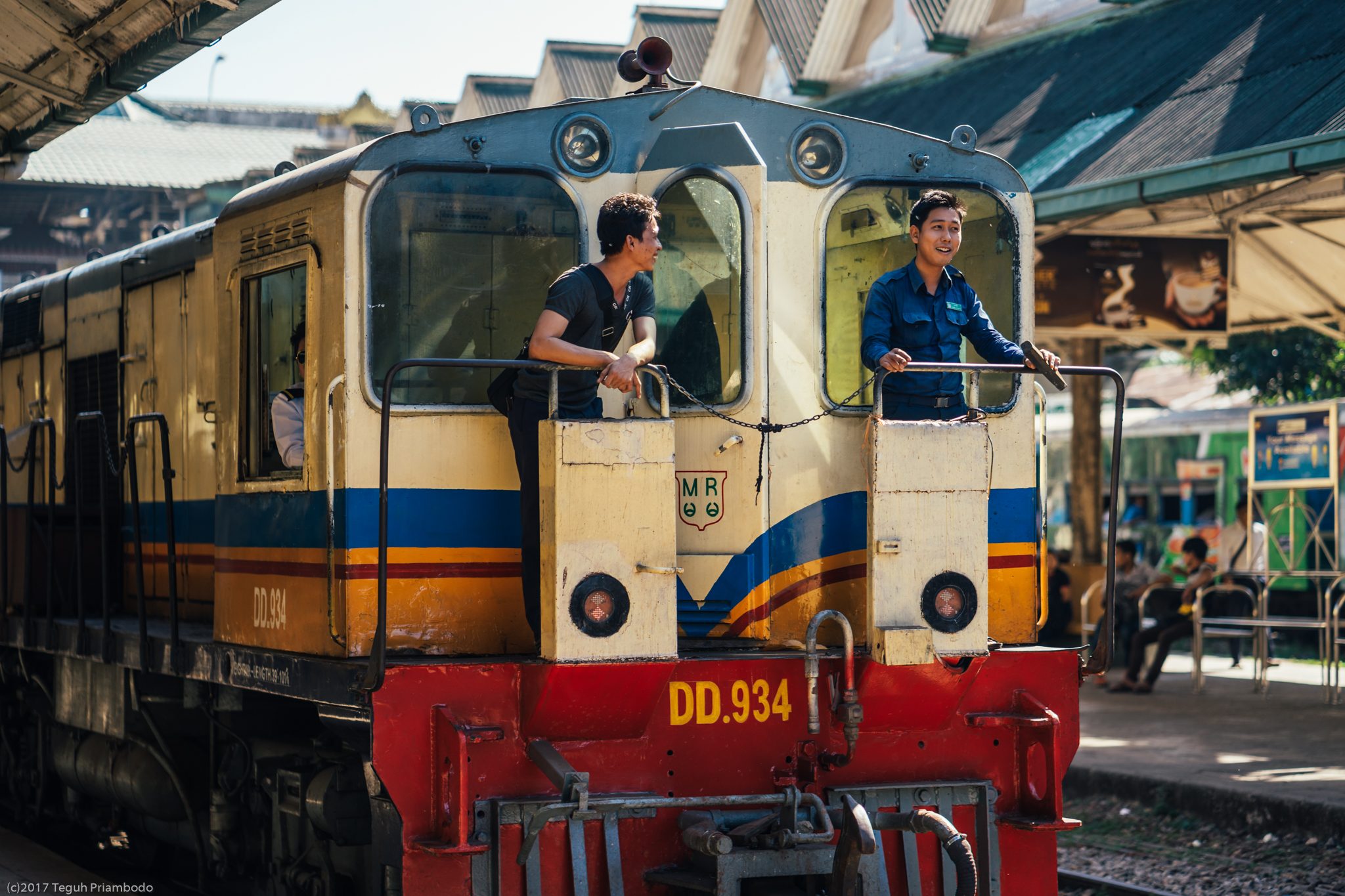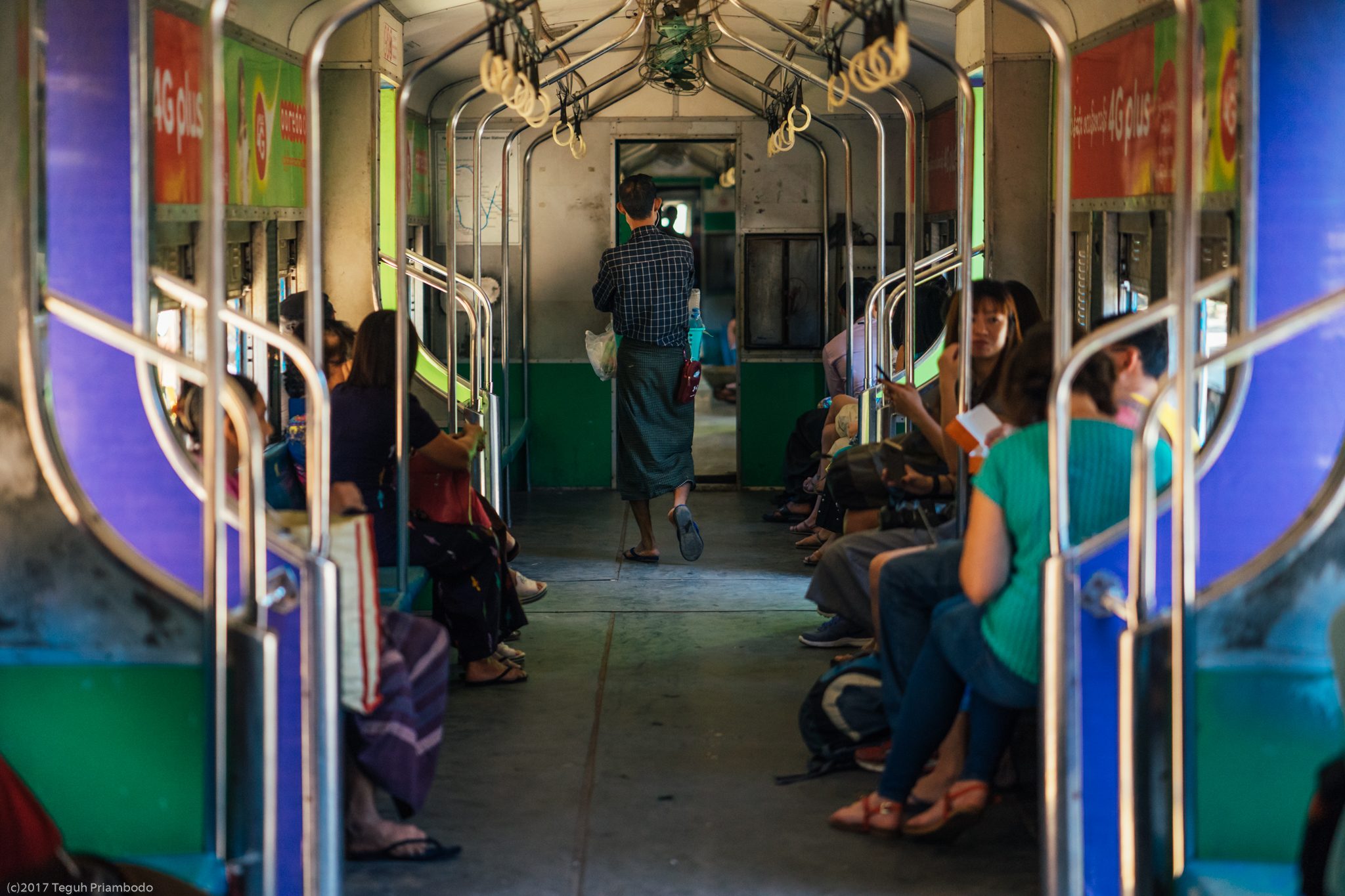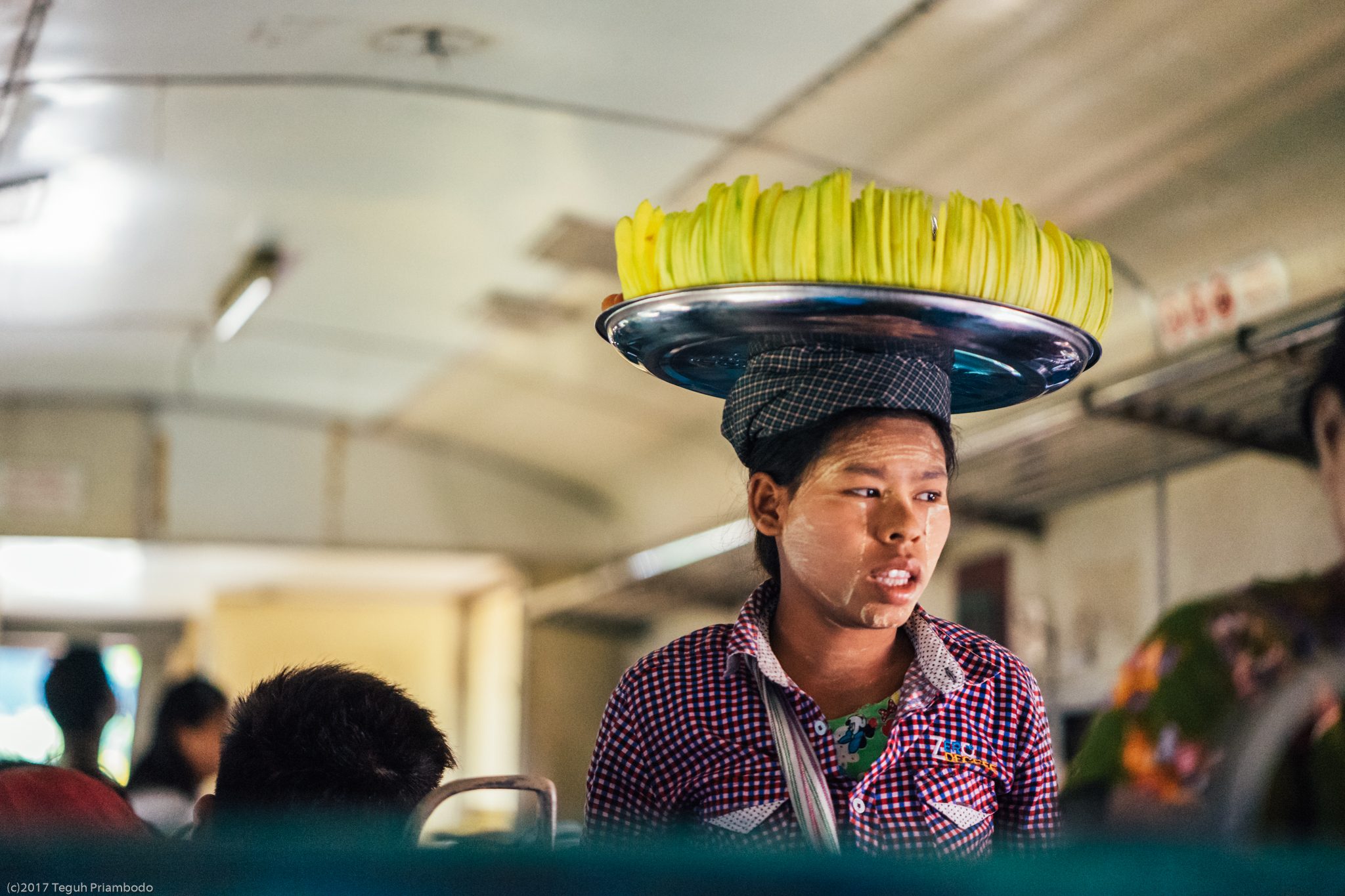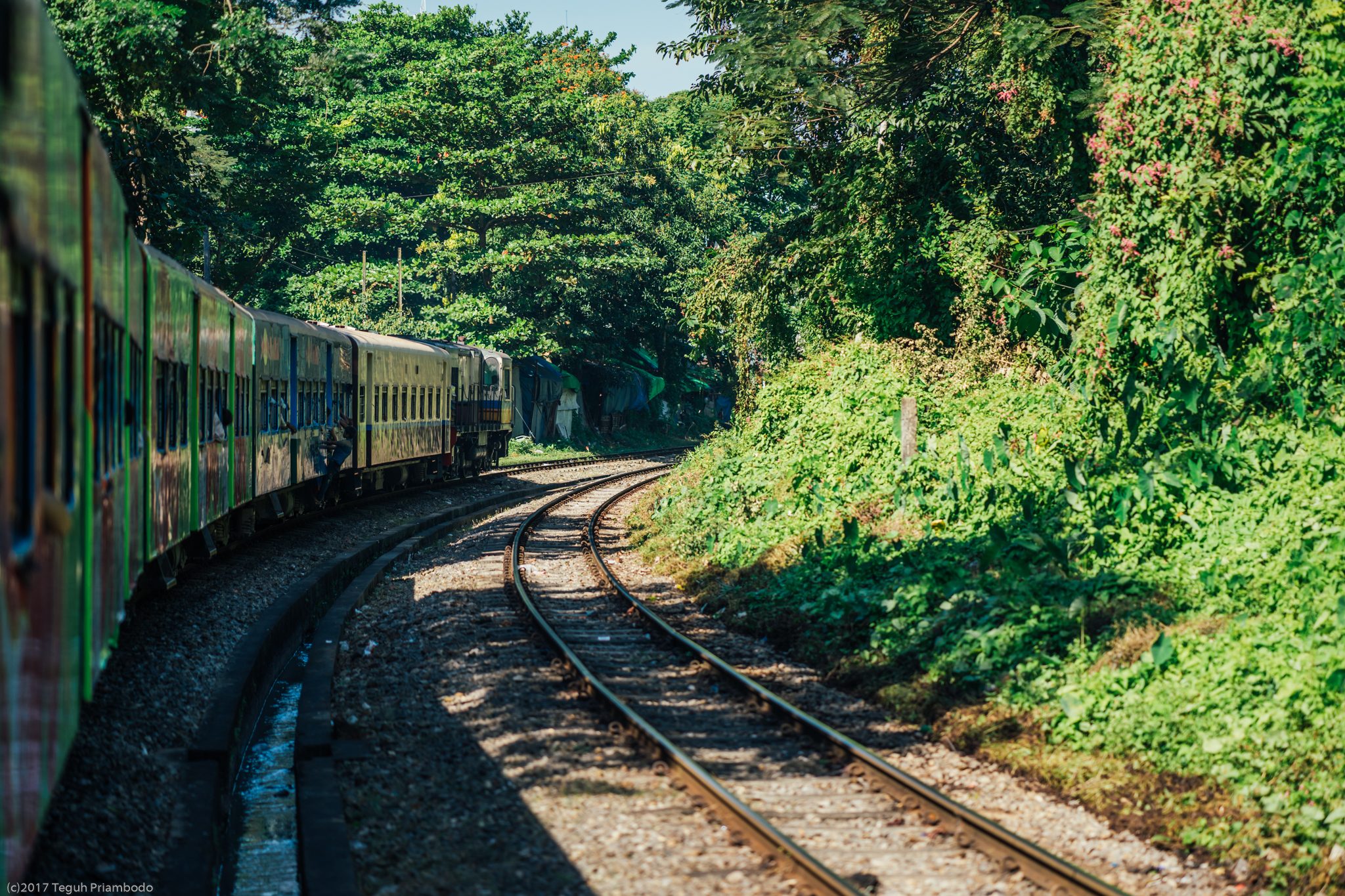 And to provide you more detail about how colorful Yangon is, we'll share and explain with images below. And again, to walk around the city is strongly recommended, as you can experience the city in each corner of it. However, please remember to be careful. Drivers in Yangon mostly is hard to drive their vehicle slowly, and they just love to press that horn 🙂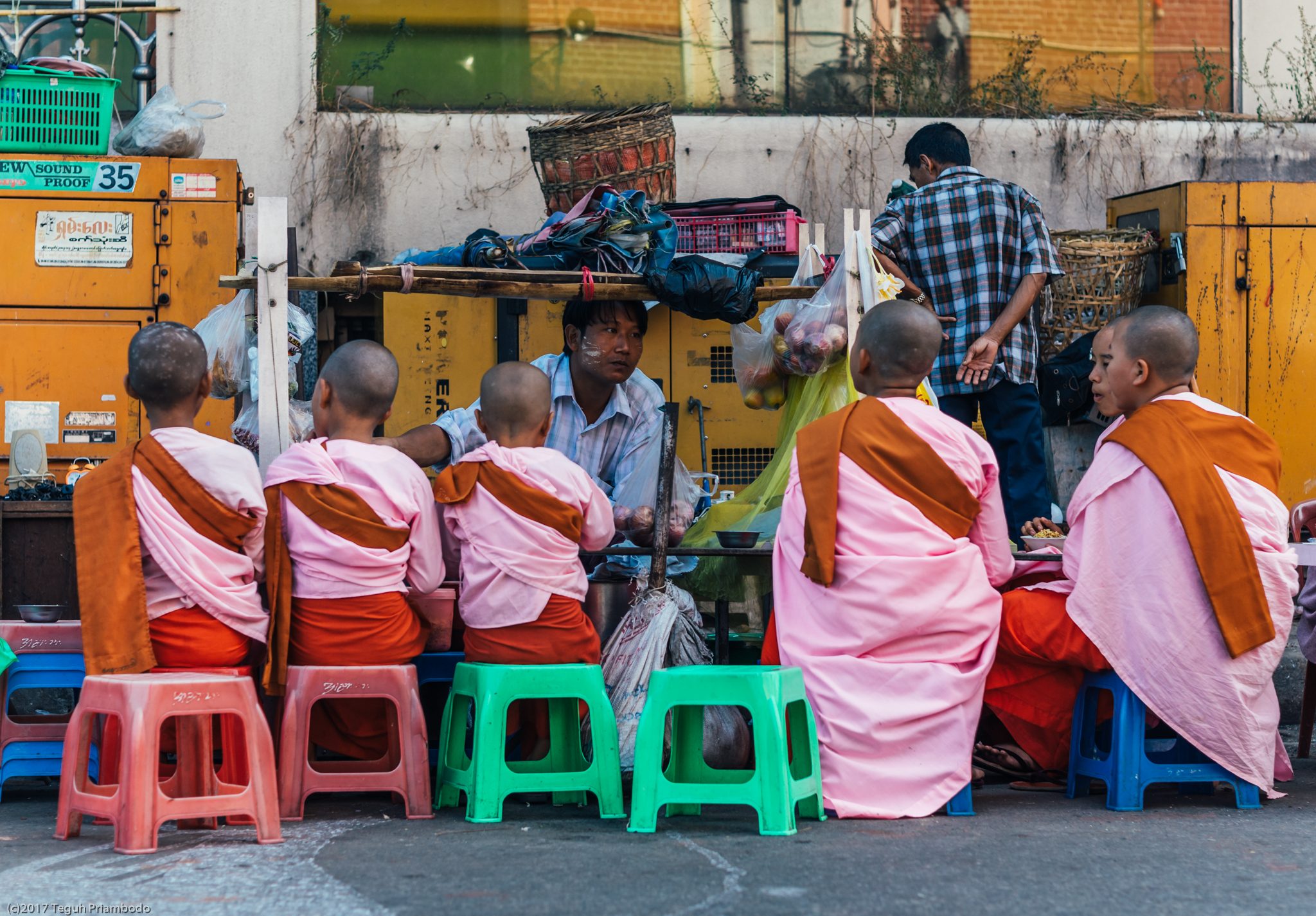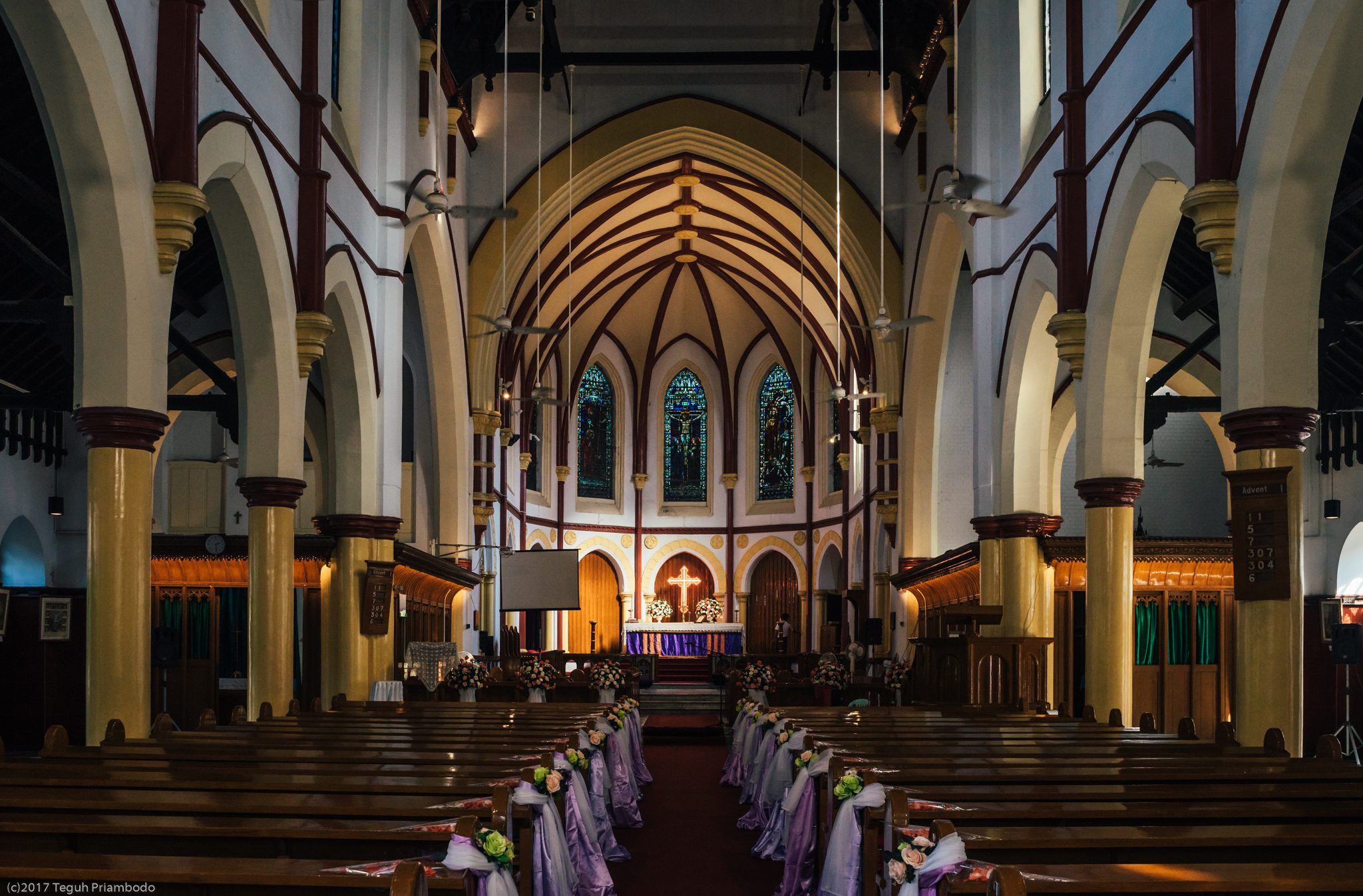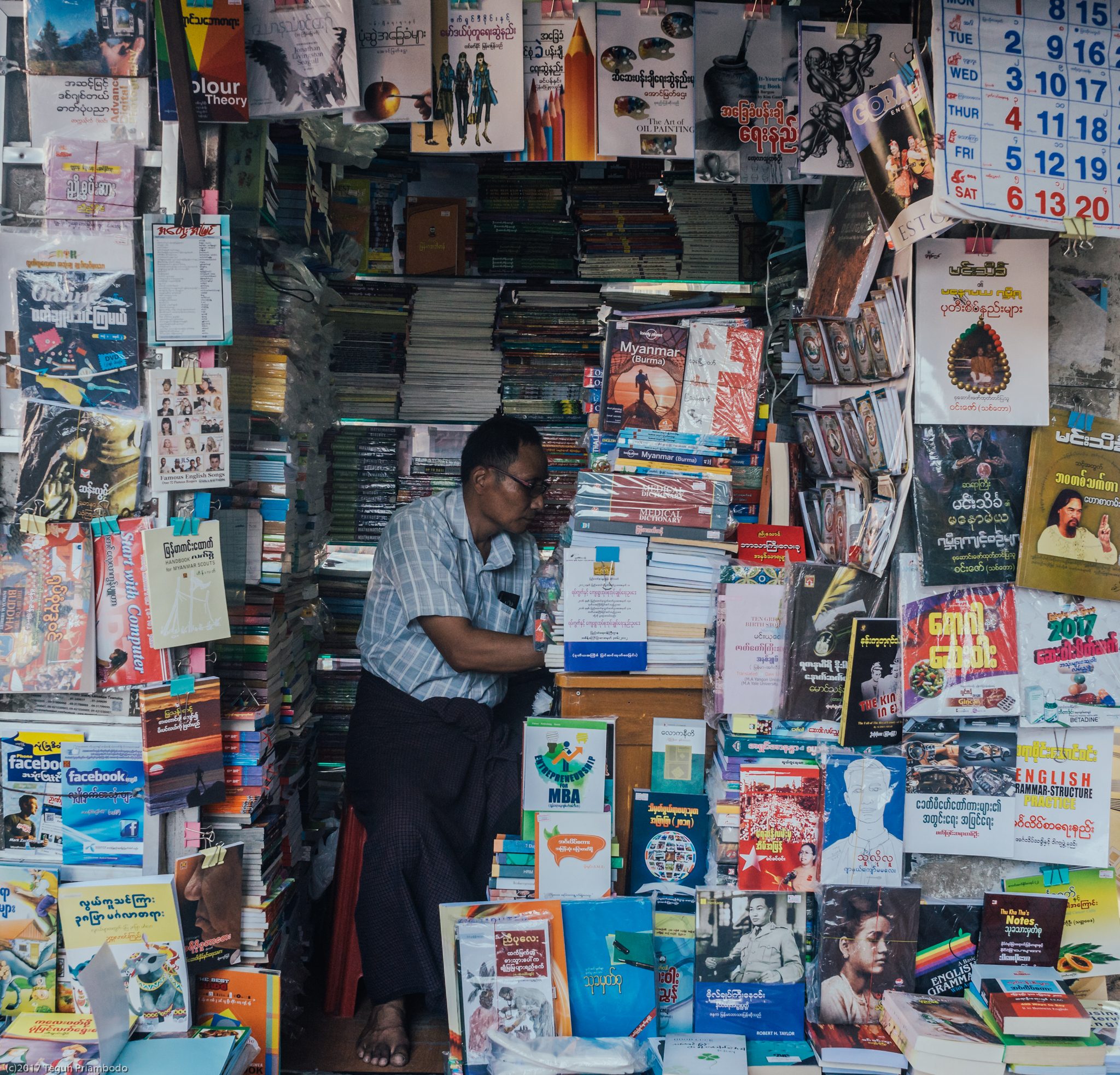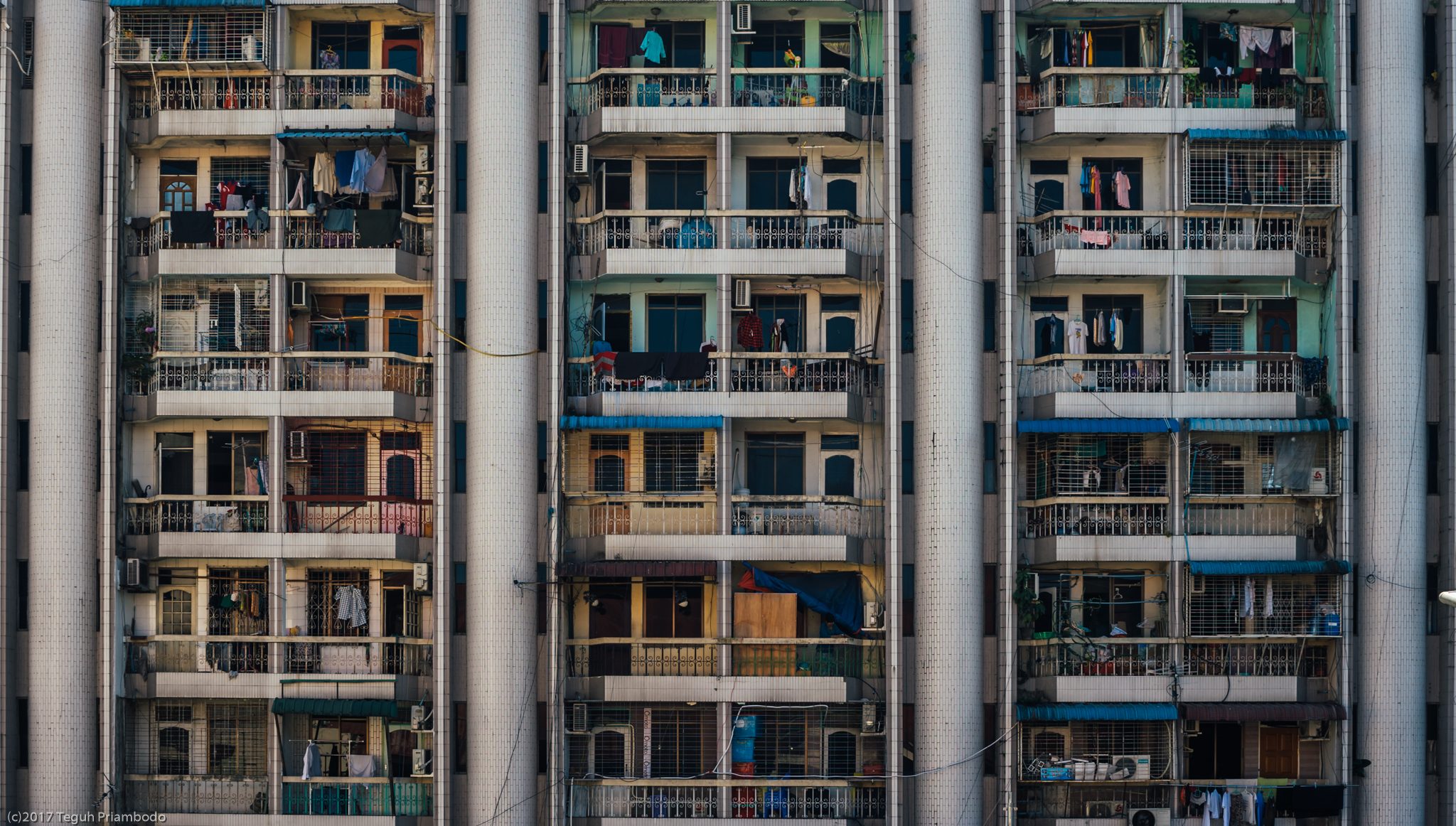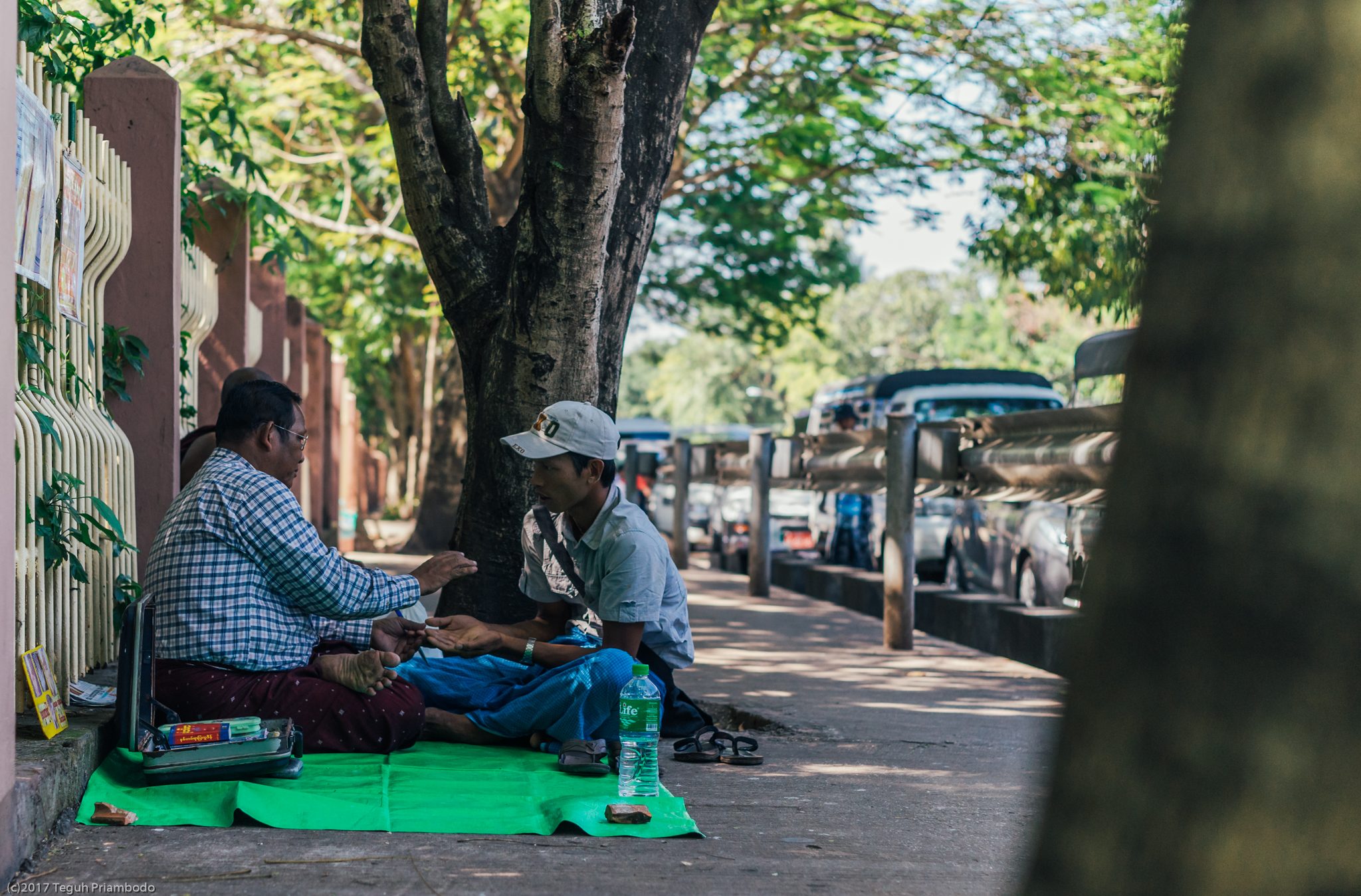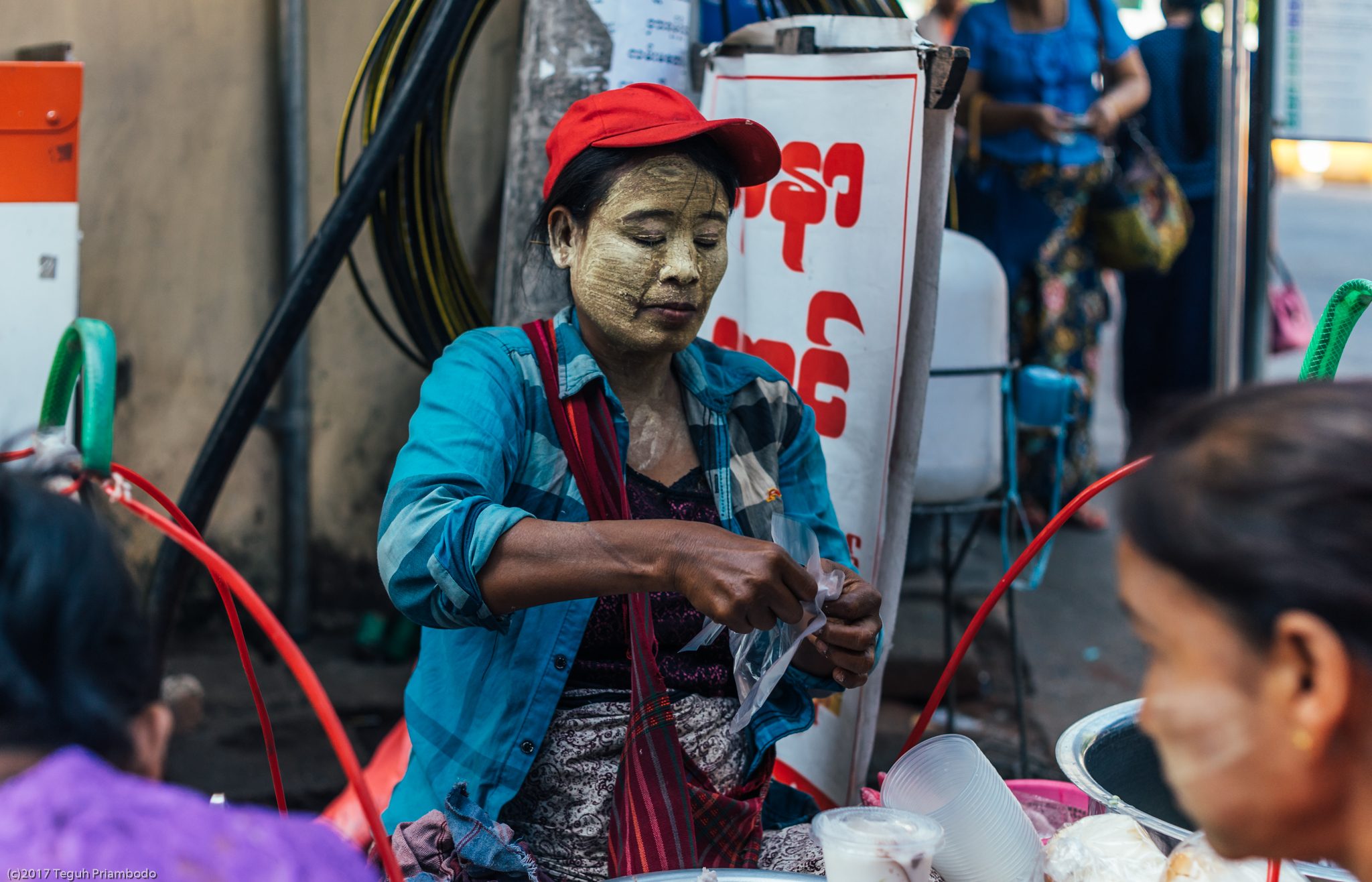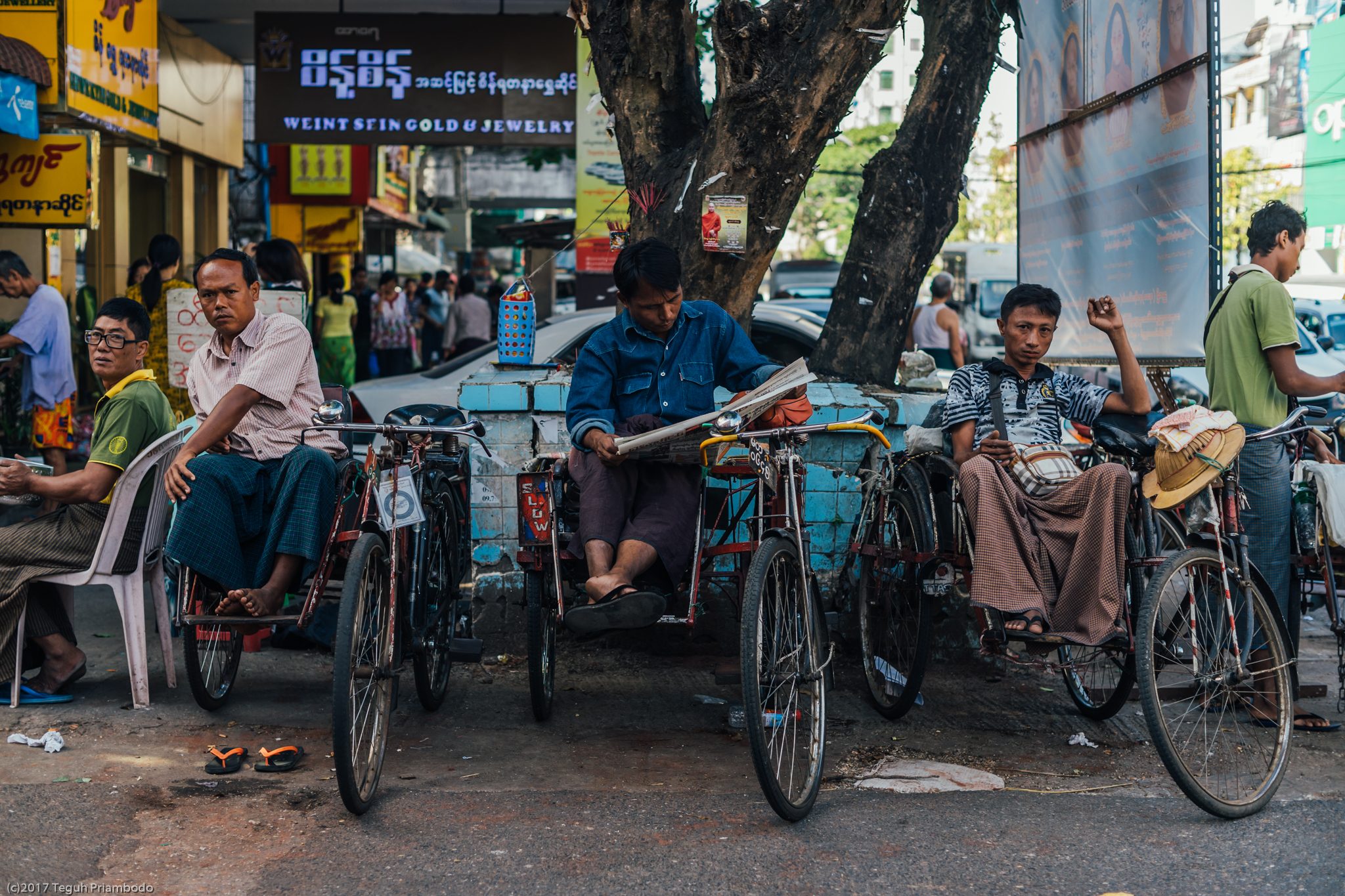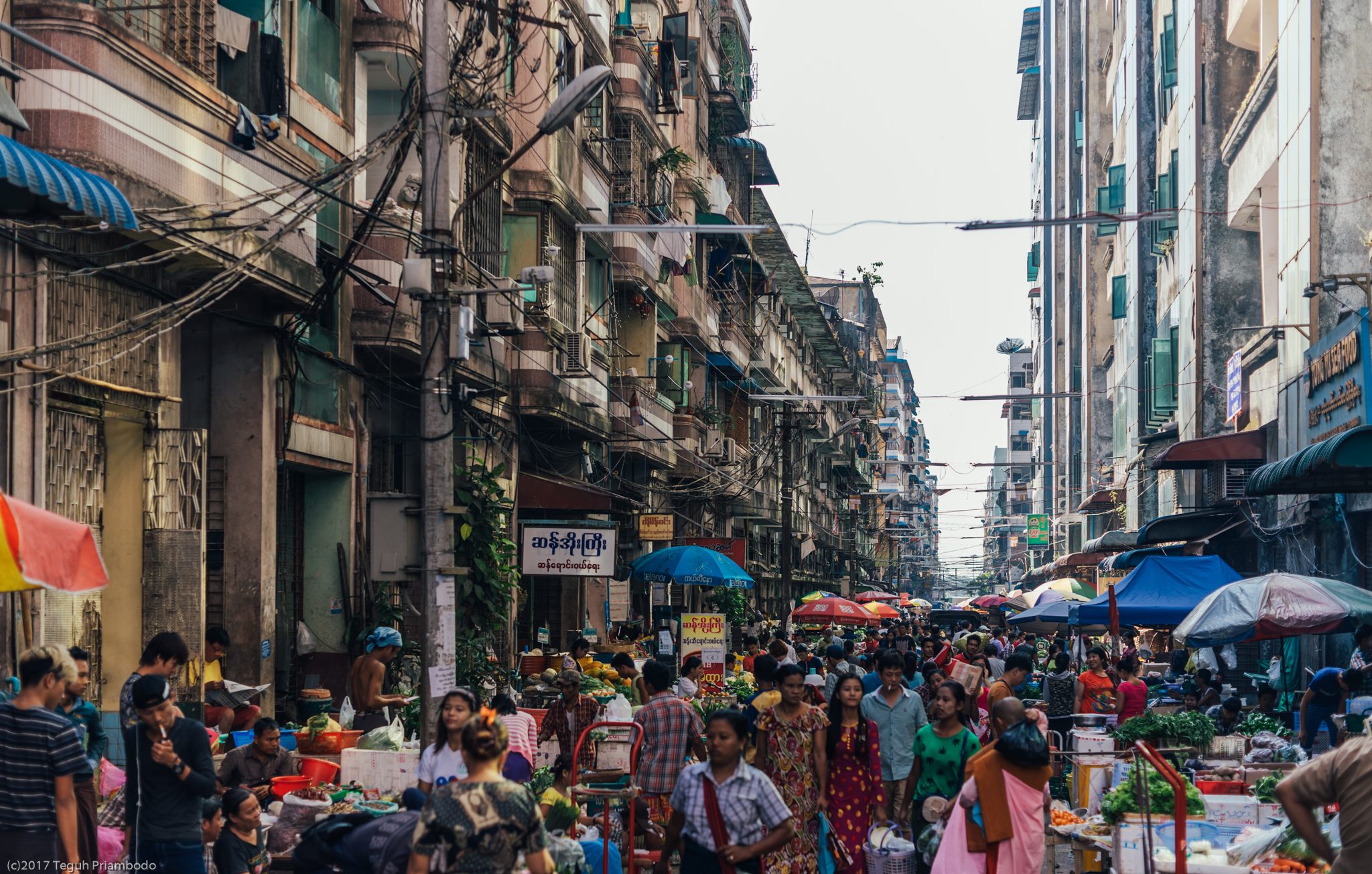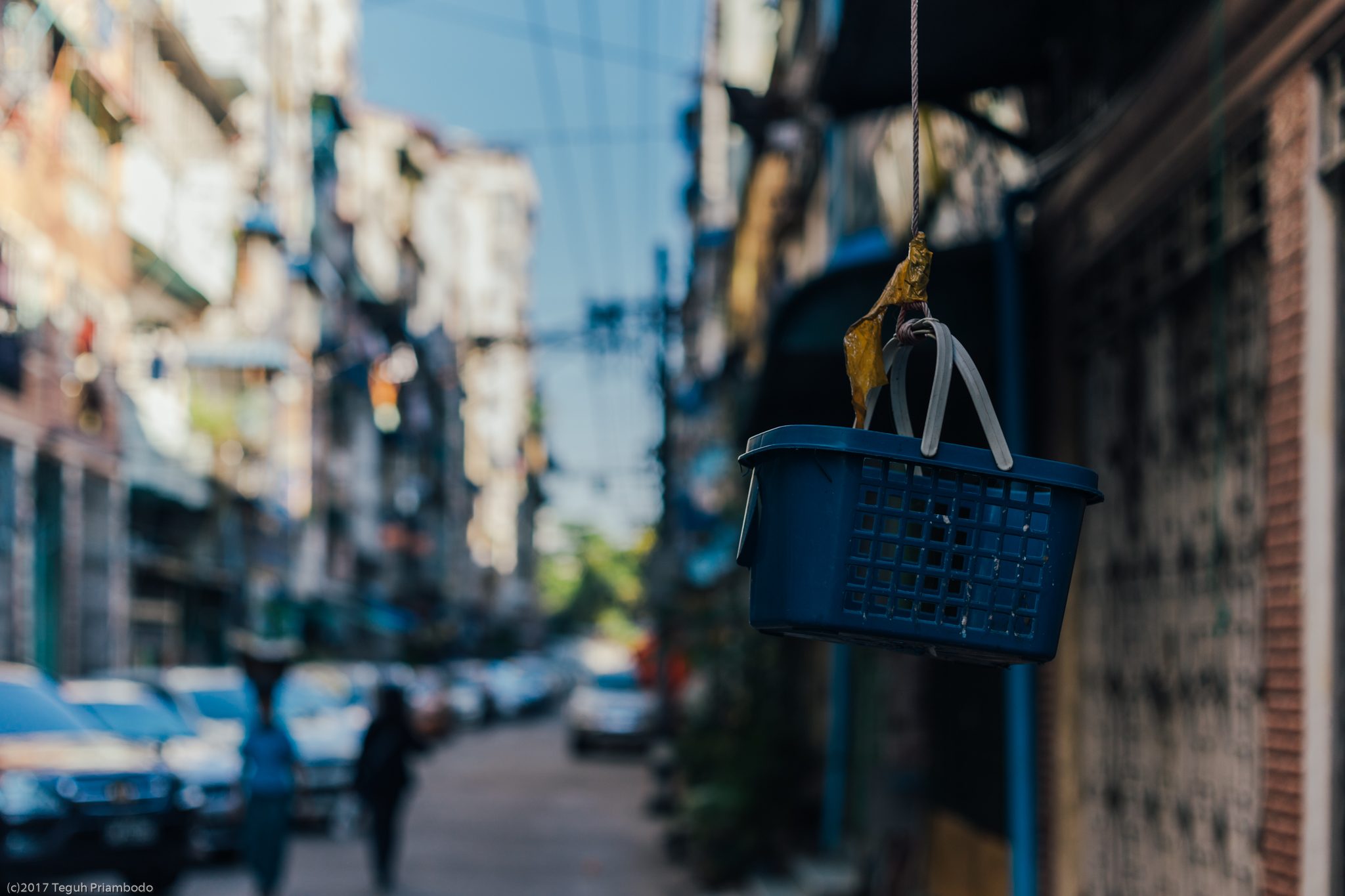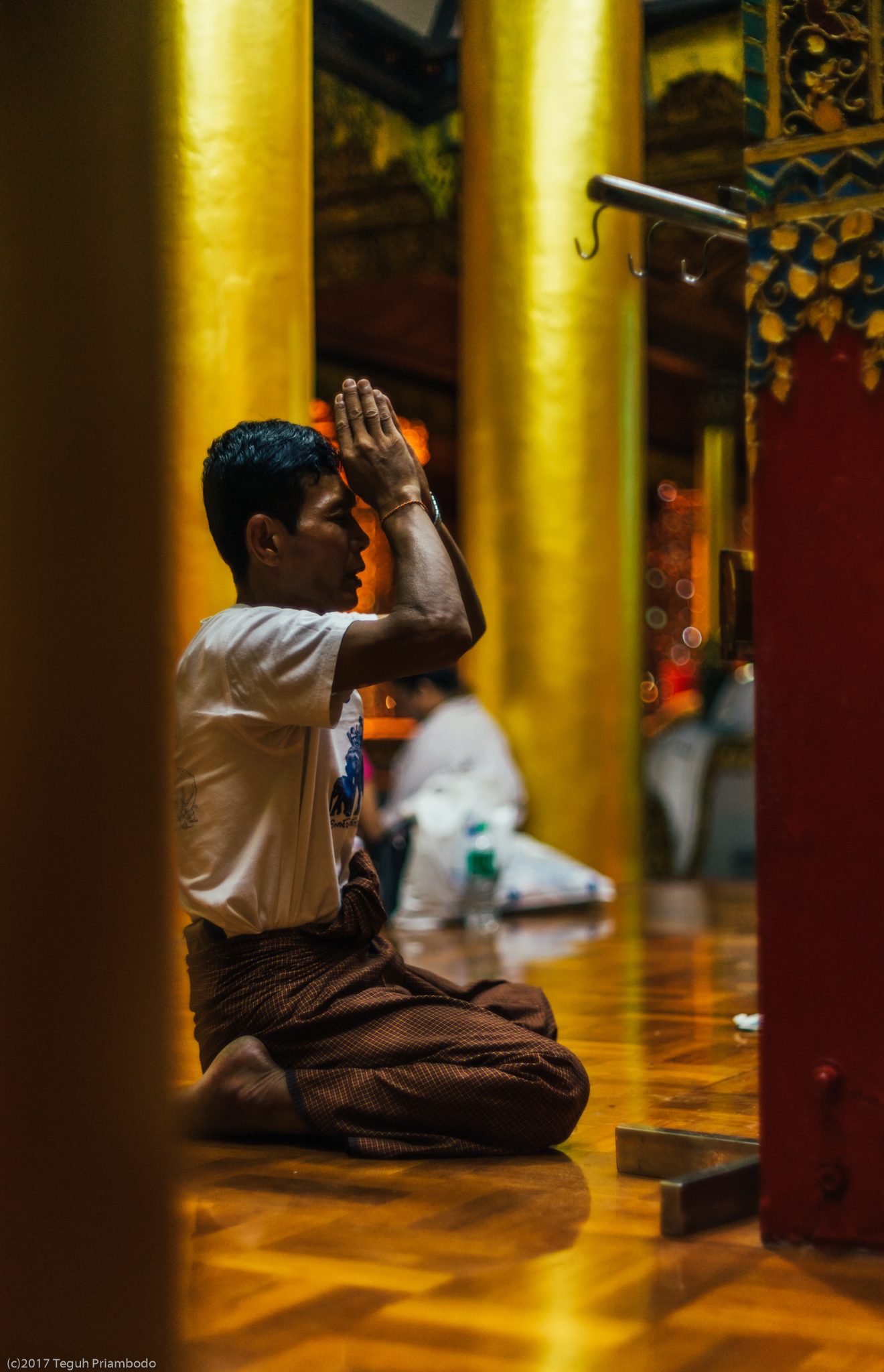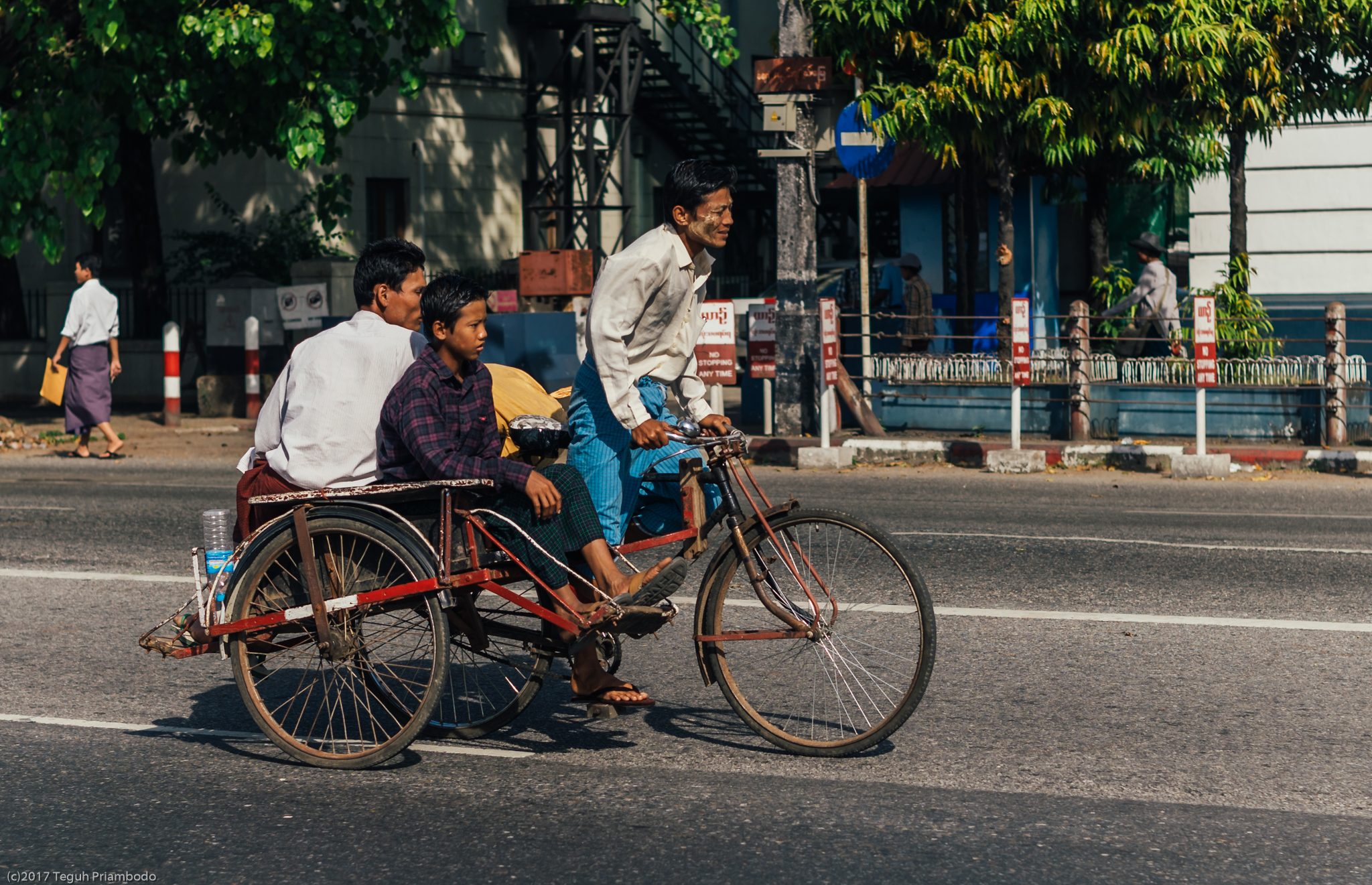 So once again, we're gonna say, Myanmar, especially Yangon is safe, and for sure one wonderful place to visit and get more knowledge about culture in Southeast Asia. As always, respect the local culture, obey what they say, and you'll guaranteed wonderful stay in Yangon.
Happy let's get lost!!