Skip to content
How to not getting rip off in Damnoen Saduak
The most famous, the legend, the best, and the original floating market in Thailand, the one and only Damnoen Saduak floating market. One place in Thailand that you won't miss to see in any travel website or travel agency when you wanna go to Thailand. Best for a reason, indeed this is the only floating market where you can experience the sensation of buying something floating in your boat along the canal. However, there's not always beautiful story about this place. Being super famous turns out making some people love milking tourists' pocket as hard as they can. But still, this is the best floating market you have to visit if you go to Thailand.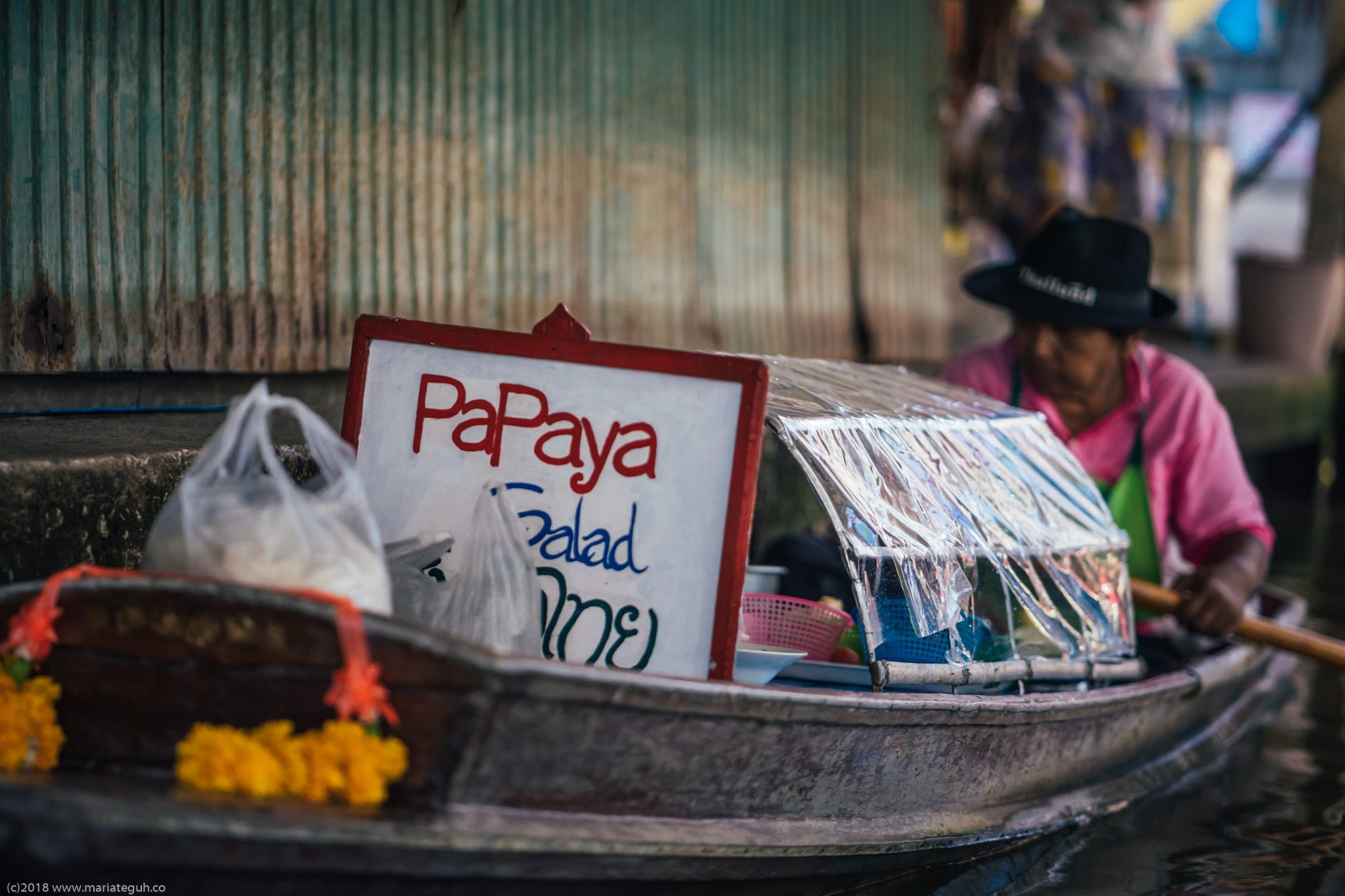 As the title, we'll share with you how to avoid getting rip off while visiting this market. Especially if you wanna go here by yourself, and not using any tour agency. Exact location of the market is in this google maps link.
If you don't have any personal vehicle like us, your journey will start by taking bus or minivan to Damnoen Saduak from Sai Tai Mai (South bus terminal). Bus is quite rare, means they're not going every hour. But minivan you can get it in this terminal going every hour. Cost you only 80 – 90 Baht per trip for minivan and will take around 1.5 hours to reach the market.
Opening hour, our friends visiting this market on weekday and they're open. But us, to be frank, just visiting this market on weekend. If you seek is that crowded sensation of the boats in the canal, come before 11AM. This means you must take the minivan from Bangkok around 7AM in the morning. After lunch time, place is so quiet, like our favorite, where we can stroll using the boat and enjoying the canal quietly.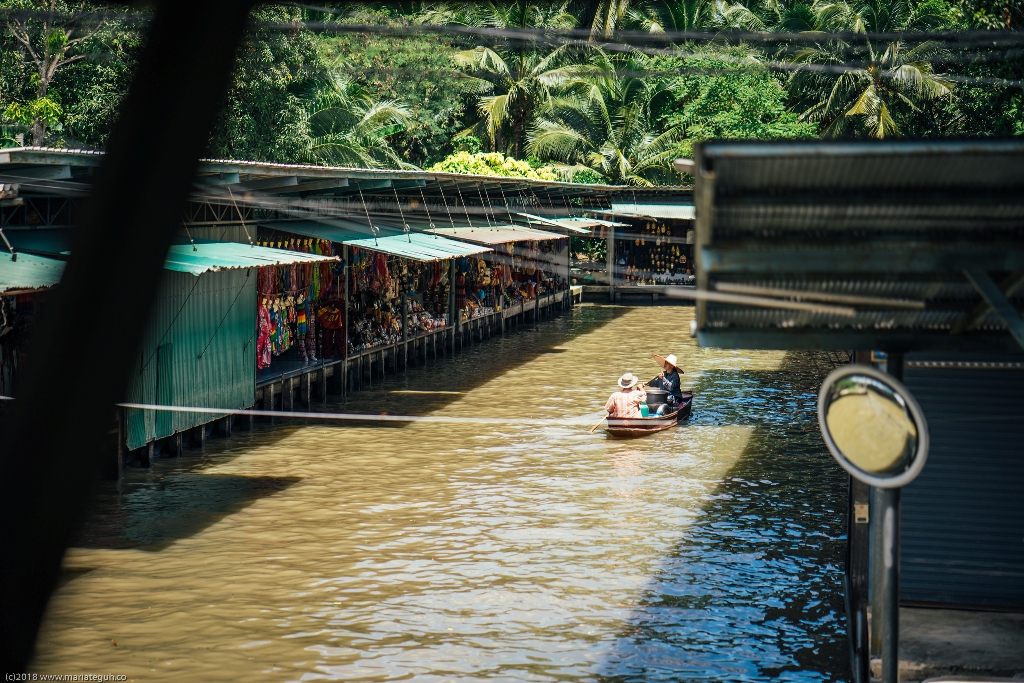 "Good" story starts when you arrive near the market. Turns out, minivan, personal rent car, bus will drop you 1km before the market. Please refer to the map below. As soon as your car turn left from the main road, circle with "3 boat operators" will be area where drivers will drop you. This is where how they will milk your money so crazy starts. Operators could charge you thousands baht to take their boat. They will say you cannot walk there in the market, different from Amphawa, bla bla. As we're not interesting to take their service, we go walking to the market. And they "cursed" us in Thai for rejecting using their boat.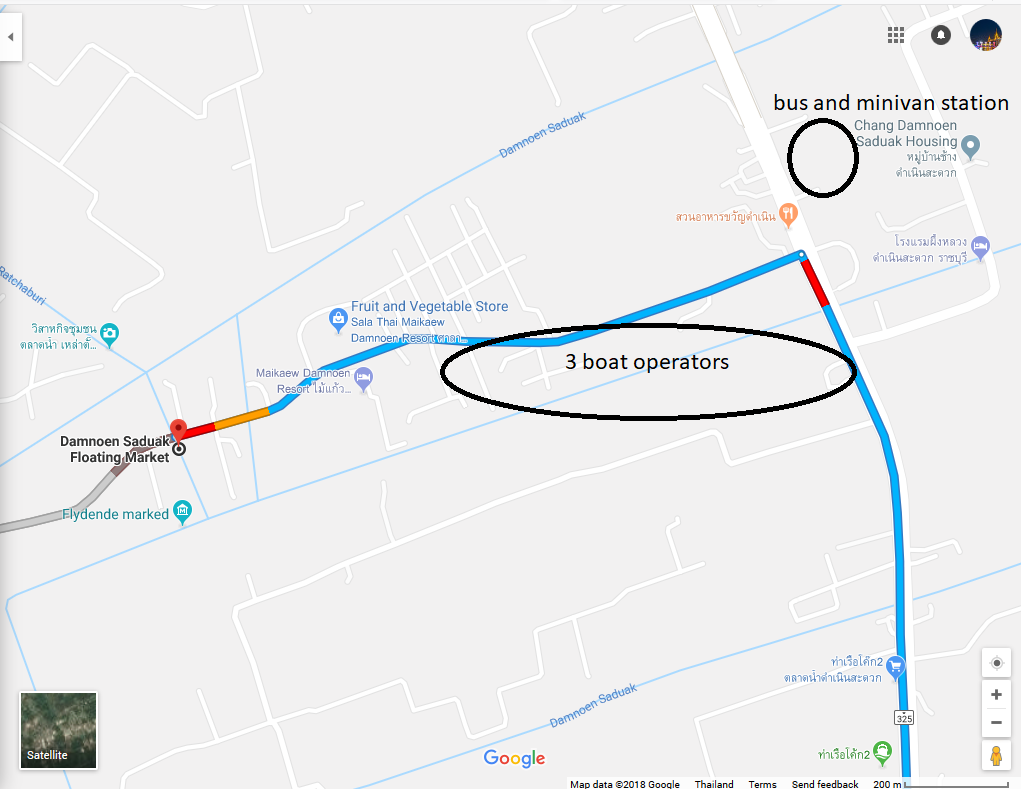 Minivan drivers won't get you to the market, so you need to walk 1km to the real market, if you decide not taking boat from here. It's mostly hot, so better prepare umbrella or hat. if you use personal rent car, force your driver to go to the exact location of the market, as they have also big parking lot for bus and car beside the market. Especially if you bring kids, don't let them walking under the hot weather.
How you know you're already arrive in the market? You'll see small gate "Welcome to Damnoen Saduak" with the picture of Thailand King. There's small bridge as well where you can see boats floating around, and that's your floating market.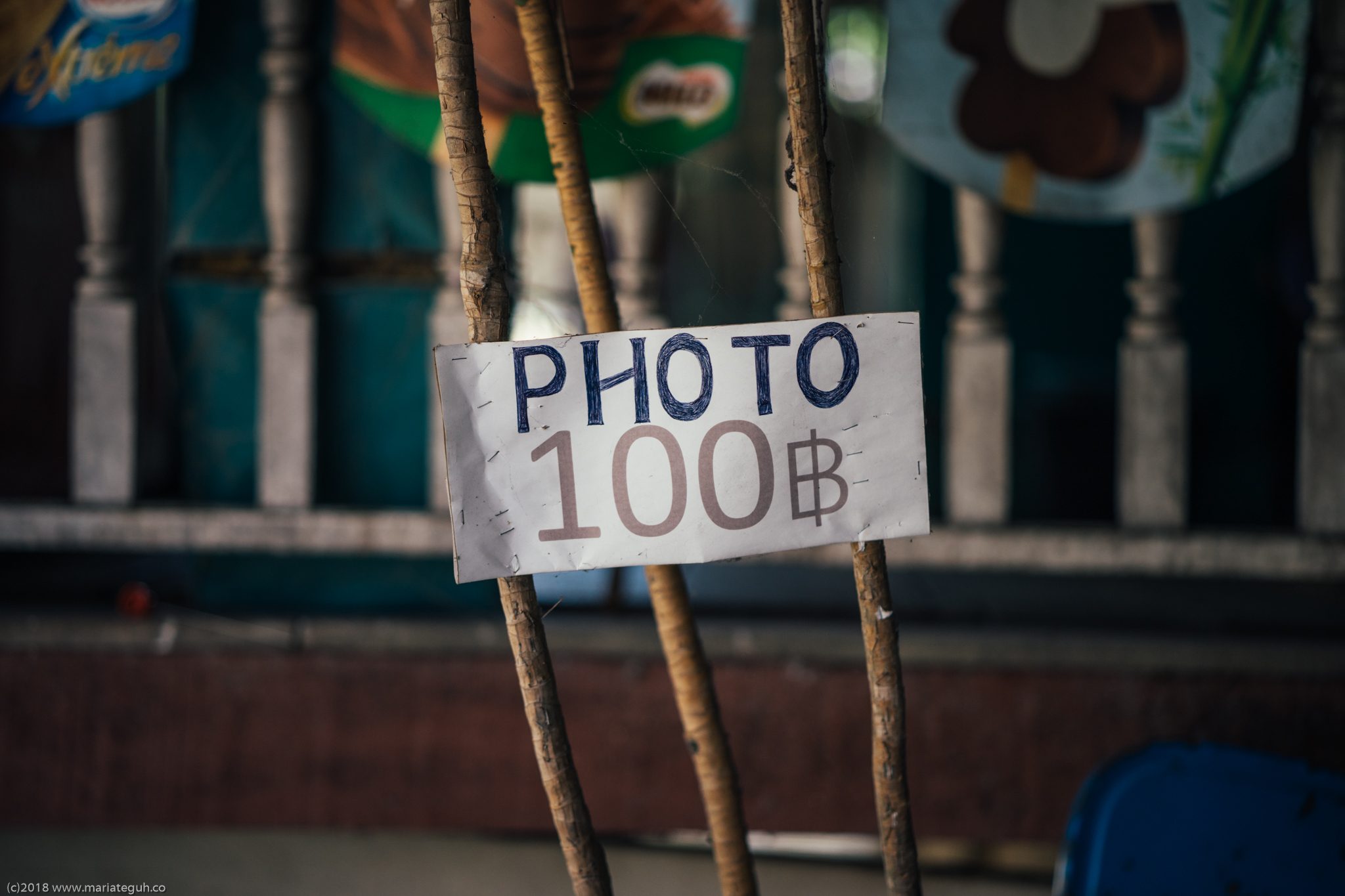 Going back to Bangkok from here, you must reach the minivan and bus station as we showed in the maps. We used personal taxi from the market for 100 Baht to go to the bus station, as the weather just simply too hot for us to walk again.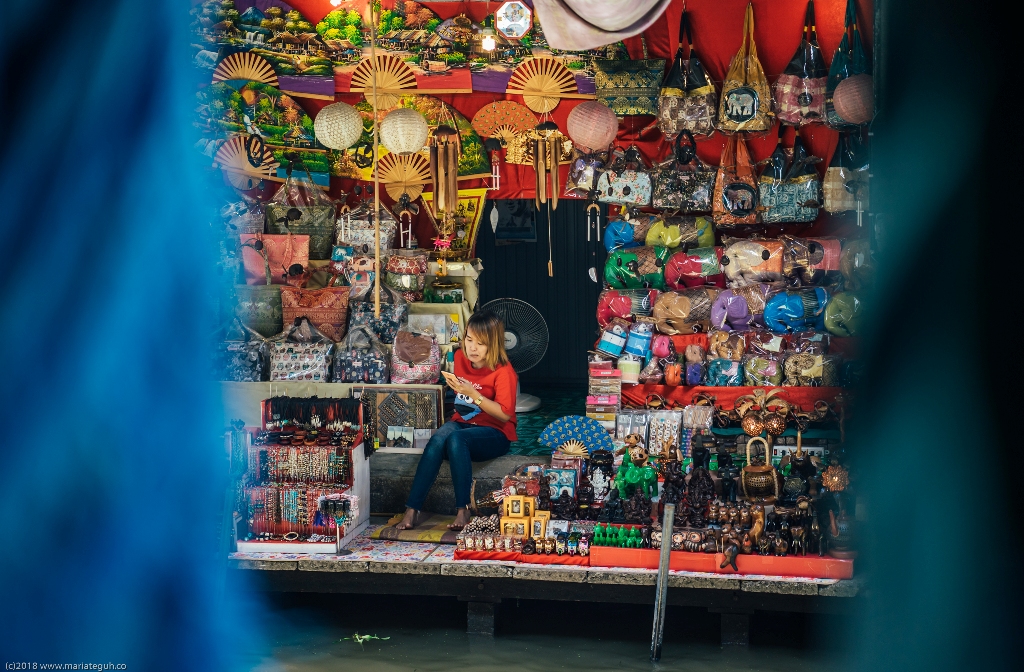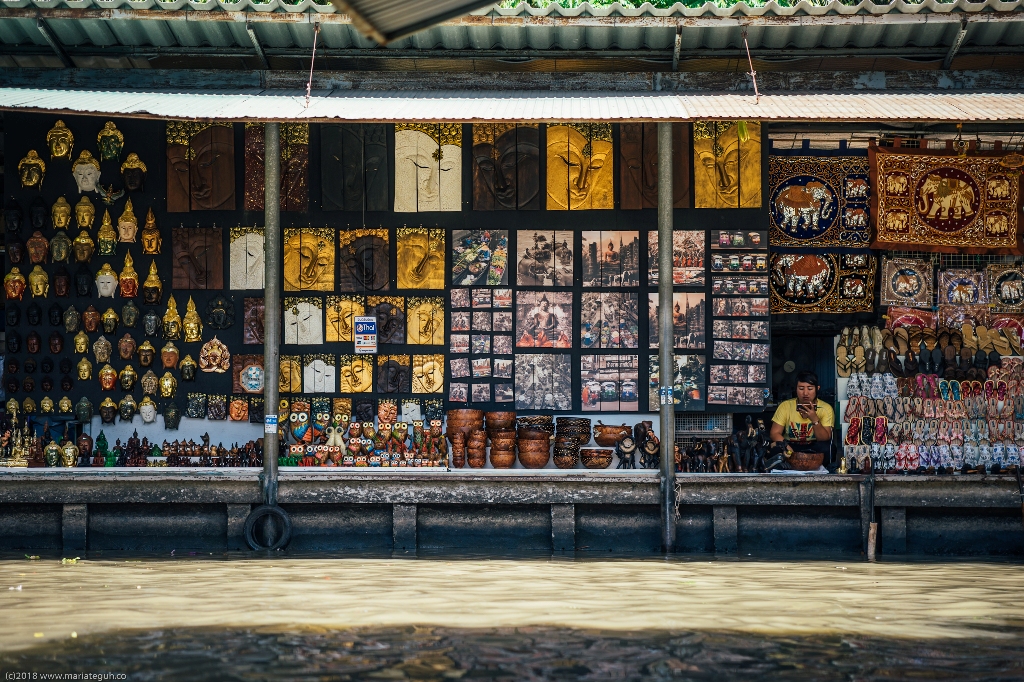 Now let's start knowing how this market is legendary. it's correct if you cannot explore the market by walking. exploring the market by walking is only in Amphawa floating market. But here, you must take boat to know everything about this market. In the market, whether you're going to right or left side from the bridge, taking the boat will cost you 150 Baht per person for around an hour trip, but that's only if you come with at least 4 people. Our case, they give total 400 Baht for both of us. Know your price, so you know how to bargain properly. Boat will take you around and will stop as well in one big shop where you can find souvenirs or snacks made from coconut sugar. You can also buy anything from seller that floating around the canal here. Just ask your boat driver to stop, so you can buy anything you see along the trip.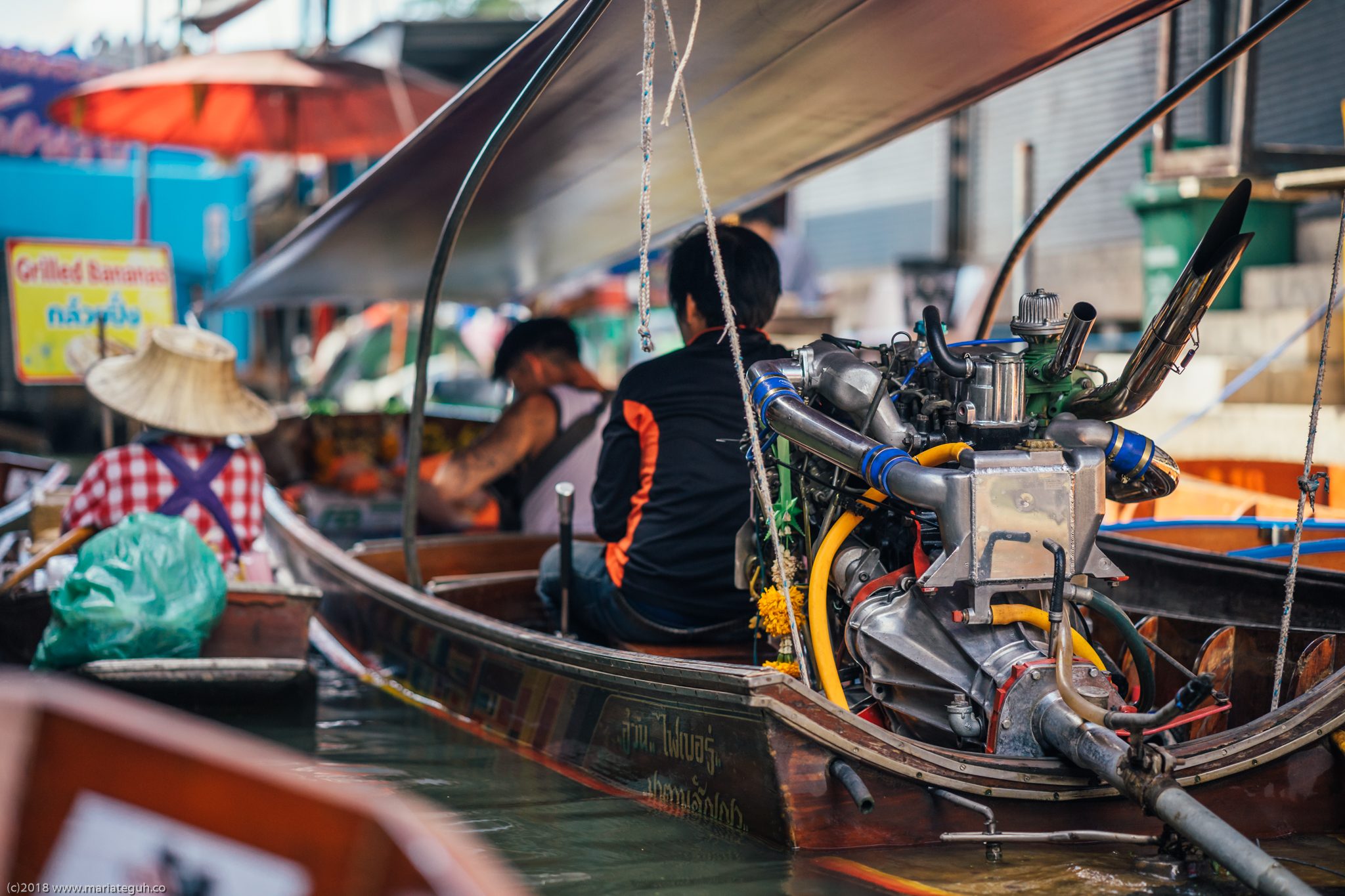 To eat, this is really sad story. As we found the saddest story of dual pricing that we ever experience in Thailand. Right side of the bridge there's place like traditional food court. They have their menu in English as well, but the the saddest thing when we found where a simple fried rice could cost foreigner 100 baht and local is 40 Baht. Able to read and understand Thai language, though in very very basic level, really help us to understand in deciding everything during our trip. We mostly going to the left of the bridge, where you can find more tolerable situation for eating Thai food here.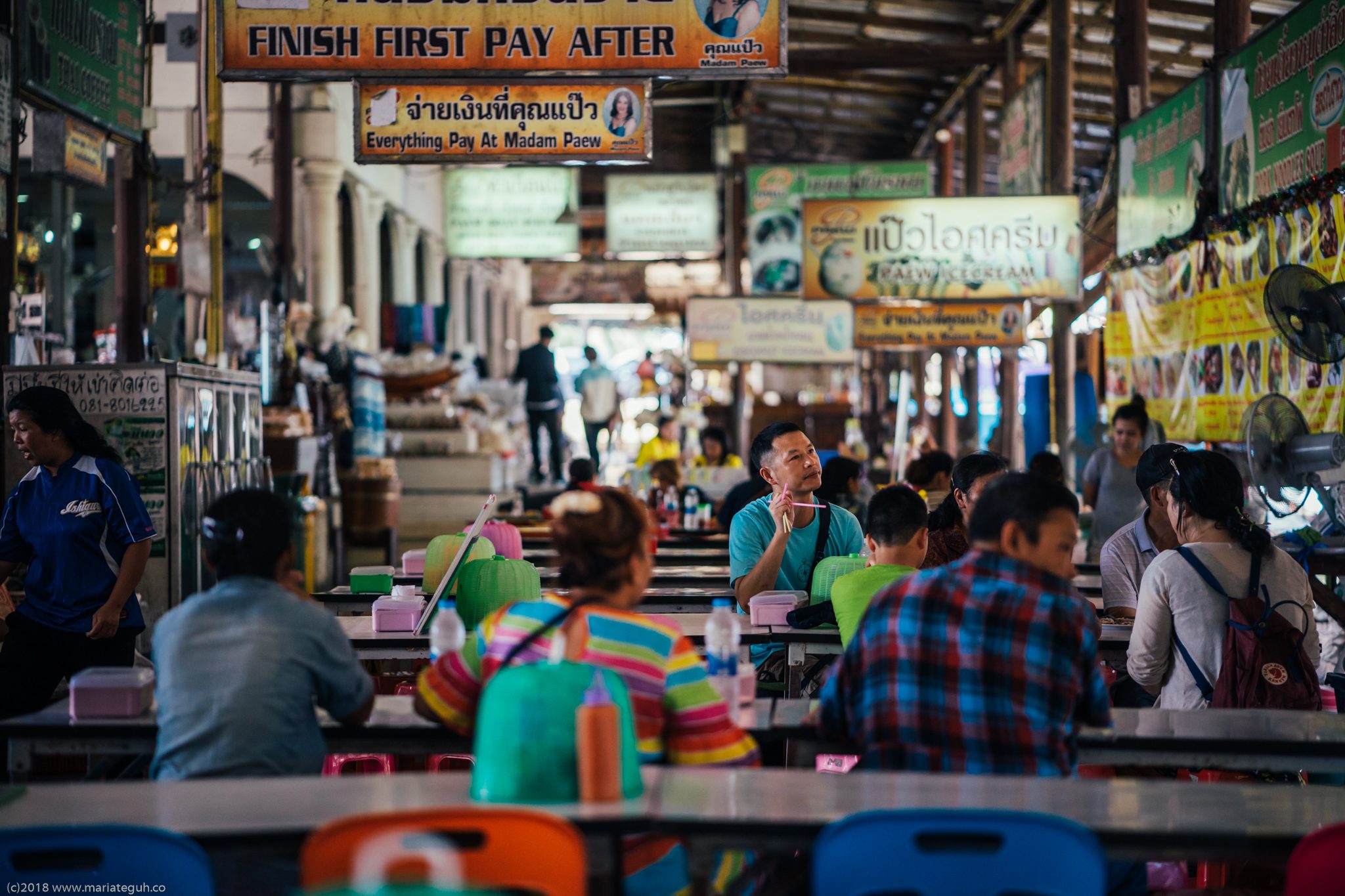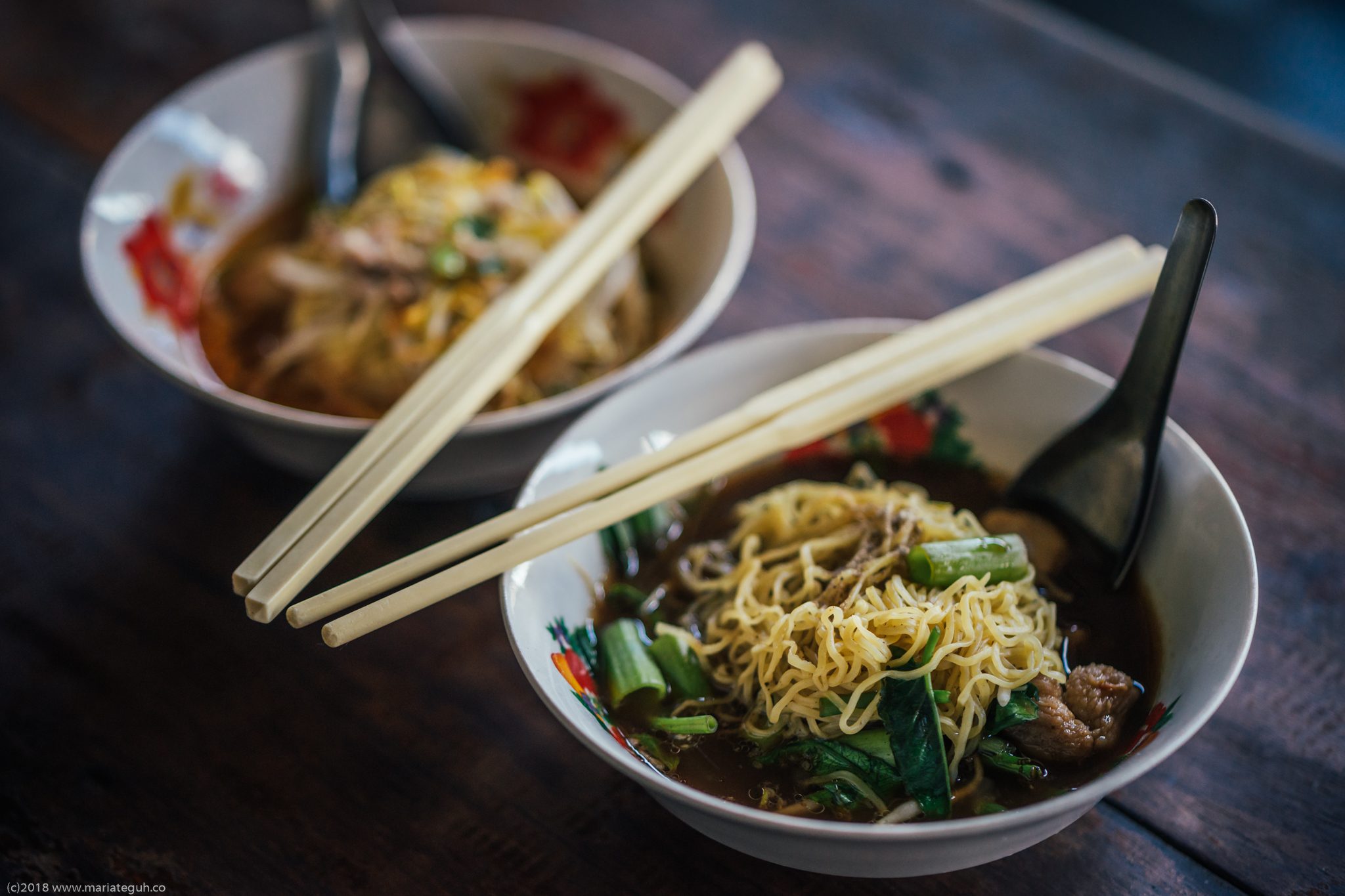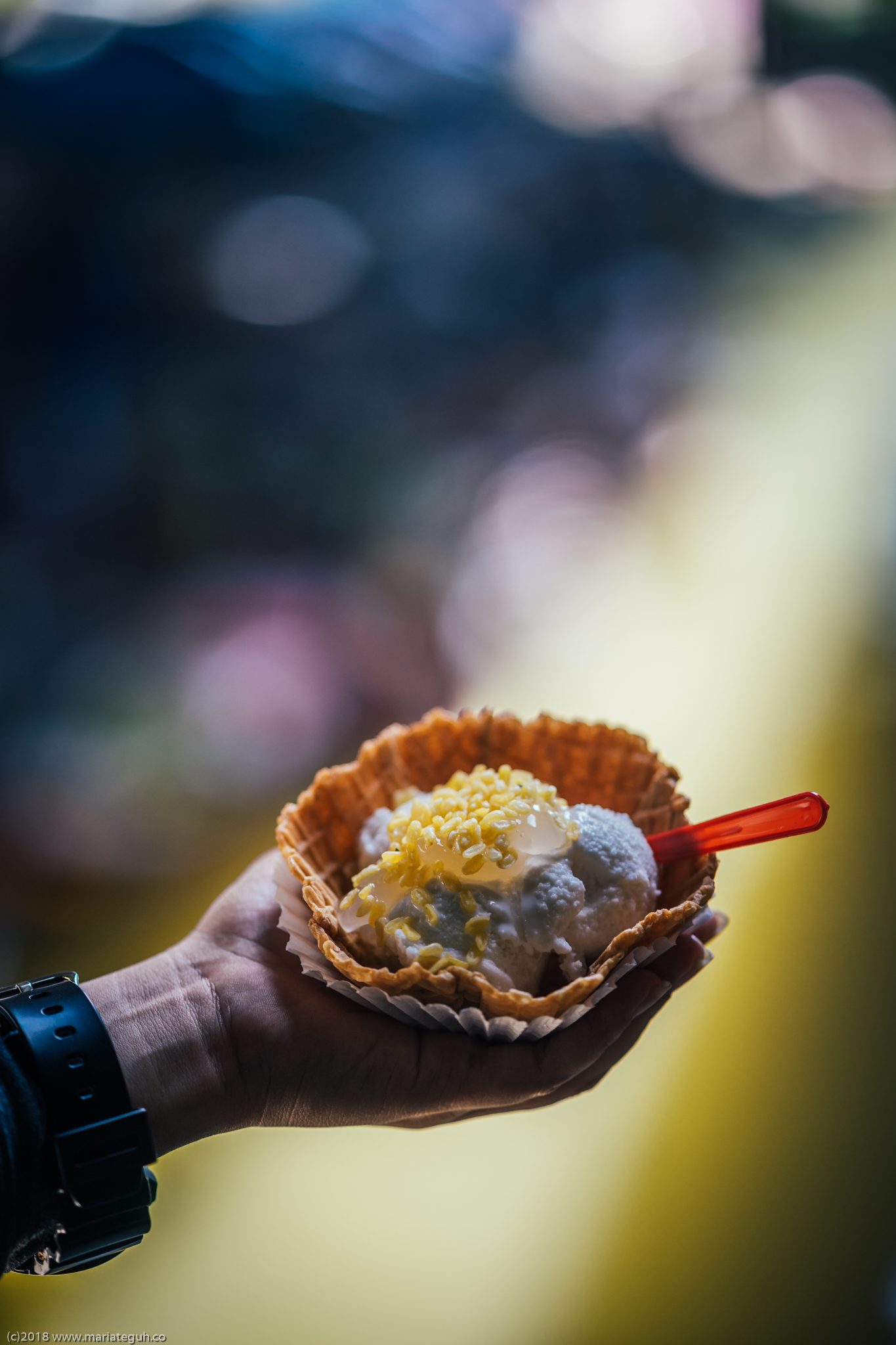 For another items, almost similar like in any other tourist spots, so you'll have no worry about this. Buy things that make you will remember this place, or gift hand for your family and friends.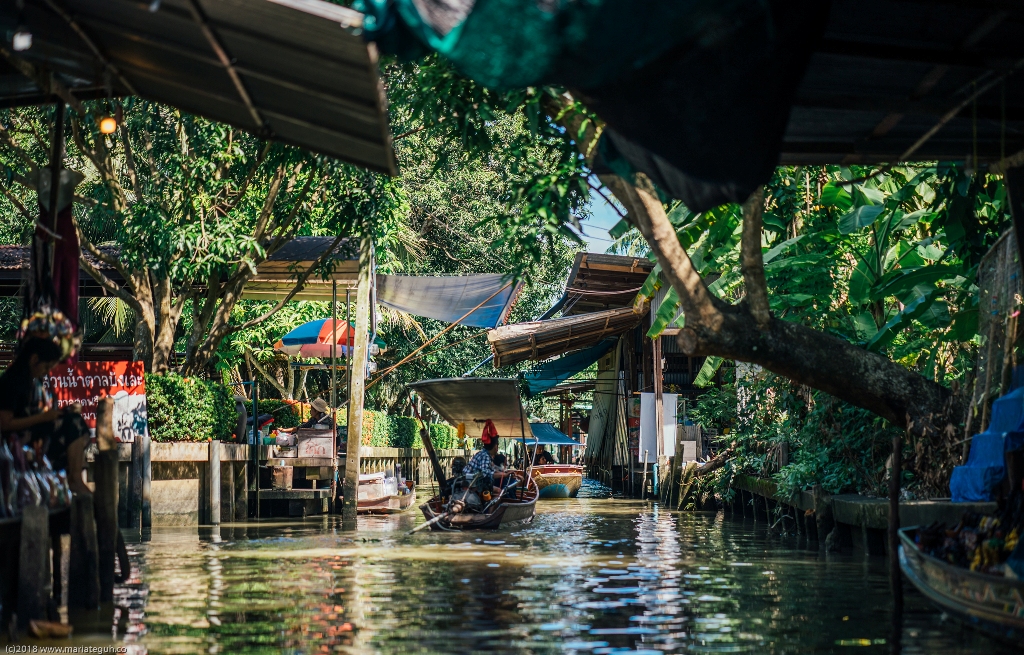 Basically for us, the only issue enjoying this great place is boat and food trap. Other than that, place is super awesome, and our favorite along with Amphawa. Just make sure you know how and what to bargain, and everything will be super awesome as well for exploring the best floating market in Thailand.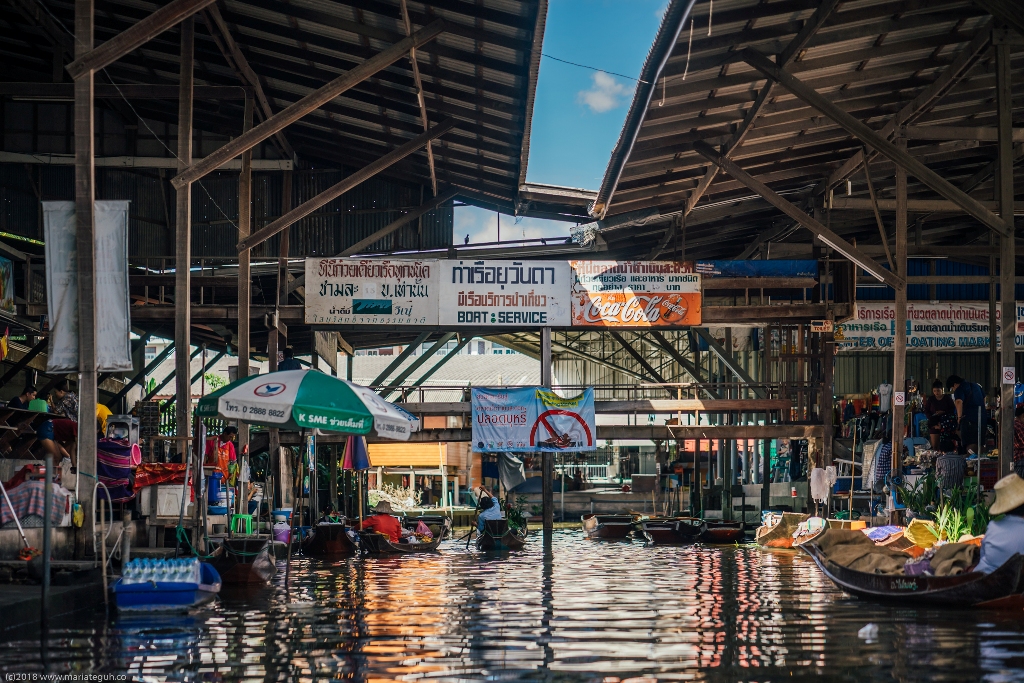 If you have any question, or perhaps even suggestion about Damnoen Saduak, please feel free to let us know in the comment section. And we'll share with you the rest of the images of the market below.
Happy let's get lost!!