Skip to content
Thailand is really beautiful country. Sure will make everyone to have dream staying here not only for being a tourist, so can enjoy their life with beautiful Thailand everyday.
But what will happen if you stay more than you allowed to in Thailand? According to the rule, there is fine. Fine is 500 Baht per day up to 20000 Baht if you over stay 40 days or more. Good thing is, if you over stay under 90 days, and you pay the fine, you won't get black mark or ban next to your name, and you can revisit Thailand again. Kids under 15 years old however won't get to pay the fine if over staying, but will the same black mark or ban according to the period of over stay. Remember, repeating the same offense will get you harder chance to get approval entering Thailand.
There's also ban to revisit Thailand. Speaking about ban if you're over staying, here's the list.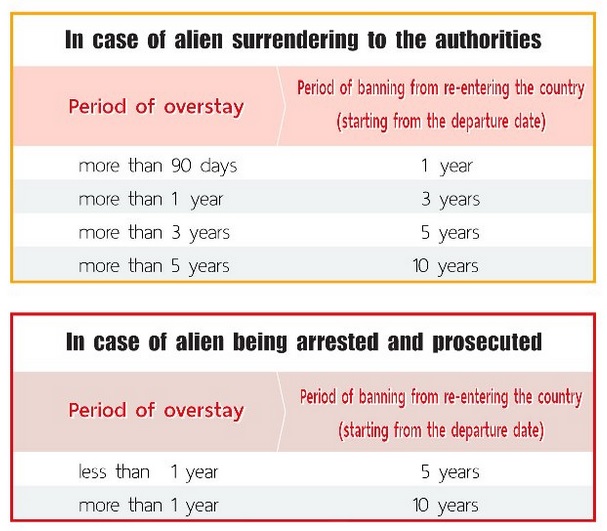 If immigration officers caught you overstaying and you cannot pay the fine, it can result for you going to jail. Remember, over stay more than 90 days is considered serious offense in Thailand.
If you over stay more than 90 days, you turn your self in, usually they will waive the fine and replace it with the smaller one. But still you will go to the court and stay in Immigration Detention Center, until you can arrange flight going back to your country. Another small fee also required for Immigration officer who will bring you to the airport. There your passport will be given black mark (ban for how long as well) for being overstayer, and given as well to stewardess of your flight. You can get your passport back after you land in your home country.
Another case, sometimes you have accident like booking different date for the ticket or delayed flight. Immigration officers usually will understand and waive the fine. Our friend recently just got this overstay issue, as he had not been informed by his company HR that he had to go out from Thailand after the company cut off his work contract. He got almost 30 days overstay. He told the immigration officers when he went to airport for leaving Thailand. Brought to the office to pay the fine, and leave Thailand without ban.
So how to avoid this over stay issue? First you can do what mostly well known as VISA RUN arranged by many operators in Thailand. Or second, you can get 30 days extension by visiting the nearest immigration office and pay 1900 Baht. To do this, make sure you bring your passport and fill the form for this process. However, doing extension so many times frequently won't guarantee you to get approval 100%. If you plan stay longer, apply for the proper VISA. If you plan to work, make sure your company provide you WORK PERMIT, not 3 months business VISA where you need to go out every 3 months and apply for the new VISA.
For conclusion, don't use this as information on how much you should prepare for doing over stay. Stay with the rules, coz Thailand is too beautiful just to be bothered about the hassle you need to have for bending the rules.