Skip to content
Question beside where to go in our destination place, usually is how to travel between 1 spot to another. Well if you're in Bangkok, traveling inside the city is easy and also have many options to choose. From the most advance, to the traditional one. So let's get the detail one by one.
*** BTS ***
The most well known transportation in Bangkok. The sky train covers the Sukhumvit Rd where usually all the main attraction and mall located. Fare starts from 16 Baht per station, or you can have 1 day pass for 140 Baht. More info about their fare can be seen here. Some well known BTS stations are,
Siam station ►► Siam Paragon Mall, Siam Discovery, Siam Square, and MBK (need to walk a bit)
Chid Lom station ►► Erawan Shrine and Central World
Asoke station ►► Terminal 21 (the famous food court "Pier 21") and change into MRT
Mochit station ►► Chatucak market and Chatucak Park. From this point you can continue to go to Don Mueang Airport and Mochit bus station, using bus, taxi, or motorbike taxi.
Saphan Taksin station ►► Asiatique (you need to continue with free boat to Asiatique, free boat staarts at 4PM)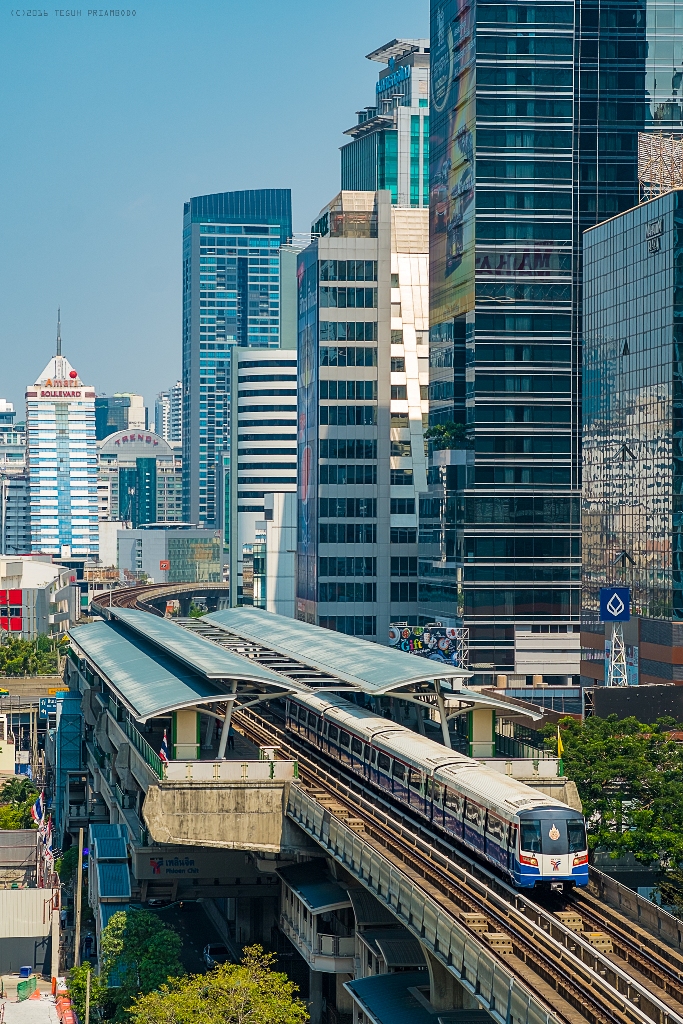 *** MRT ***
Mostly known as the underground train, but now they have extended the service like sky train that reach Nonthaburi area. Unfortunately they have no 1 day pass, but the fare is the same as BTS that starts from 16 Baht per station. Detail is here. Some famous place that passed by MRT.
Chatucak station ►► Chatucak market and Chatucak Park. From this point you can continue to go to Don Mueang Airport and Mochit bus station, using bus, taxi, or motorbike taxi.
Thailand Culture Centre station ►► Ratchada train market.
Sukhumvit station ►► Terminal 21 (the famous food court "Pier 21"), and change into BTS.
Silom station ►► Silom area and Patpong
Hualamphong station ►► The famous Hualamphong train station. This is the train station you could use to travel outside Bangkok.
*** Airport Link ***
This is the train that transport you directly from Suvarnabhumi airport to Bangkok. And some famous stations are,
Makassan station ►► Used to change to MRT and go to Sukhumvit Rd. As at MRT Sukhumvit station you could change into BTS.
Ratchapharop station ►► If you stay at Pratunam and you coming from Suvarnabhumi airport, then this is the station you must go.
Phaya Thai station ►► Terminal station, where you can continue the ride using BTS from here.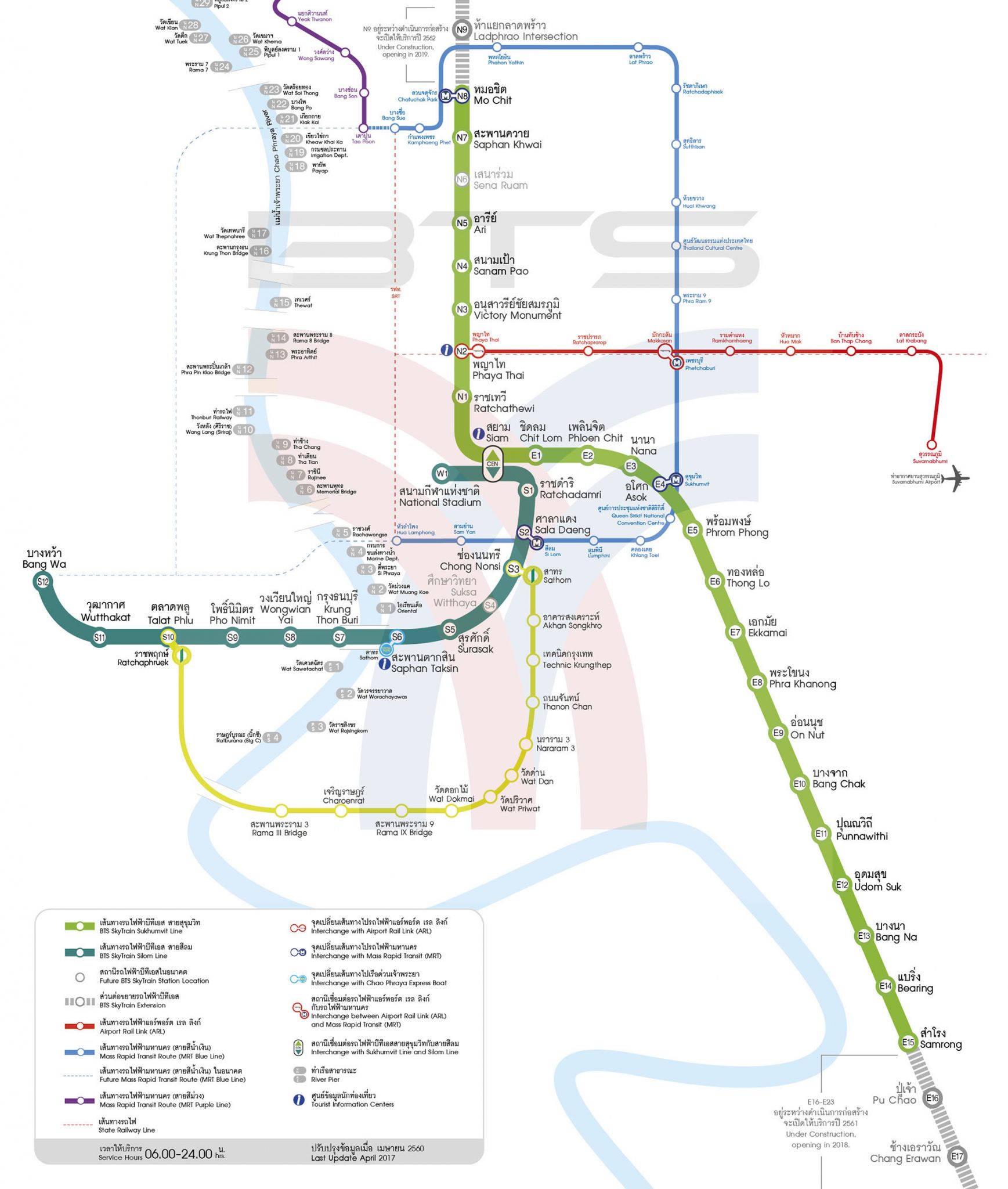 *** BUS ***
The cheap and fun way to explore Bangkok. The only flaw the bus has is traffic. Yep, going in Bangkok today is one must have to enjoy the traffic, especially if you go through Sukhumvit Rd. But usually on weekend, the road has less traffic than weekday.
Bus fare is very cheap. The govt bus will cost you free – 8.5 Baht. Mostly is 6.5 Baht, 8.5 Baht is the one going via highway. Private bus with no air conditioner is 9 Baht per trip. The one with air conditioner starts from 13 Baht to 25 Baht.
Some well known bus number are 40 (Ramkhanghaeng – Sukhumvit – Hualamphong – Chinatown), 2 (Sukhumvit – Pratunam – Grand Palace), 511 (Sukhumvit – Sai Tai Mai or South bus terminal), 29 (Rangsit – Don Mueang – Victory Monument – Hualamphong), and many more. More bus destination can see here.
Last but not least, Bangkok also has BRT. Special bus with special line, but unfortunately only covers suburb area From Chong Nonsi BTS station to Ratchapruek. Detal of BRT can be seen here.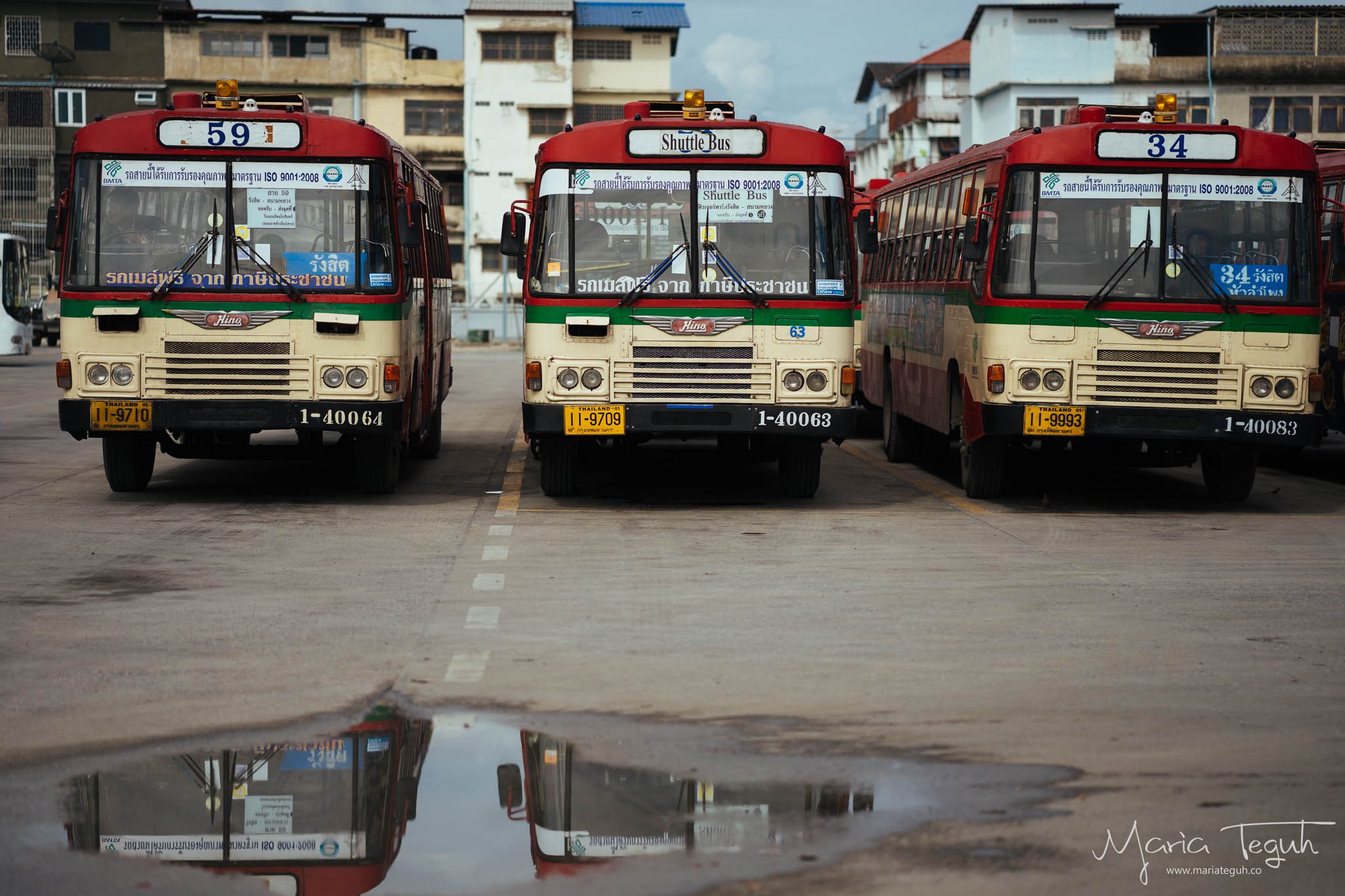 *** Song Teaw ***
This traditional transportation mostly only cover certain area. Unlike bus that could take you from one district to another long distance district, song teaw usually will take you only to 1 or 2 district. Cost usually from 7 – 9 Baht, depends on the area.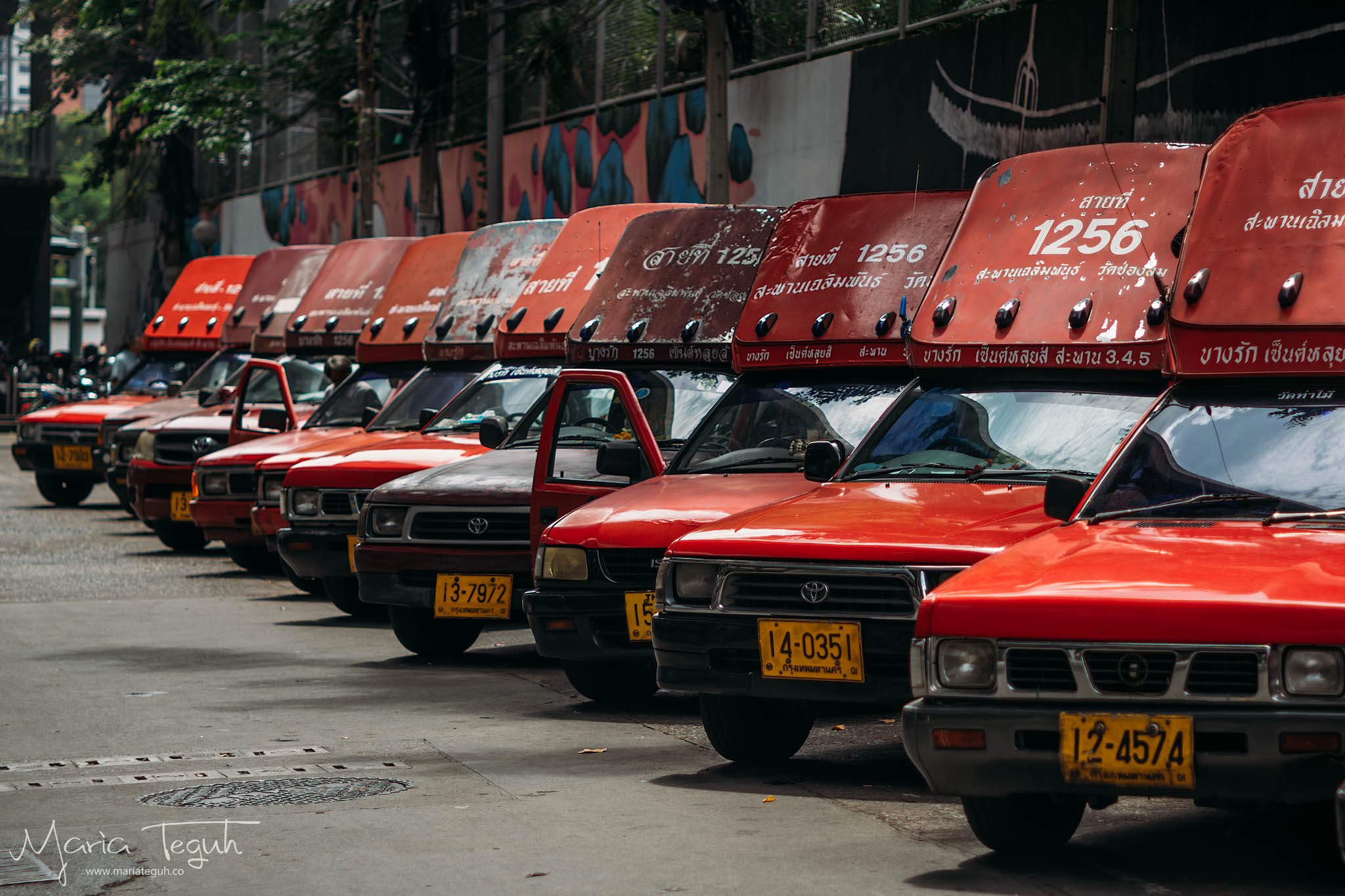 *** Tuk – Tuk ***
The most famous transportation in Bangkok (Thailand). You're not in Thailand yet if you don't take Tuk – tuk. Literally you can find them almost everywhere, but mostly they easy to be found around tourist area. One pro tips, always settle the price before you decide to take it. But also don't be too cheap, as they can take like 4 passengers inside, so check the distance in your map and bargain reasonably.
Another thing to remember, if tuk-tuk driver offering to take you around for 20 Baht, DON'T take it. This is regular SCAM that happens already since long time ago.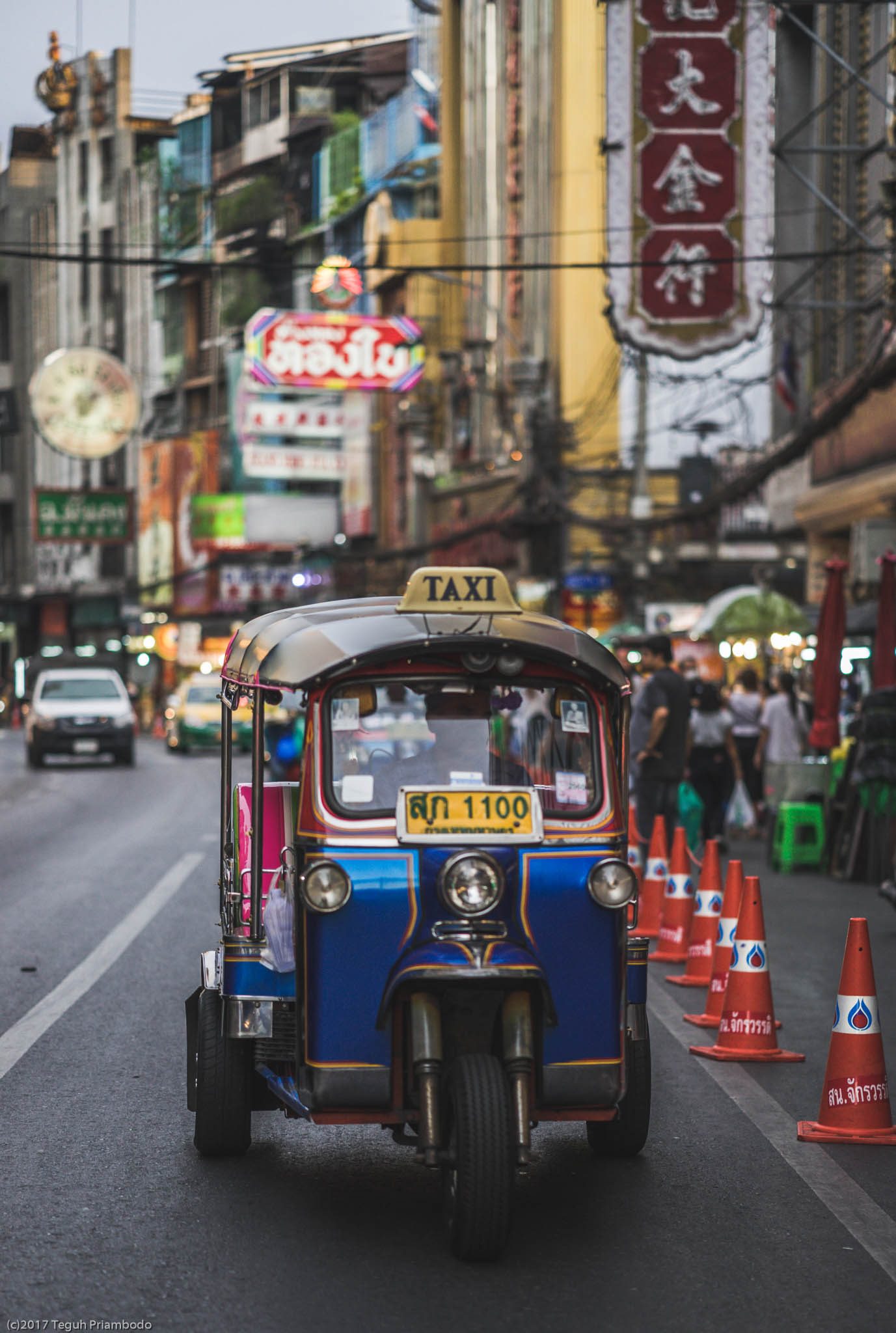 *** Motorbike taxi ***
This one is good choice when you need to go inside "Soi" (small road). Or they can even take you a bit far to escape the traffic. No worries for the fare, mostly is cheap. They also usually have board sign for the fare.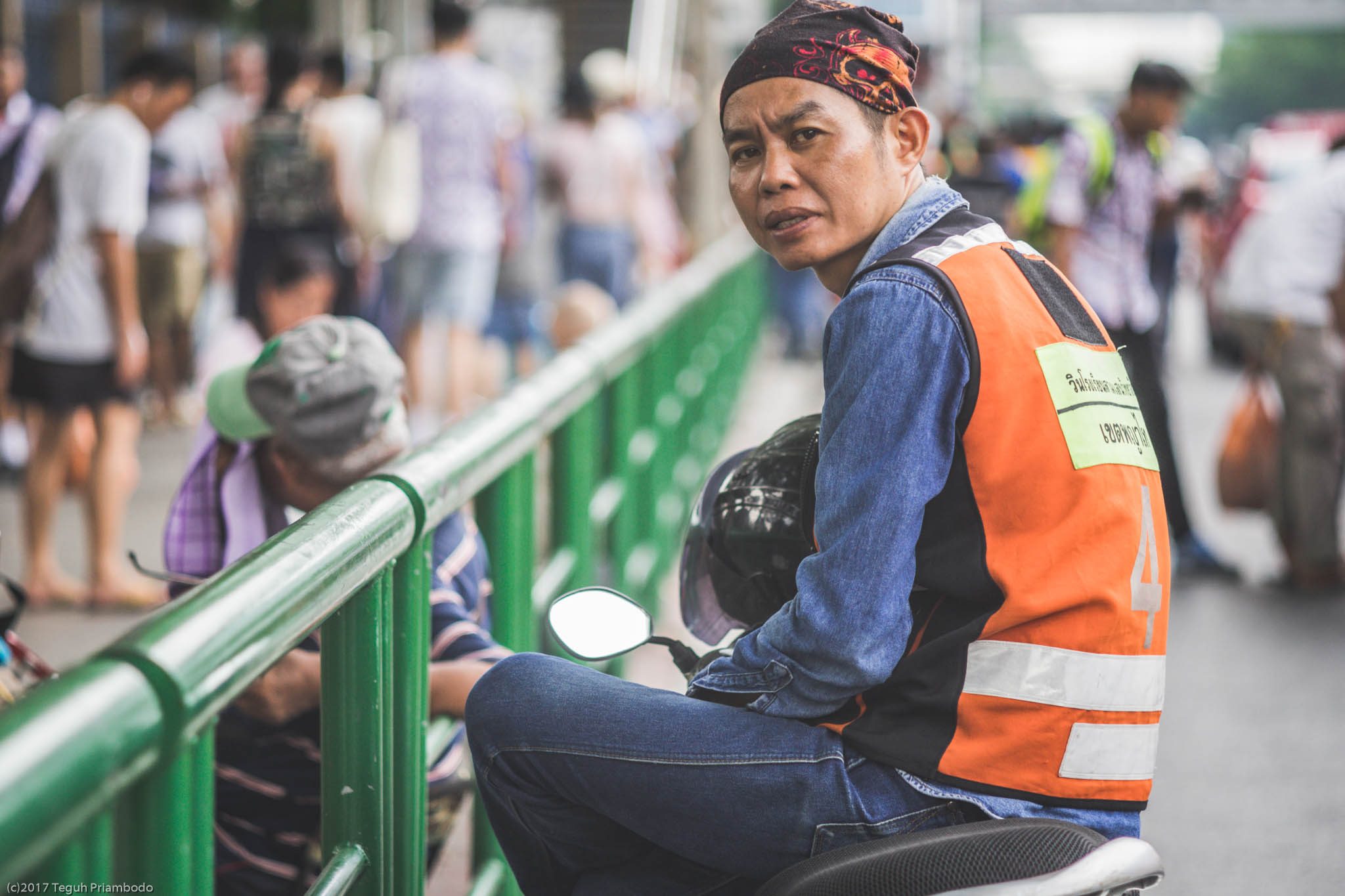 *** BOAT ***
Talking about boat, not too common perhaps for tourist, but this transportation is very popular here. No traffic that leads to arrive to your destination quicker. There 2 services for this boat transportation.
Klong Saen Saep boat service ==> This covers route from Bangkapi – Ramkhanghaeng – Pratunam – Phanfa Lilard (Wat Saket). Fare starts from 9 Baht per station. Runs only in the morning to 7PM everyday.
Chao Phraya Express ==> This is boat that runs through Chao Phraya river. Very famous among the tourist, as the destination covers some very famous place in Bangkok. Easy start mostly from Taksin Pier (under Saphan Taksin BTS). Take the orange flag boat that cost you 14 Baht per trip.The famous destination for this boat are Wat Pho, Wat Arun, Grand Palace, and many more. Check this map for more detail of the pier.
There also another color for flag boat in Chao Phraya, like green or blue. For more detail can be seen here.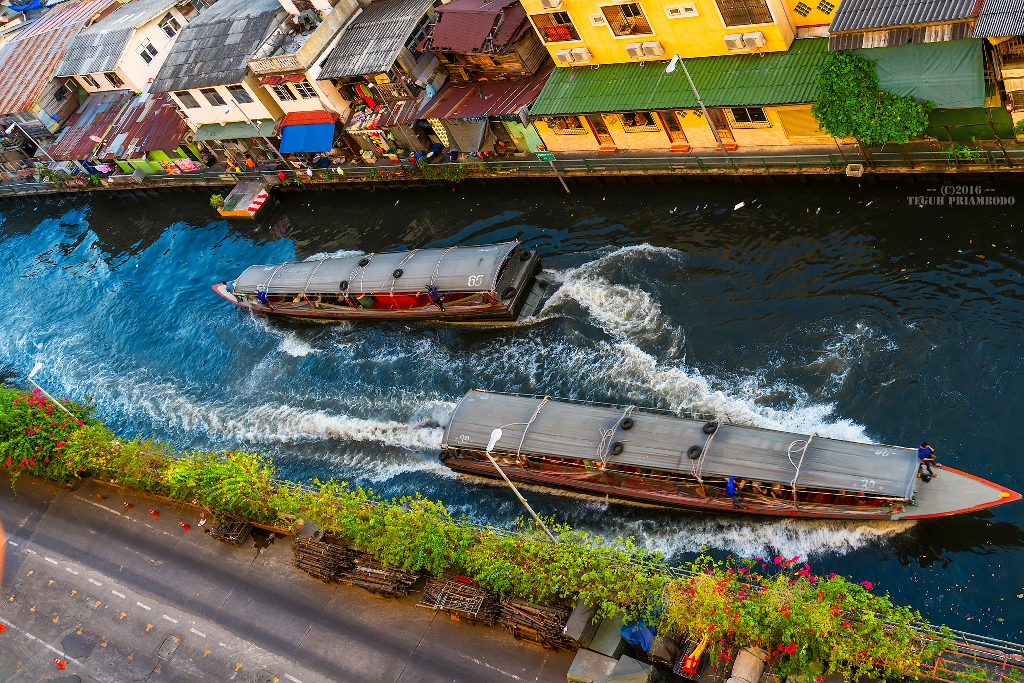 *** Train ***
You could also use train to between district in Bangkok. Although very not popular among the tourist, train could one transportation that gives you extra deeper view about Bangkok. The main station mostly located at Hualamphong and Bang Sue. Check this link to find easily about your destination and how much the fare.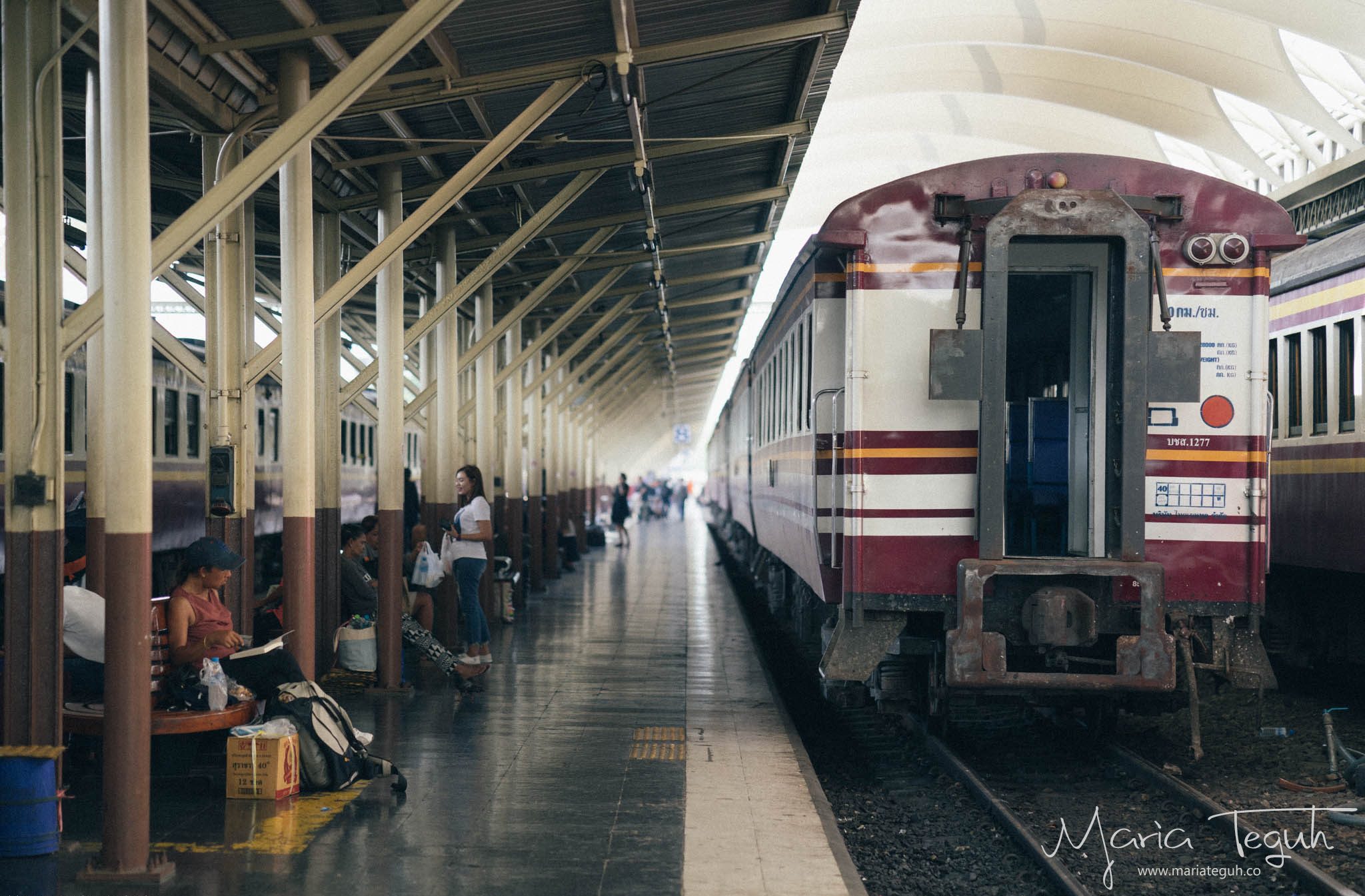 *** Taxi, Uber/Grab ***
The most easiest you can get in Bangkok. Some tips for this one. Taxi mostly will reject you if your destination going through heavy traffic road, like Sukhumvit Rd. Uber/Grab, sometimes you'll find problem talking with them (limited English), or searching where you are to be picked. So, if you find those issues, now you know the alternative to go around BKK.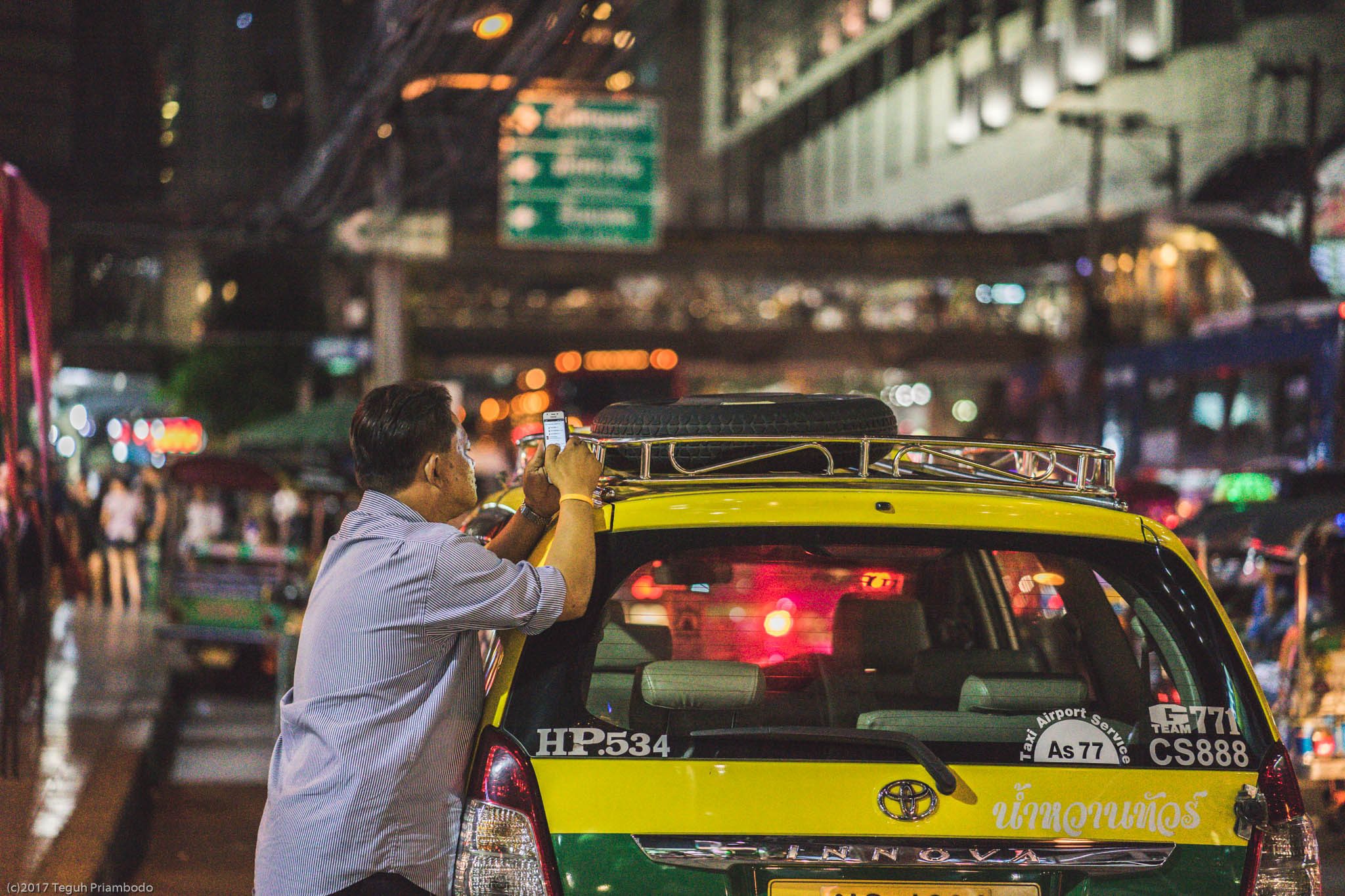 Last but not least, we got also list of minivan and the driver if you're interesting to hire them to take you traveling around Bangkok. Price and detail you might want to contact them by yourself.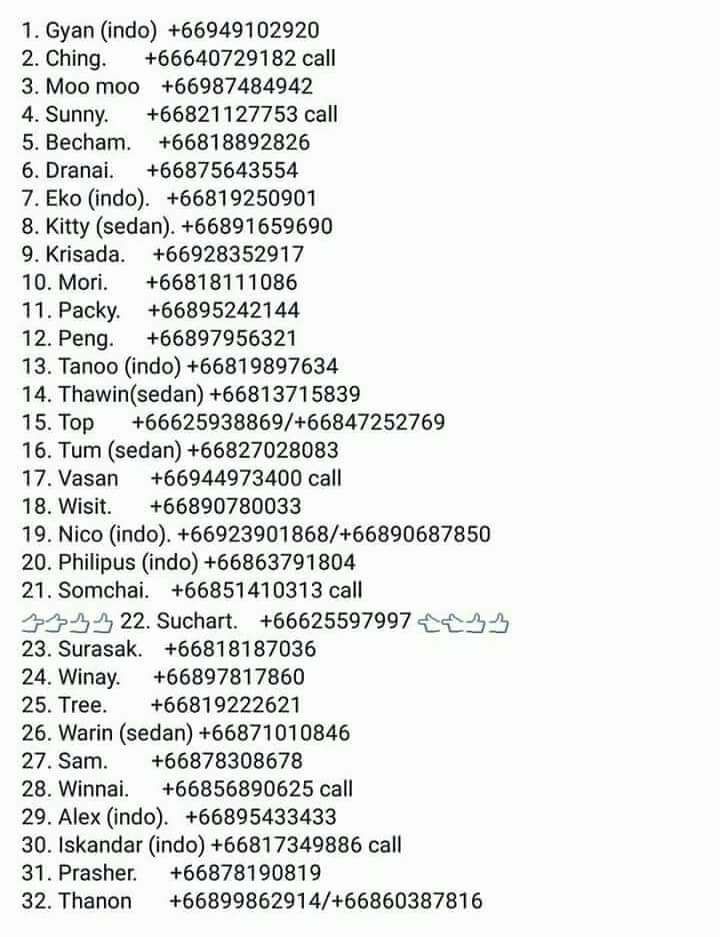 We do hope this detail could help you planning your trip in Bangkok. By knowing this transportation, sure will be easier to reach all the destinations you want to visit in Bangkok.
Happy let's get lost!!